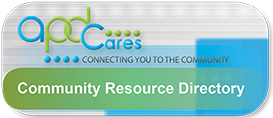 Are you looking for resources
in your local community? Visit
the enhanced Community
Resource Directory!
---
Other News & Announcements
With tax season just around the corner, our customers need to be aware of the Earned Income Tax Credit (EITC). The EITC is a benefit for working people who have low to moderate income. A tax credit means more money in your pocket by reducing the amount of tax you owe. It may also give you a refund. Find out if you qualify by speaking to a tax professional or visit the IRS EITC Web page at this link.

On December 5, Governor Rick Scott announced approximately 1,600 people, up from an estimated 750 people, will be moved off the Home and Community-Based Services (HCBS) Medicaid waiver waiting list. This is the first time that more than half of individuals with critical needs will be moved off of the APD waiver waiting list. Read more here.
---
Sign-up for our electronic updates for the latest news from APD
---
If you have any issues with our website please email the Web Team and we will respond as soon as possible.