Thankful We!
By Barbara Palmer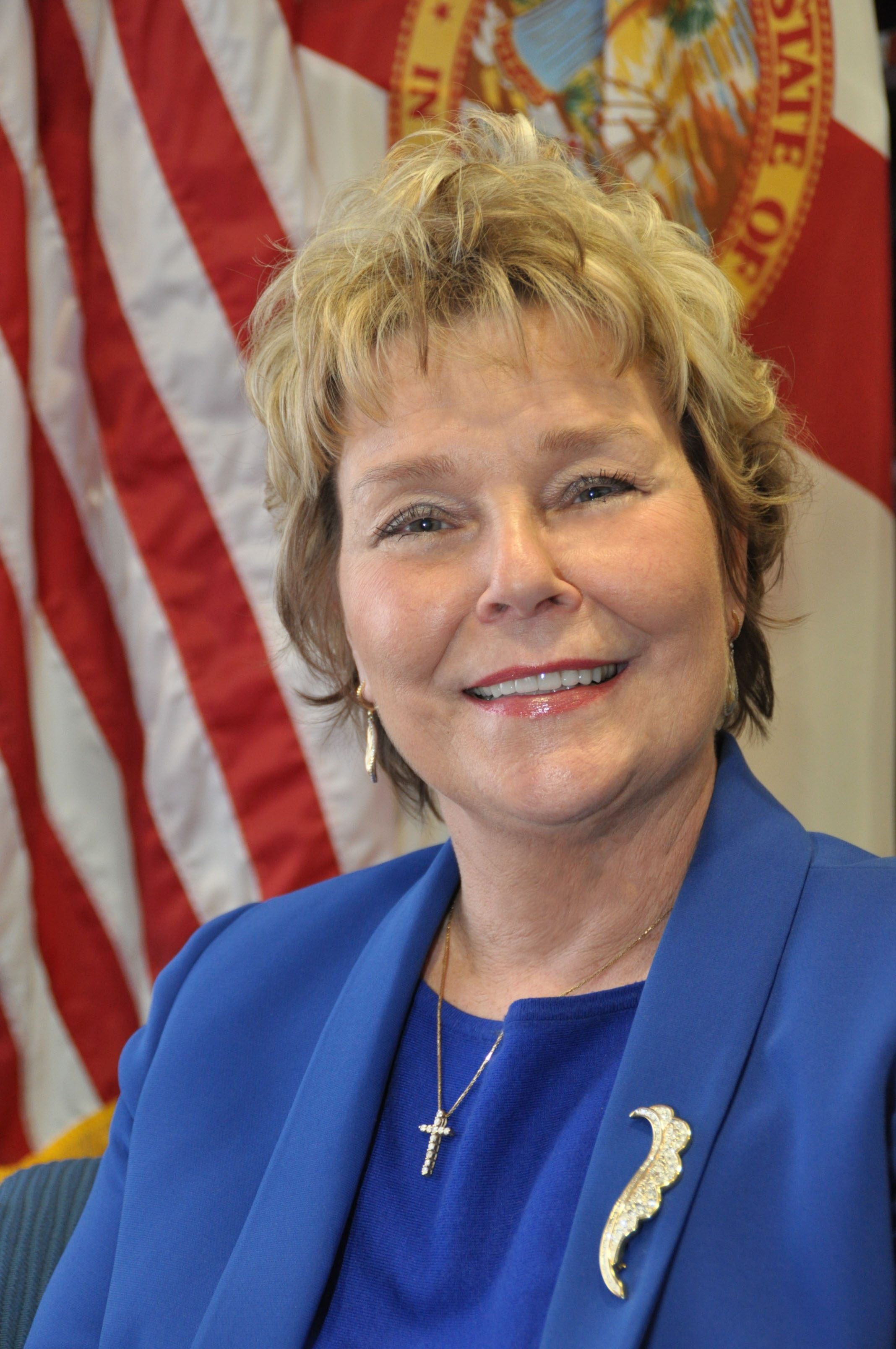 November is a time when people begin thinking about delicious turkey, dressing, and all the other wonderful food associated with Thanksgiving Day in America. It is also a time when I think about all the things I am thankful for in my personal and professional life.
Here at the Agency for Persons with Disabilities (APD) we have much for which to be thankful. We had a very successful October celebrating Disability Employment Awareness Month. We had a great event recognizing businesses that are committed to hiring people with disabilities (see story below). There were Disability Mentoring Day activities around the state too. I enjoy talking to and reading about our customers' successes on the job. It is another great reason why we do what we do.
Working with our stakeholders, APD has been able to offer waiver enrollment to 1,200 people this year. I am extremely thankful to Governor Rick Scott and the Legislature for recommending and supporting the $20 million in additional money so we could enroll new individuals into the Medicaid Home and Community-Based Services waiver. Added to the $36 million the agency received last fiscal year to offer enrollment to 1,600 people, we have been able to see tremendous movement in people moving off the APD Medicaid waiver waiting list. 
This year, Florida became the first state in the country to offer reciprocity to military members being transferred to Florida who have a family member receiving waiver services in another state. We are now able to provide continuity of services to those family members who in the past would have gone on the waiting list when moving to Florida. Addressing the needs of people on the waiting list is a top priority of mine, so these successes make me thankful.
Certainly, the agency has had numerous challenges. We have been able to overcome them and continue to move forward. Our job is to ensure that people with developmental disabilities have the services they need to participate in their local communities. We all know there is more demand than resources. With all of us working together, we have been able to meet the agency's mission. Success is a team sport, so thank you for all that you do to ensure the success of Floridians with developmental disabilities.
I hope you have a very Happy Thanksgiving.
---
The Governor's Corner by Governor Rick Scott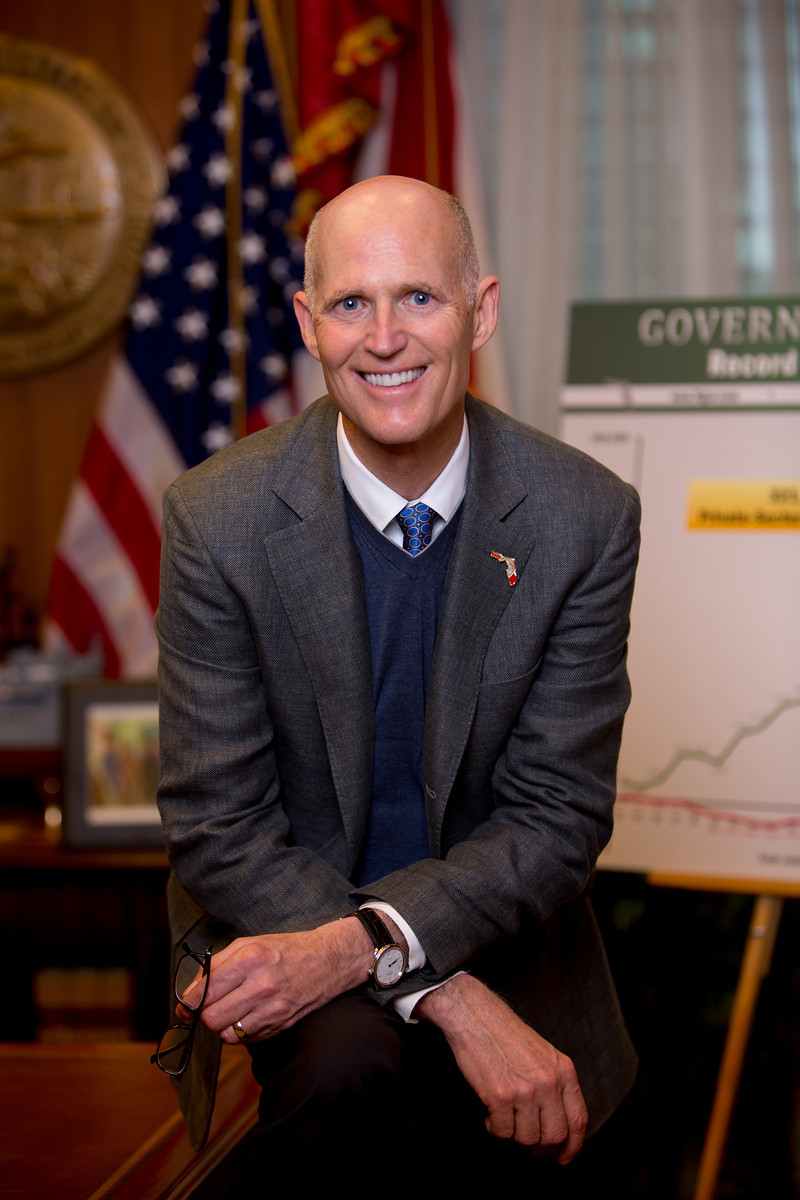 Florida's public servants have been working hard to improve our great state, and we are excited to see their hard work pave the way for Florida families and private-sector businesses to succeed. Recently, we announced three manufacturing companies who are creating opportunities in Florida; the expansions of Just In Time Machining, GE Oil & Gas, and Embraer will create at least 1,100 new jobs for Floridians. Last year, we eliminated the sales tax on manufacturing equipment to ensure Florida businesses can meet their full potential when competing against other states and countries. These exciting wins wouldn't be possible without the support of our public servants.
In total, Florida businesses have created more than 651,000 private-sector jobs since December 2010. Our hard work has done a great job turning around Florida's economy, but there is more to do to in order to create opportunities for generations to come. With the help of our public servants, we can give our families and our future generations the opportunities to get a great job and live the American Dream right here in Florida. Let's keep working to build an opportunity economy where all Floridians can achieve their dreams.
---
Disability-Friendly Companies Honored
Organizations that hire people with disabilities were recognized by the state of Florida on October 1 for being exceptional employers of people with disabilities.  Seven businesses from around the state were honored. The annual celebration was held at Tallahassee City Hall, 300 South Adams Street, as part of recognizing October as Disability Employment Awareness Month.
Agency for Persons with Disabilities (APD), Blind Services, and Vocational Rehabilitation presented the Exceptional Employer Awards that honor businesses for their commitment to employing people with disabilities.
The seven award-winning businesses are:
2-1-1 Broward
Bay Pines VA Healthcare System (St. Petersburg)
Citi (Jacksonville)
Dunkin' Donuts (Pensacola area)
Gulf Coast Enterprises
Lee & Marie's Cakery Company (Miami)
SeaWorld Orlando
APD Director Barbara Palmer said, "We are very pleased to be able to honor these deserving businesses. These organizations are including people with disabilities in their workforces. They are giving individuals opportunities to prove themselves, which is what all of us want. These business leaders now know that individuals with disabilities are some of the most dedicated employees any organization could have. These workers are totally committed to their jobs and employers."
"DEO applauds the outstanding employers in Florida who recognize that people with disabilities are ready, willing, and able to work. The Scott Administration has promoted policies that ensure every Floridian who wants a job can get a job. Each job is a pathway to prosperity, independence, personal growth, and a chance to live the American dream," said Jesse Panuccio, Executive Director of the Florida Department of Economic Opportunity.
Speakers at the event included Tallahassee Mayor John Marks, Department of Economic Opportunity Director Jesse Panuccio, Executive Director of the Governor's Commission on Jobs for Floridians with Disabilities David Darm, Florida Association of Rehabilitation Facilities President and CEO Suzanne Sewell, Sonic Drive-In employee Stacy Powell, and Publix employee Graham Glover.
Event sponsors were The Able Trust, City of Tallahassee, and RESPECT of Florida.
To view the photo gallery from the event, click here.
Here is more information on the winners:
2-1-1 Broward
2-1-1 Broward has made a longstanding commitment to employing people with disabilities. One employee has been on the job for 23 years, another 10 years, and two other employees have been there eight years each. The company has gone above and beyond to ensure they have the accommodations needed so they are able to do their jobs. 2-1-1- has worked with Blind Services to provide the JAWS screen reader, braille writers, and technical support. The company also gladly welcomes two service animals into the workplace.
Bay Pines VA Healthcare System
Bay Pines VA Health Systems is located in the Tampa Bay area. Bay Pines has made a huge commitment to hiring people with all types of disabilities, including many disabled veterans. They work to ensure that any issues are resolved so the individual can succeed in the workplace.
These individuals are working in Sterile Processing, Human Resources, Dietary, Laundry, and in individual medical clinics. The organization has more than 450 individuals with disabilities on staff.
Citi
 
Citi of Jacksonville has hired more than a dozen people with disabilities. Two employees have been on the payroll for more than five years. They have worked with Vocational Rehabilitation and Blind Services to meet the needs of individual employees. They have provided accommodations, such as the location of work stations and enhanced training. Citi has worked to improve disability awareness and sensitivity along with employees learning more about disability issues. Employees with disabilities praise the company saying they are treated like everyone else.
Dunkin' Donuts
Dunkin' Donuts of the Pensacola area has 10 people with disabilities working to help make the donuts, which we all love. Several of these individuals were hired in the past year. One position was customized for an individual in conjunction with their job coach so they could be successful at work. Dunkin' Donuts is involved in the Pensacola Business Leadership Network, which focuses on including people with disabilities in the local workforce.
Gulf Coast Enterprises
Gulf Coast Enterprises has people employed statewide, with more than 1,200 with significant disabilities. This business has a strong and deep commitment to employing people with disabilities. Gulf Coast Enterprises competes for federal contracts and has employees working on more than a dozen military locations performing a variety of tasks such as food service, mail sorting, and custodial work. These individuals are excited about coming to work and earning a paycheck. Many employees earn above minimum wage for their work and have benefits.
Lee & Marie's Cakery Company
Lee & Marie's Cakery Company of Miami makes a point of hiring people with disabilities, especially individuals with autism. As many as 12 people with disabilities are employed at the small bakery. Owner Andy Travaglia was touched by the challenges of individuals with Autism Spectrum Disorder when her friend's child was diagnosed 20 years ago. The mission of the bakery is placed on the front window. It says "Our mission is to build profitable businesses that will create jobs and employ adults with intellectual disabilities. We help guide them on a path to greater independence, so they can achieve their highest potential and enhance their quality of life."
SeaWorld Orlando
SeaWorld Orlando makes a big difference when it comes to hiring many people with all types of disabilities. SeaWorld has hired hundreds of team members with disabilities over the years and goes the extra mile to accommodate all types of needs. The organization focuses on the Team Member and their ability, not the disability, and have modified structures, installed door openers, modified training, modified jobs, adjusted schedules, and many other things to help those with disabilities achieve success.
---
Charlie's Kool Kreations
APD is highlighting the entrepreneuial achievements of one of our customers. Charlie Morris has a home-based balloon business, Charlie's Kool Kreations, in Deltona. Morris can put almost anything in the balloons, such as candy, stuffed animals and jewelry. His creative and festive Gifts In A Balloon are for all occasions and holidays.
---
Cleaning Up
By Melanie Mowry Etters
Lakerria Wright wanted to work in the food service industry when she graduated from high school. She interned with the Escambia County School System in her final year of school to get the skills needed to achieve her dream job. Wright was immediately hired in May by Gulf Coast Enterprises as a food service worker. She works at the Pensacola Naval Air Station Galley five days a week in the late afternoons. Currently, she is part of an eight person team cleaning plates and trays, washing dishes, and rolling silverware.
Wright said, "I like my job. It's fun. It's a good job. The people are nice there. I am planning to stay in the future. I am happy there."
Assistant Building Manager Paul Markham is Wright's supervisor. He said, "Lakerria is a good worker. She has a good attendance record and is here all the time. She gets along well with other coworkers."
In addition, Wright is also on call with the Escambia County School System to fill in when needed at various school cafeterias. She works on the food line, washes dishes, cleans tables, and mops floors.
Wright has a developmental disability and is a customer of Florida's Agency for Persons with Disabilities (APD). APD is highlighting the workplace achievements of people with disabilities.
Wright says she is trying to learn everything she can about working on the food service line. Her ultimate goal is to learn to be a cook.
Markham sees good things in the future for Wright. "Lakerria has the confidence to work on the food service line. It's definitely something she can work up to. I see potential down the road," said Markham.
Wright says she is saving most of her paycheck for the future. However, she has purchased some clothes and shoes with her money. She also likes to go to the movies and out to dinner for fun.
---
The Arc of Florida Hosts Retreat at Rish Park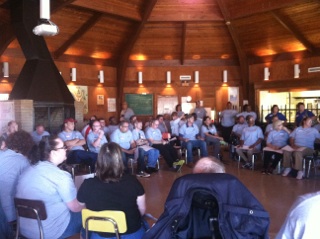 The Arc of Florida hosted a two day forum at the Agency for Persons with Disabilities' (APD) Billy Joe Rish State Park on Cape San Blas for 100 self-advocates from around Florida to discuss issues important in their lives.  The Centers for Medicare and Medicaid Services (CMS) recently developed a new rule which will impact the lives of individuals with developmental disabilities.  The retreat included learning about the CMS rules, and how important it is to voice our opinions.   The self-advocates divided into four separate groups to discuss their opinions about the new CMS rule and to develop presentations.  APD's Deputy Director of Programs Denise Arnold attended the final day to listen to the presentations from self-advocates regarding issues which impact their lives in the community and discuss important topics such as inclusion, access to their communities, as well as planning for their futures.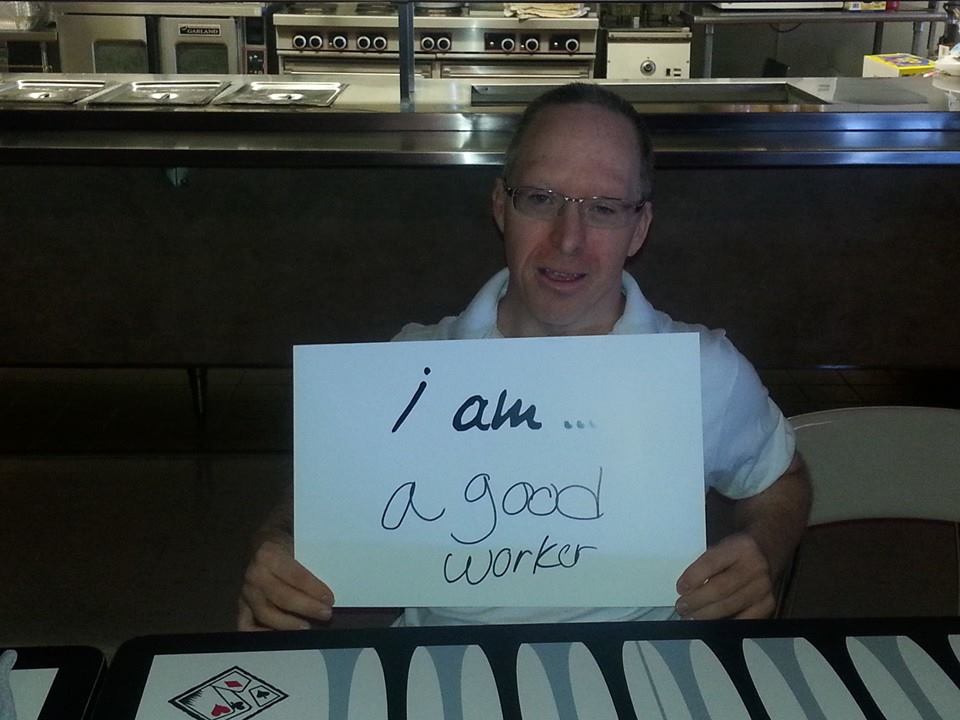 During the two day event, each self-advocate participated in an exercise to practice advocating for themselves.  The Arc of Florida staff gave an overview of the life of Malala Yousafzai, a young girl who recently won the Nobel Peace Prize for standing up for her belief in education for all young girls in Pakistan and around the world.  One of Yousafzai's books, "I am Malala" speaks to individuals having the courage to stand up for what they believe is important.  To express issues, Arc staff assisted self-advocates in expressing attributes through writing on a large sign with the words, "I AM…".  Some of the attributes expressed included, "I AM…Free", "I AM Grateful", "I AM A Good Worker", and "I AM A Good Friend."  Each self-advocate stood before the crowd of 100, plus attendees and introduced themselves and read their sign.  Each local Arc executive director, board members of the Arc of Florida, and APD's Denise Arnold, also participated by writing a sign and presenting it.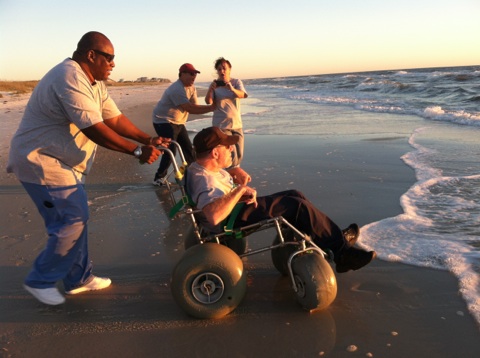 Overall it was a great opportunity to learn self-expression of opinions.  They also had fun by dancing and participating in The Arc of Florida film festival.  The group also expressed how much they enjoyed spending time at Rish Park and hoped to visit the beautiful facility again.
---
Around the State
---
SportsAbility - Active Leisure for Life
By Ashley Anderson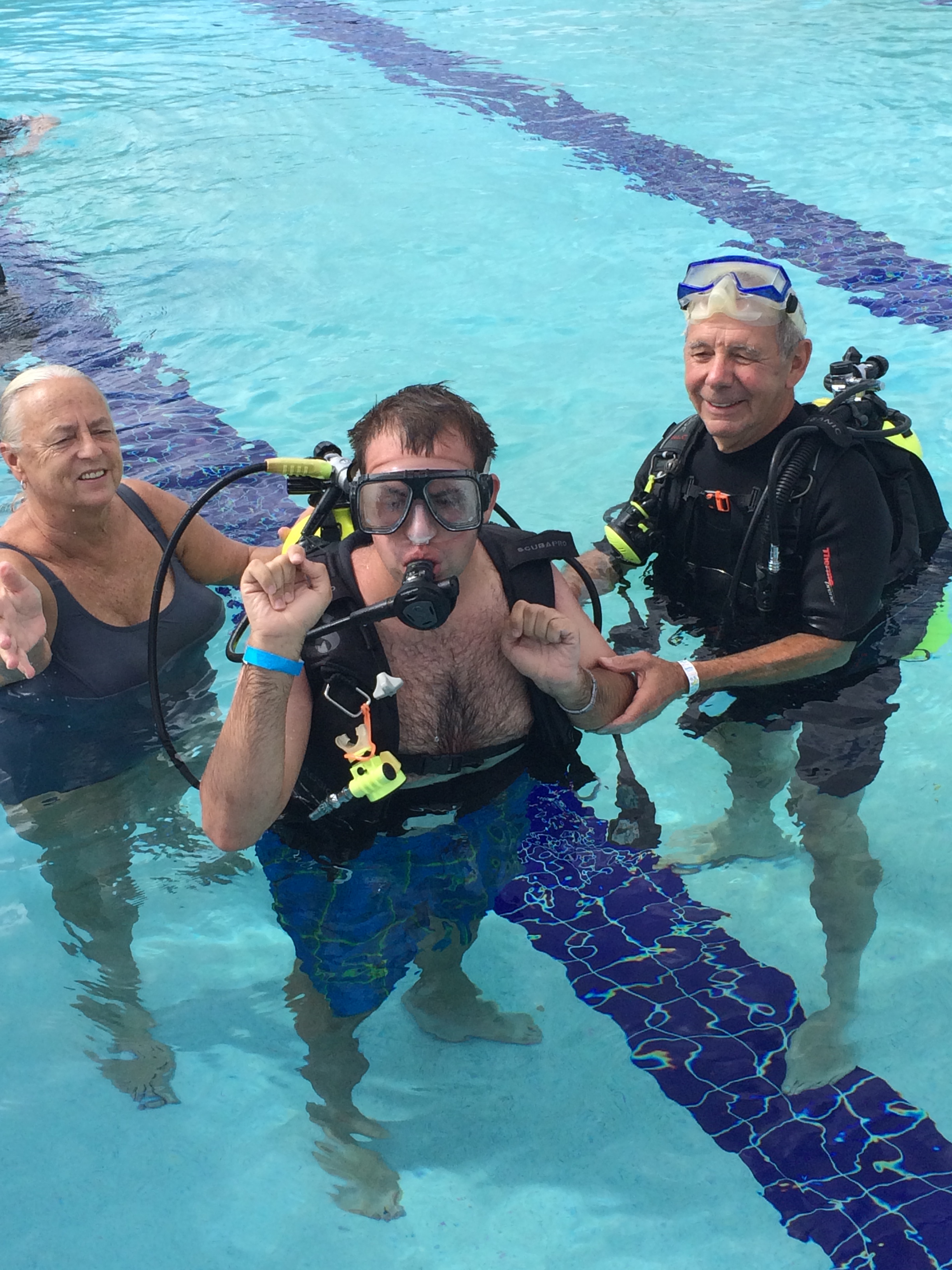 In the beginning of October, the Florida Disabled Outdoors Association (FDOA) held its 6th annual SportsAbility in Ocala and Gainesville. The Agency for Persons with Disabilities (APD) was there to show its support and provide information about the agency to individuals participating in the event. SportsAbility was a two day program that started in Ocala on October 3 and concluded on October 4 at Paynes Prairie Preserve State Park in Gainesville.
On October 3, attendees were welcomed and encouraged to learn about new recreational activities and opportunities.  Some of these activities included scuba diving, martial arts, therapeutic horseback riding, tennis, laser target shooting, arts and crafts, and more!  A resource expo was also available for individuals to learn about new products, active leisure programs, and services for people with disabilities. Some of these vendors included APD, Vocational Rehabilitation (VR), The Family Care Council (FCC), Florida Telecommunications Relay, Inc., and many local vendors who serve the Ocala area.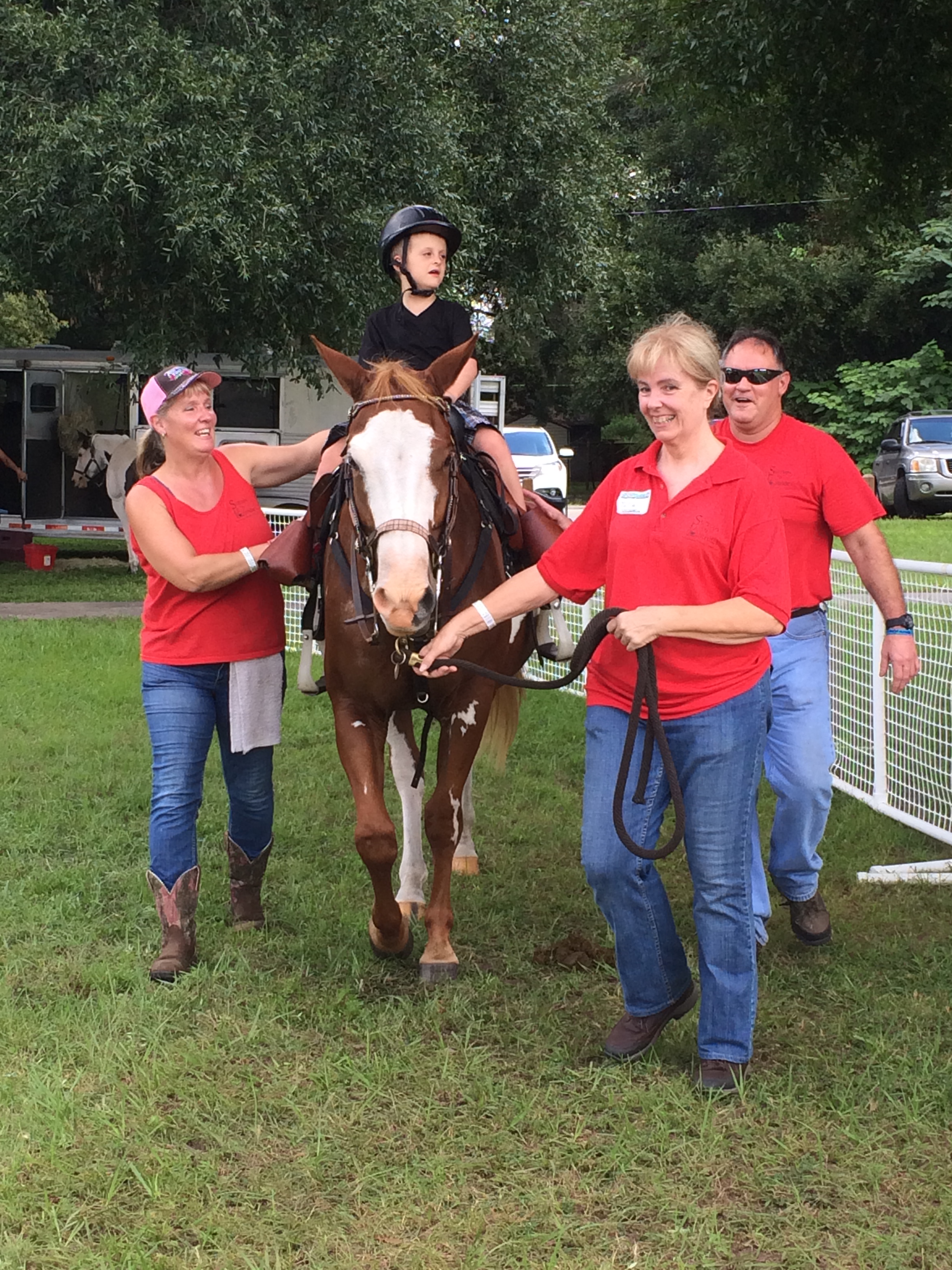 The fun continued with outdoor activities and water sports on October 4, at one of Florida's most beautiful state parks, Paynes Prairie Preserve. Individuals who participated could partake in pontoon boat rides, water skiing, kayaking, swimming, rock climbing, archery, and more! More than 50 volunteers were there to assist individuals with activities, as well as cook hamburgers and hot dogs for everyone who attended free of charge.
SportsAbility is more than just a good time. It brings awareness to the community about the health benefits of active leisure, and it also educates the general public about individuals living with disabilities. Thanks to a great group of sponsors, FDOA is able to provide both of these events free of charge to individuals and their families who participate. FDOA will be hosting its next SportsAbility event in 2015 on April 9-11 in Tallahassee.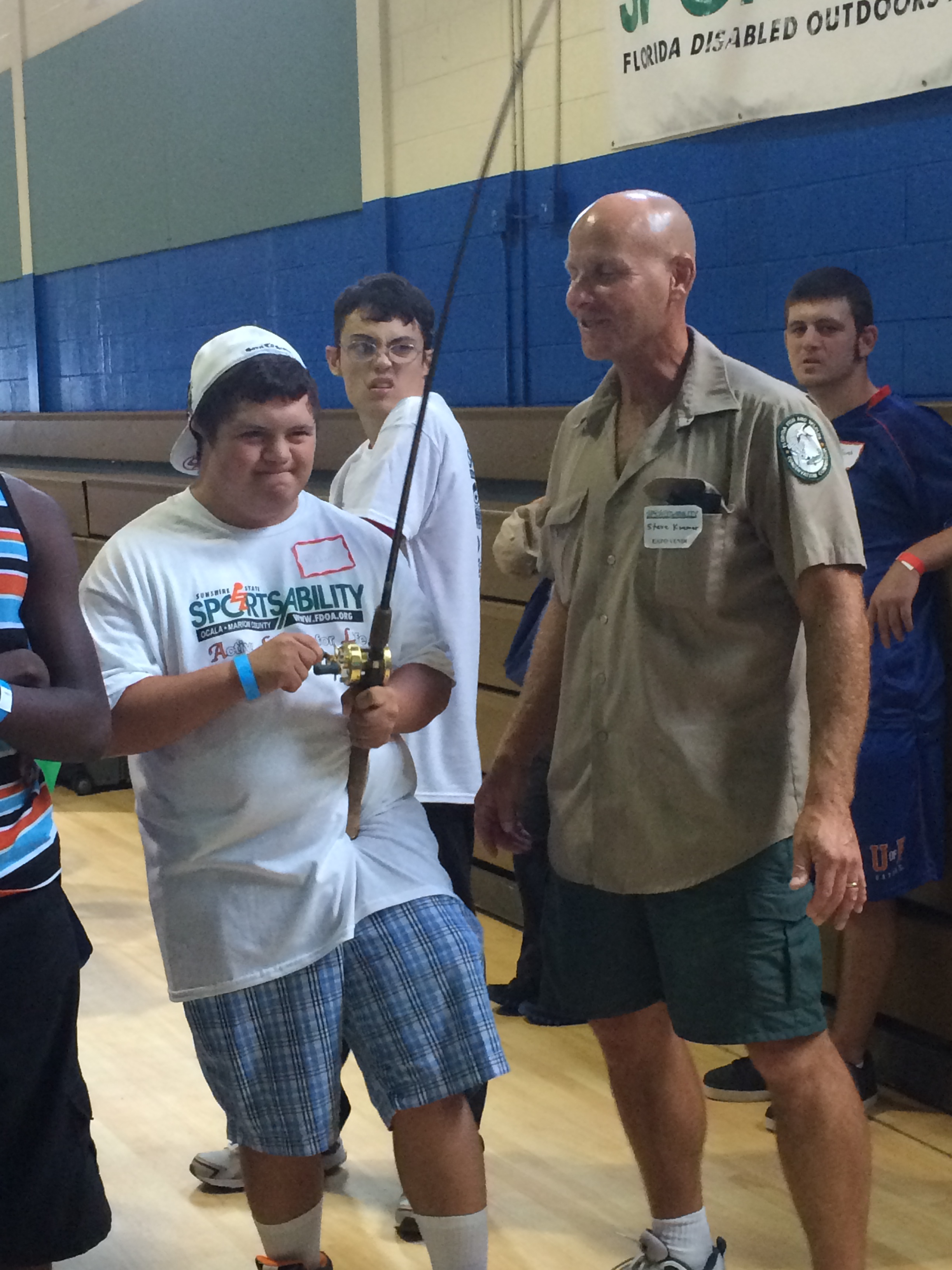 For more than 20 years, FDOA has been offering inclusion for people with disabilities by offering active leisure and recreational opportunities. FDOA's efforts has built confidence, self-esteem, and promotes good mental and physical well-being for individuals who participate in their programs. For more information about the FDOA check out www.fdoa.org.
---
Sunland Fall Festival Enjoys Record Crowd!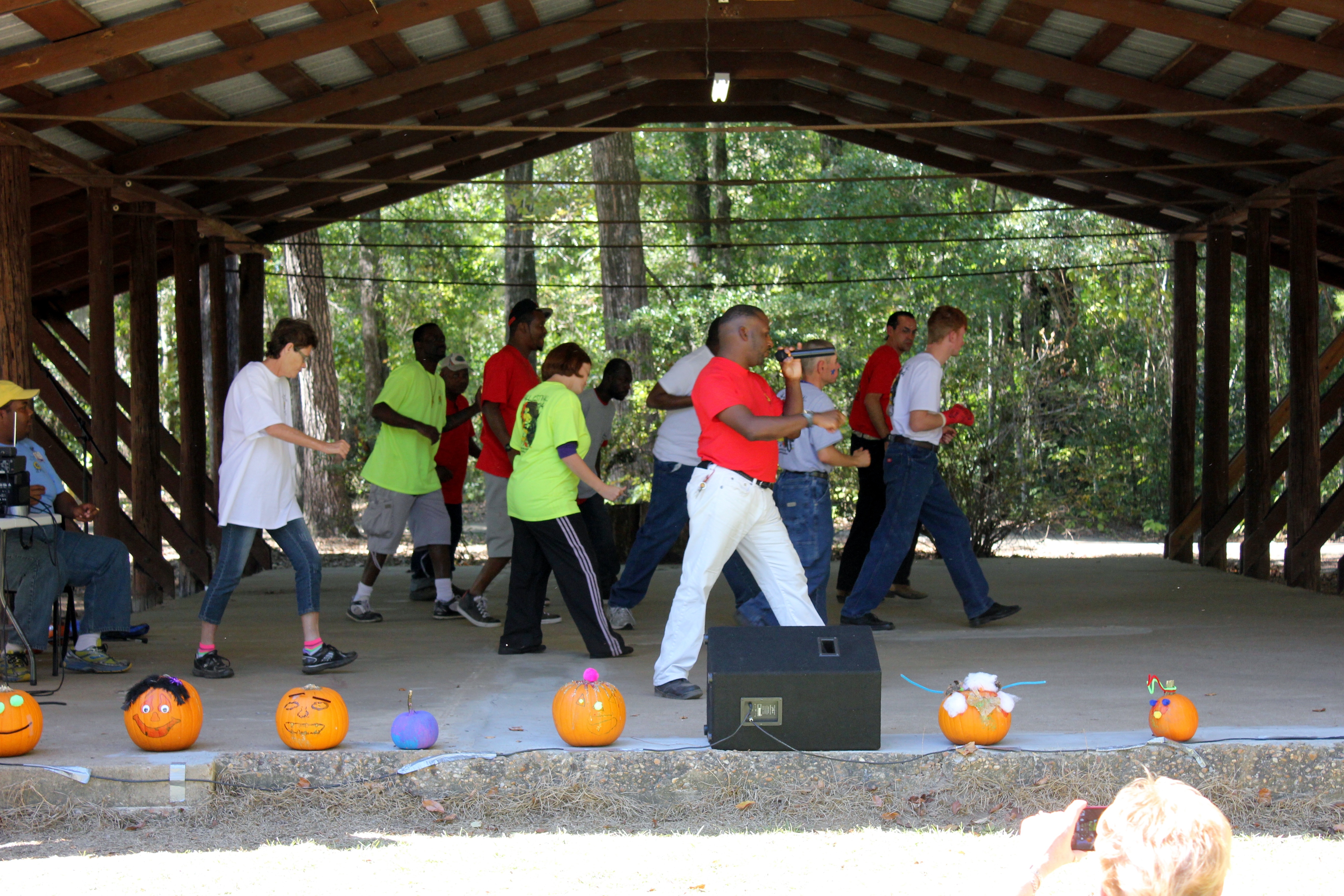 Sunland Center celebrated its 36th Annual Fall Festival Saturday on October 25, and enjoyed a record crowd. One of the largest festivals on record, an estimated 6,000 people converged on the beautiful Sunland Environmental Park to enjoy the day's festivities. The weather could not have been more perfect with a brisk, cool morning, beautiful blue skies and the warmth of the afternoon sun. Superintendent Geri Williams and the Sunland staff were especially pleased at the turnout.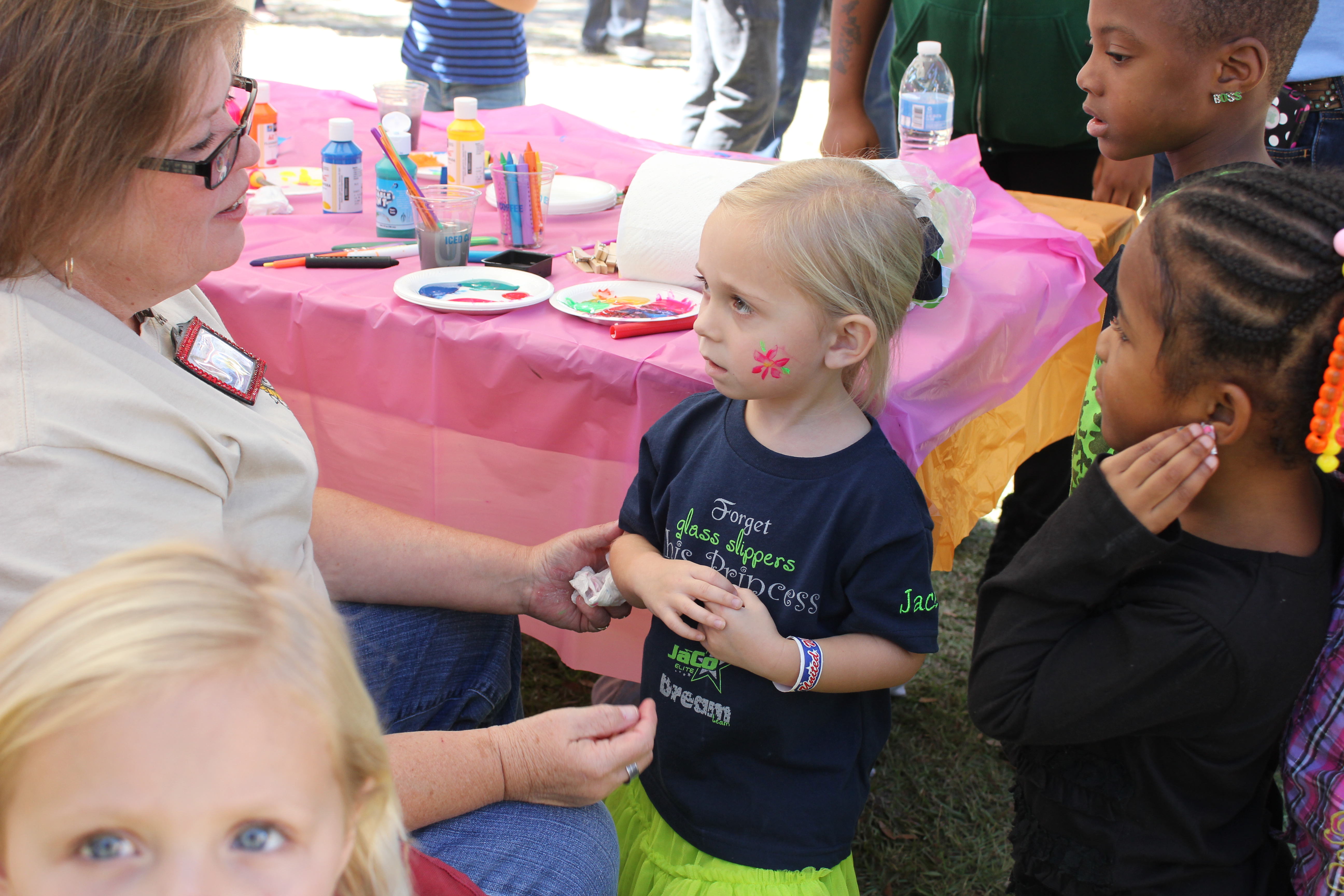 The origins of the festival began 36 years ago as an opportunity to bring Sunland residents and their families and friends together for a time of fellowship and fun-filled activities. Over the years, the event began to grow, and with support from the local community has become one of the largest festivals in Jackson County. The annual Fall Festival has become a much anticipated and exciting activity for Sunland residents, employees, and the surrounding community.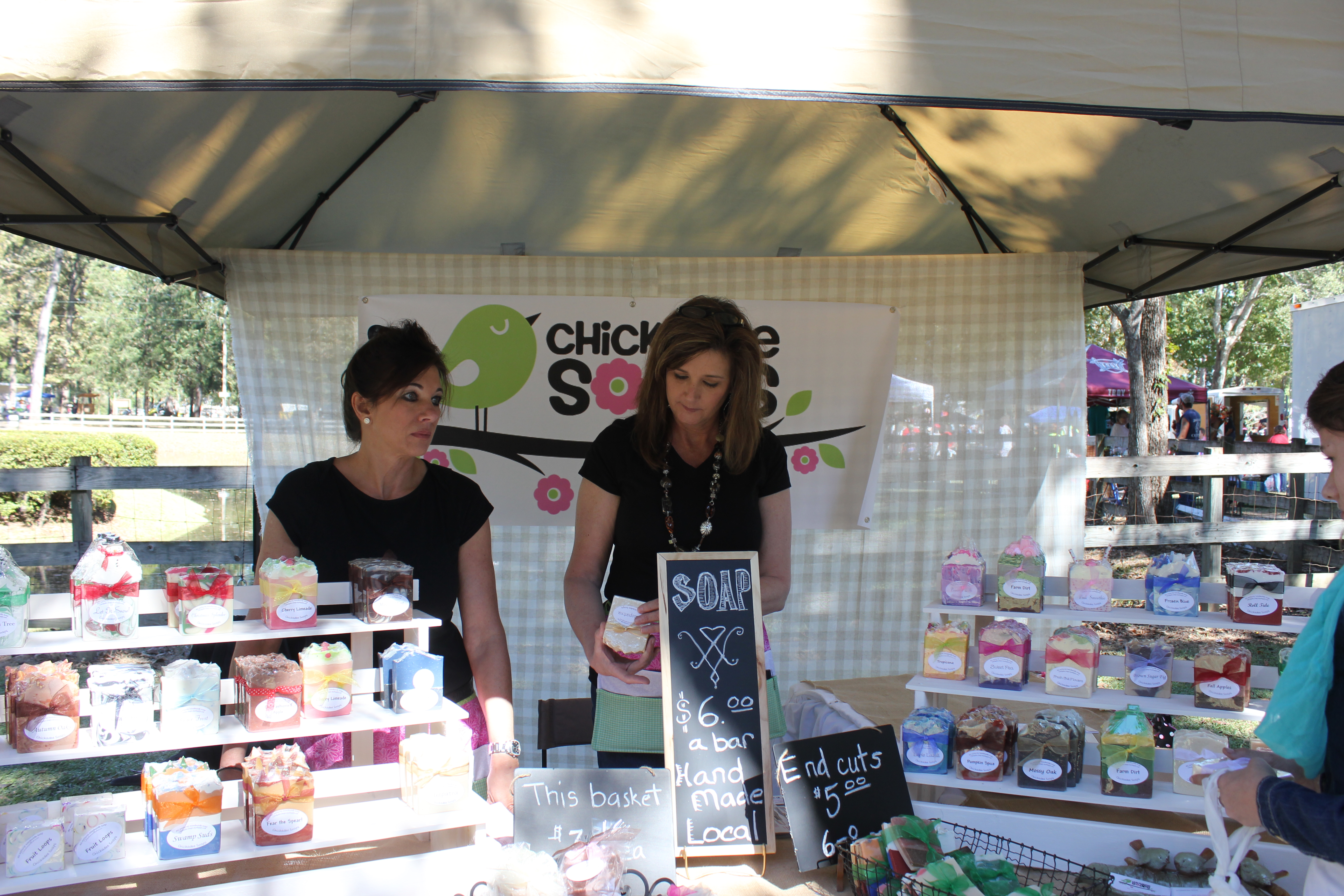 To kick the day off with the opening parade, Superintendent Williams was joined by Agency for Persons with Disabilities (APD) Director Barbara Palmer, Chief of Staff Michael Ayers, Deputy Director of Operations Tom Rankin, Deputy Director of Administrative Services David Dobbs, Legislative Affairs Director Jared Torres, along with Tacachale Administrator Michael Mayfield, Sue Rayford, and Holli Rutledge from the Tacachale Developmental Disabilities Center in Gainesville. Following the parade, everyone enjoyed visiting the vendor booths, searching out their favorite festival foods, and taking in the live entertainment on three stages located throughout the festival grounds.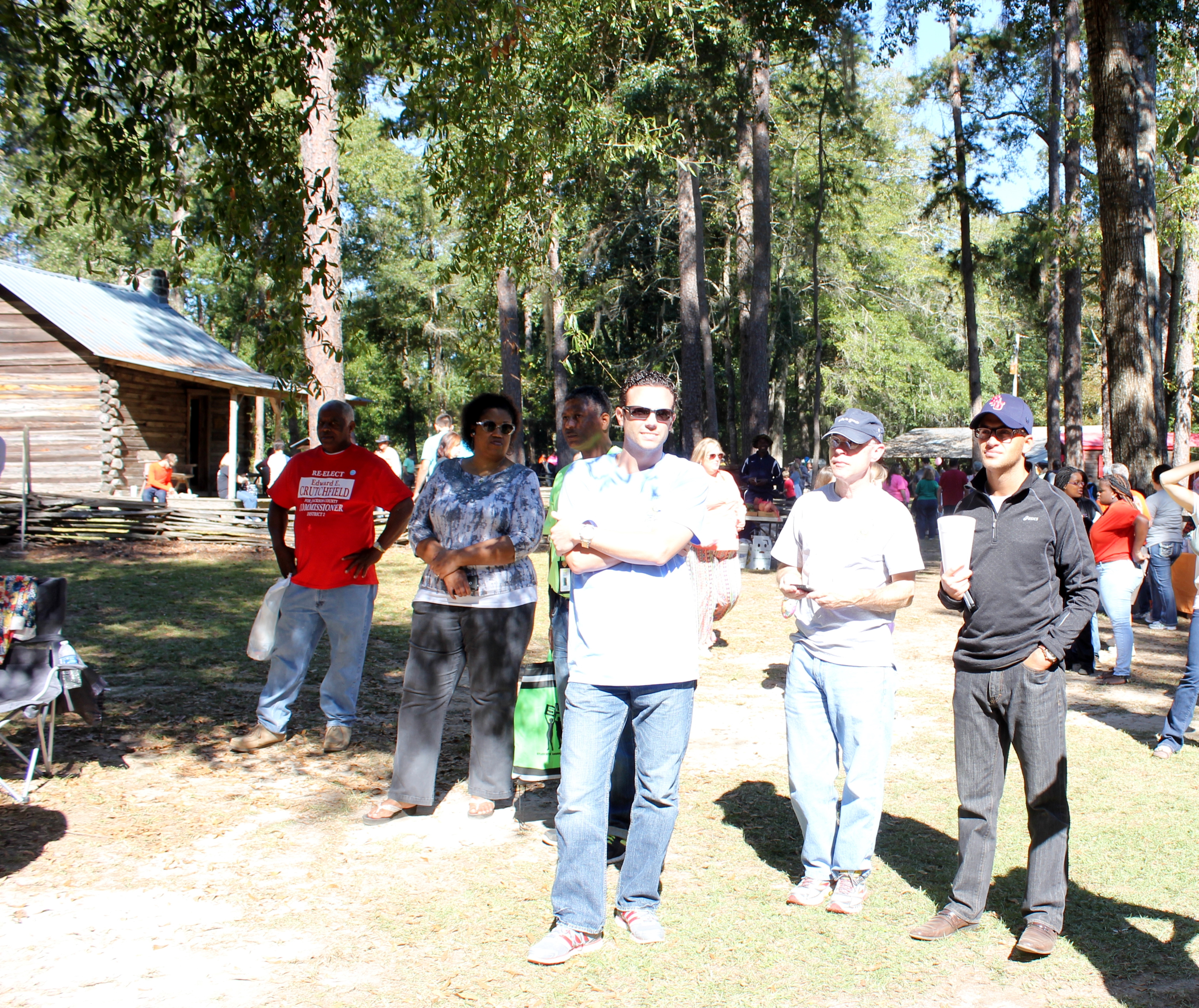 Plans for the 2015 Fall Festival will soon be underway. The Sunland Fall Festival is always held on the last Saturday of October. Save the date and mark your calendar now for a fun-filled day. You won't want to miss it!
---
Baking in a New Job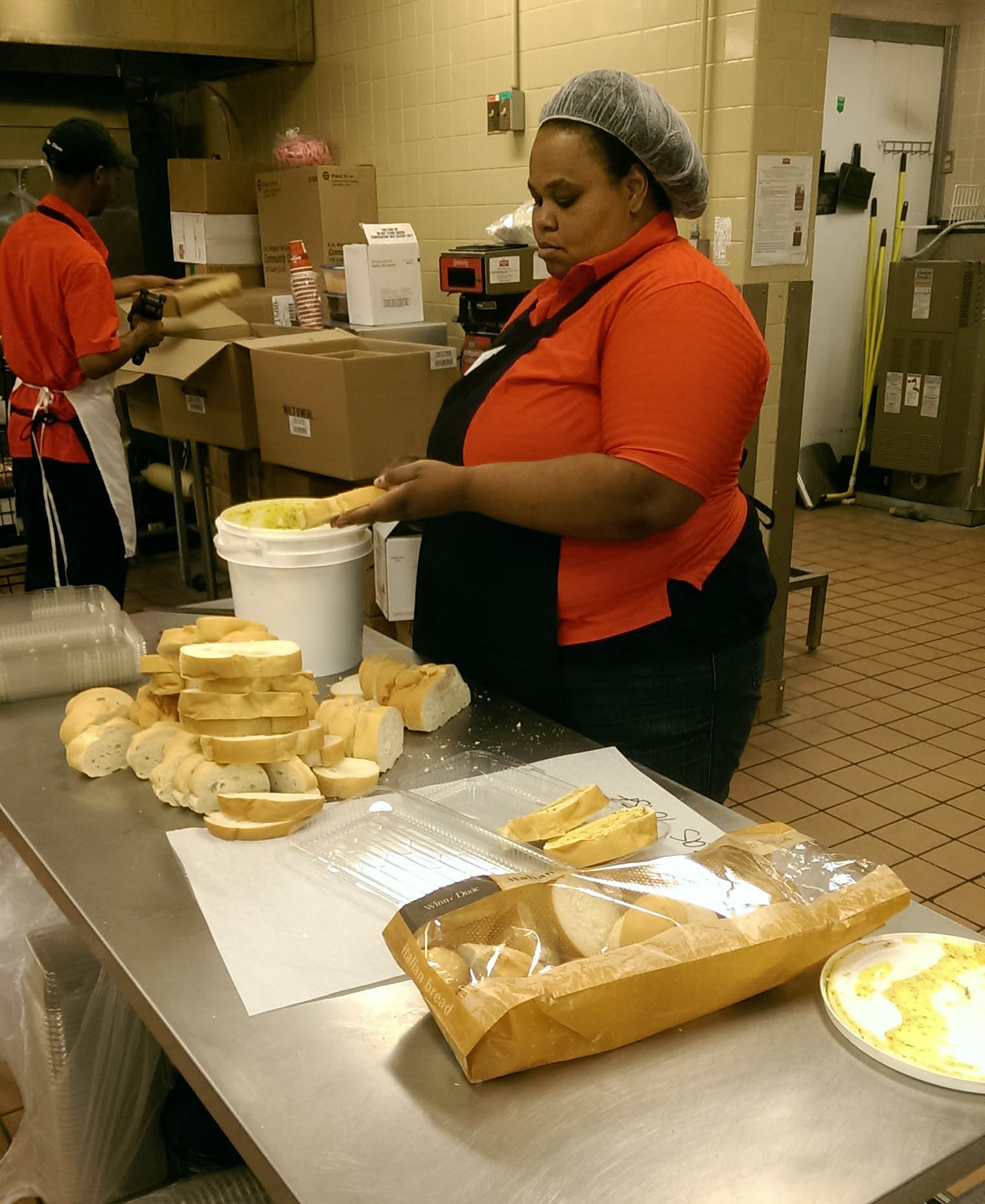 Annie Calhoun has been a faithful participant in annual Disability Mentoring Day activities. Calhoun has constantly expressed that she would love to have a job where she could bake various foods for others. With the help of her supported employment provider, Allyson Oswalt, Calhoun is now working the job of her dreams in the Winn-Dixie bakery. She has the opportunity to bake an assortment of bakery items and she loves to interact with customers. She will also begin, courtesy of Winn-Dixie, attending cake decorating classes to garner knowledge and experience to be a cake decorator.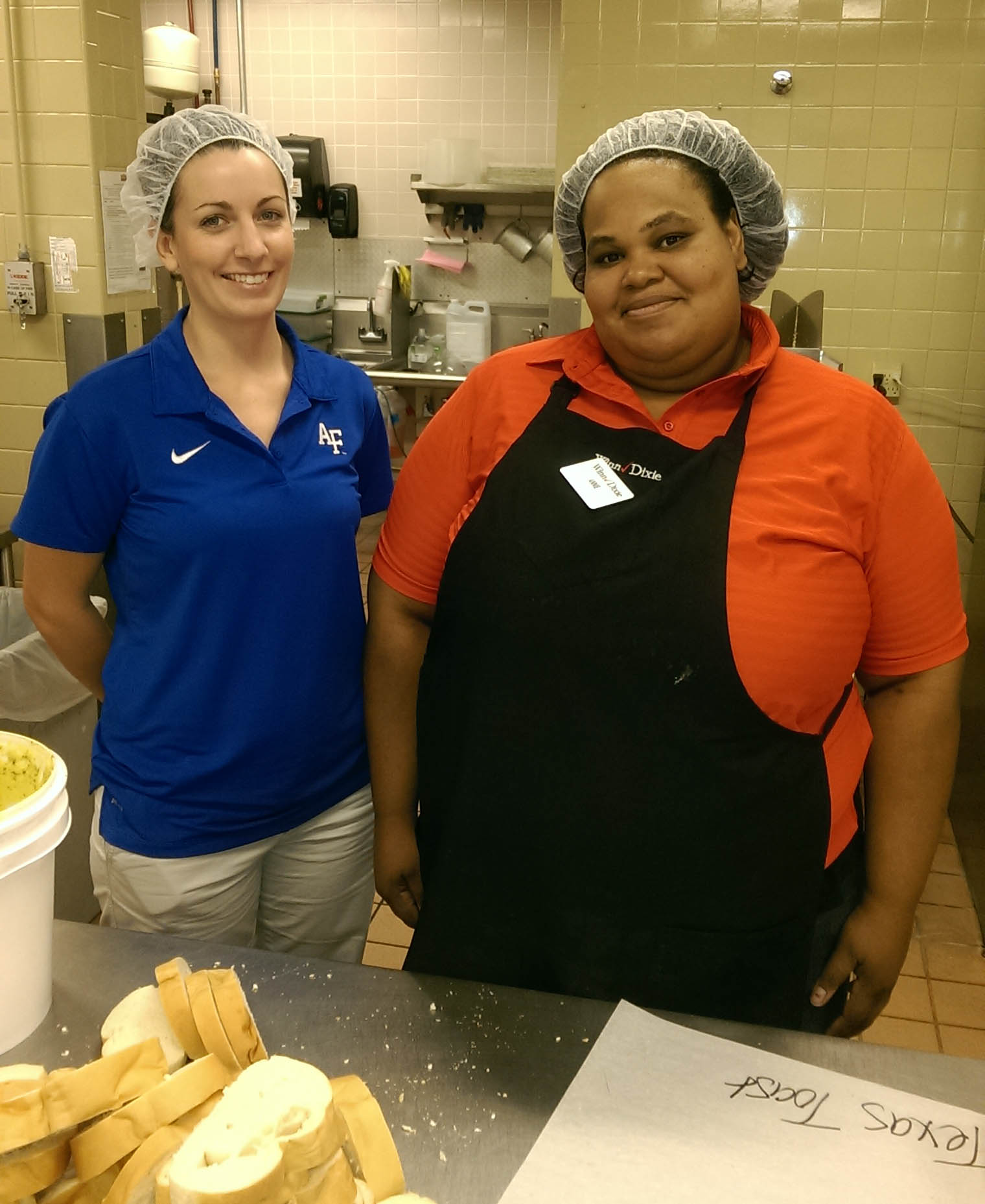 ---
Disability Employment Awareness Celebration
By Michael Cardello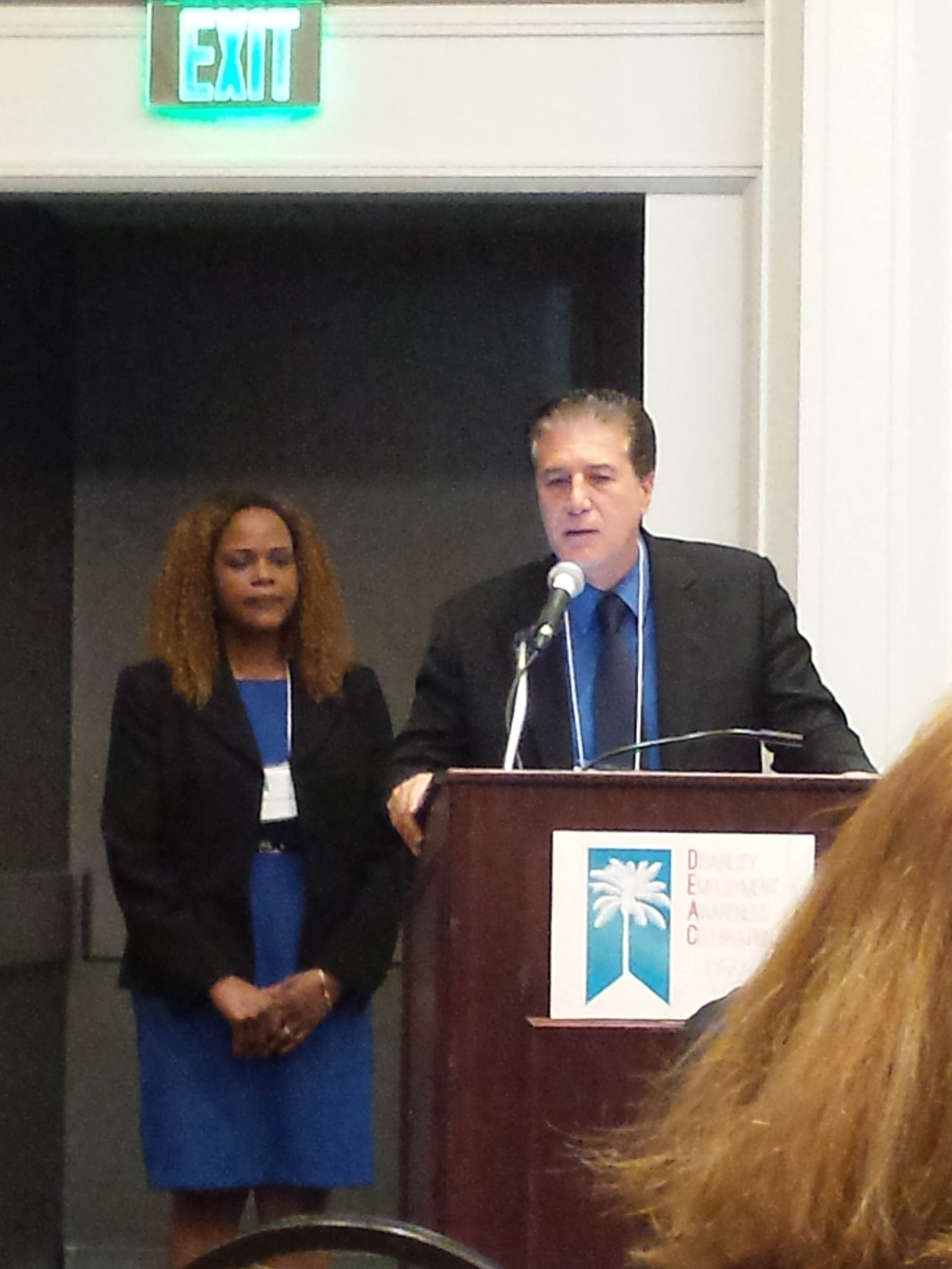 On October 14, the Division of Vocational Rehabilitation (VR) held a celebration recognizing Miami area employers with outstanding track records of employing and retaining individuals with disabilities. The celebration was held at the Miami Airport Hilton.
Cynthia Gaber, Vocational Rehabilitation Area 6 Director, welcomed all participants and led the introductions of several guest speakers. She recognized both employers and VR customers who benefitted from VR's services, which led to employment at these companies.
Commissioner Keon Hardeman of the City of Miami addressed the group, emphasizing the importance of employing people with disabilities in order for them to be productive members of the community. Carlos Hernandez, Mayor of the City of Hialeah, spoke proudly of the city's commitment to hiring seven students of Miami Dade County Public School's Exceptional Student Education's Project Search.
The employers honored for 2014 included: City of Hialeah, Brightstar Corporation, Designs by Camilas, University of Miami Newman Alumni Center, and Lee and Marie's Cakery. Representatives of City of Hialeah and Brightstar Corporation spoke of their positive experiences with employees with disabilities. VR customers stood at the podium to tell of their gratitude for employment at the City of Hialeah and Brightstar Corporation. A VR and APD customer, Lazaro Quintana, Jr., gave a very rousing speech within which he saluted the abilities of employees with disabilities.
The employers honored for 2013 included: Baptist Health South Florida, Contemporary Service Company Miami, and Zoo Miami. A representative of Baptist Health South Florida spoke of her organization's positive experiences, and she recognized APD as an invaluable partner in collaborating with BHSF on Disability Mentoring Day, paid internships, and employment of more than 10 APD customers throughout the last several years.
Exhibitors at the celebration included: APD, Center for Independent Living of South Florida, Florida International University, and VR.
It was a very impressive event. It called attention to the positive outcomes for both the employers and employees.
---
Leon County DMD
By Octavius Jackson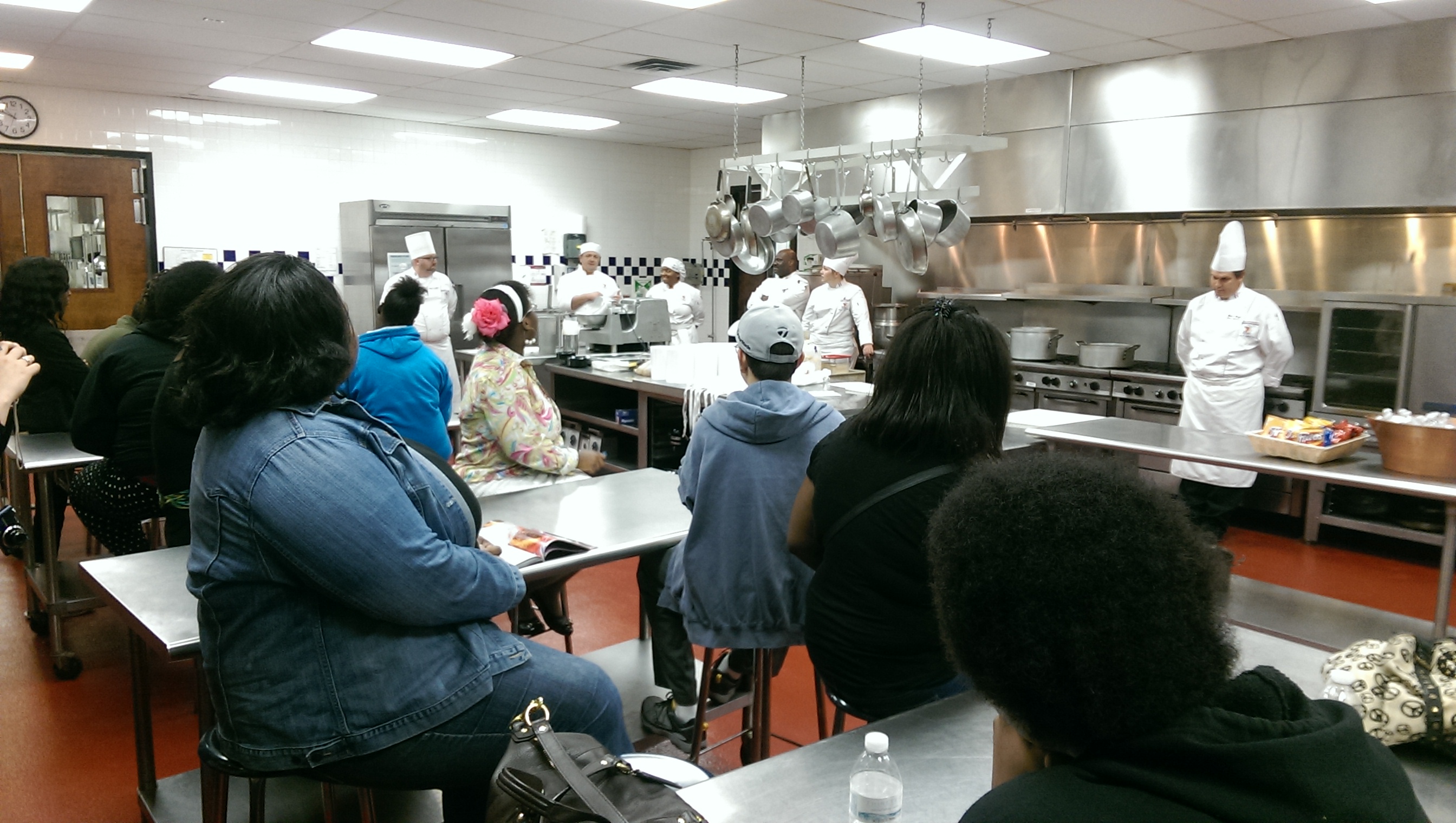 On October 24, Keiser College School of Culinary Arts hosted a class for Disability Mentoring Day (DMD). The culinary class was targeted for students who may be interested in a profession in this area. The instructors and culinary students provided a tour of the school and demonstrated various cooking skills. This also included safety while preparing meals. The mentees were allowed to assists the chefs as they prepared a meal from scratch. All the mentees were allowed to partake in the delicious meal, which consisted of spaghetti and garlic bread, along with tiramisu cake for dessert.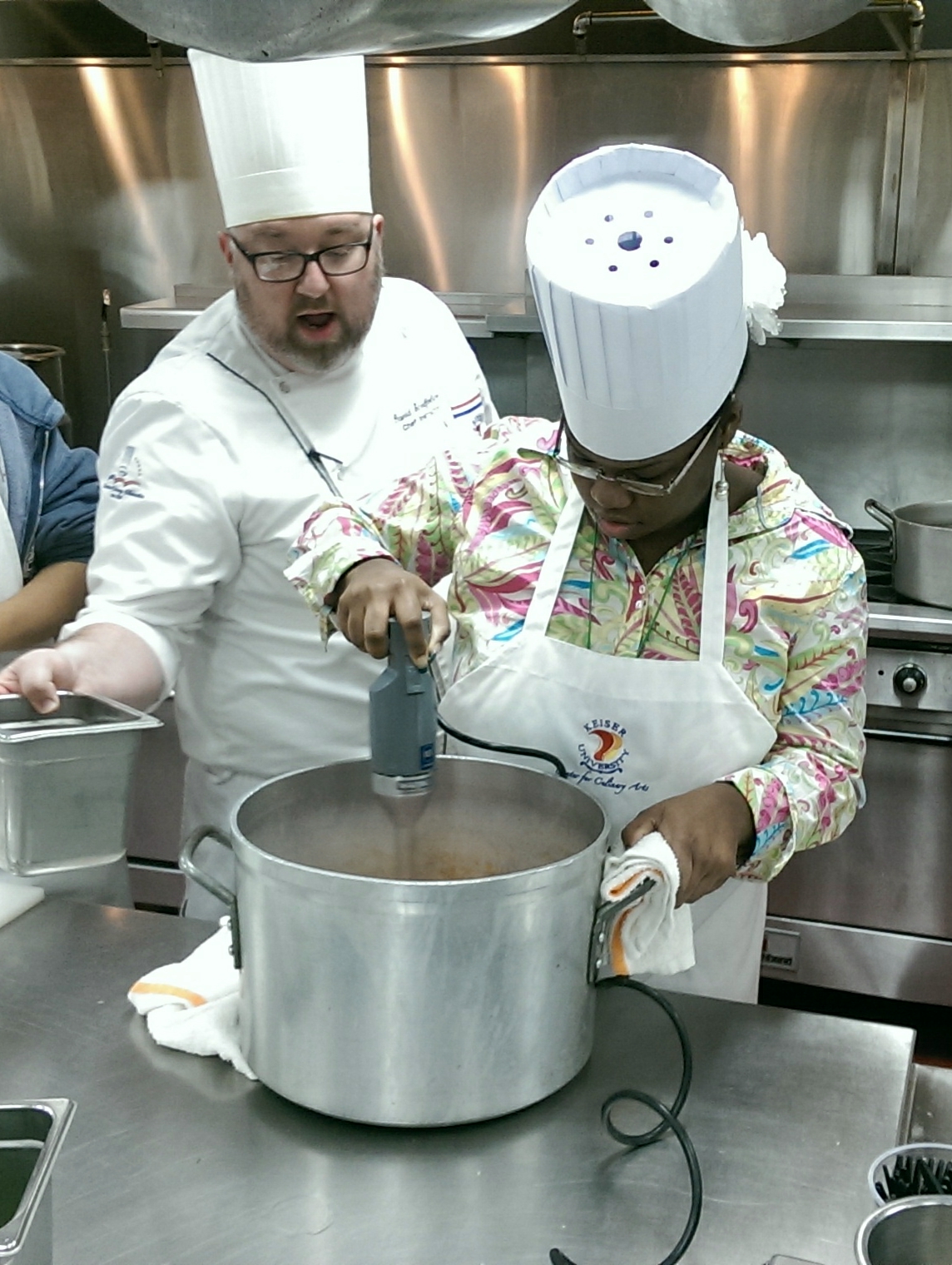 The class was coordinated by the Leon County DMD committee, chaired by Ability 1st, and consists of representatives from the Agency for Persons with Disabilities, Vocational Rehabilitation, City of Tallahassee, Career Source, Florida Alliance for Assistive Services and Technology, and Tallahassee Regional Hospital.
APD had three mentees participate in this DMD event. One of those mentees was Klaressa Williams who was joined by her supported employment provider Willie Miller with Water for the Journey, Inc. Williams indicated that she really enjoyed the event and it allowed her to becoming more comfortable in a kitchen environment. She noted she is excited about exploring employment options that involve food preparation.
---
Bay County Disability Mentoring Day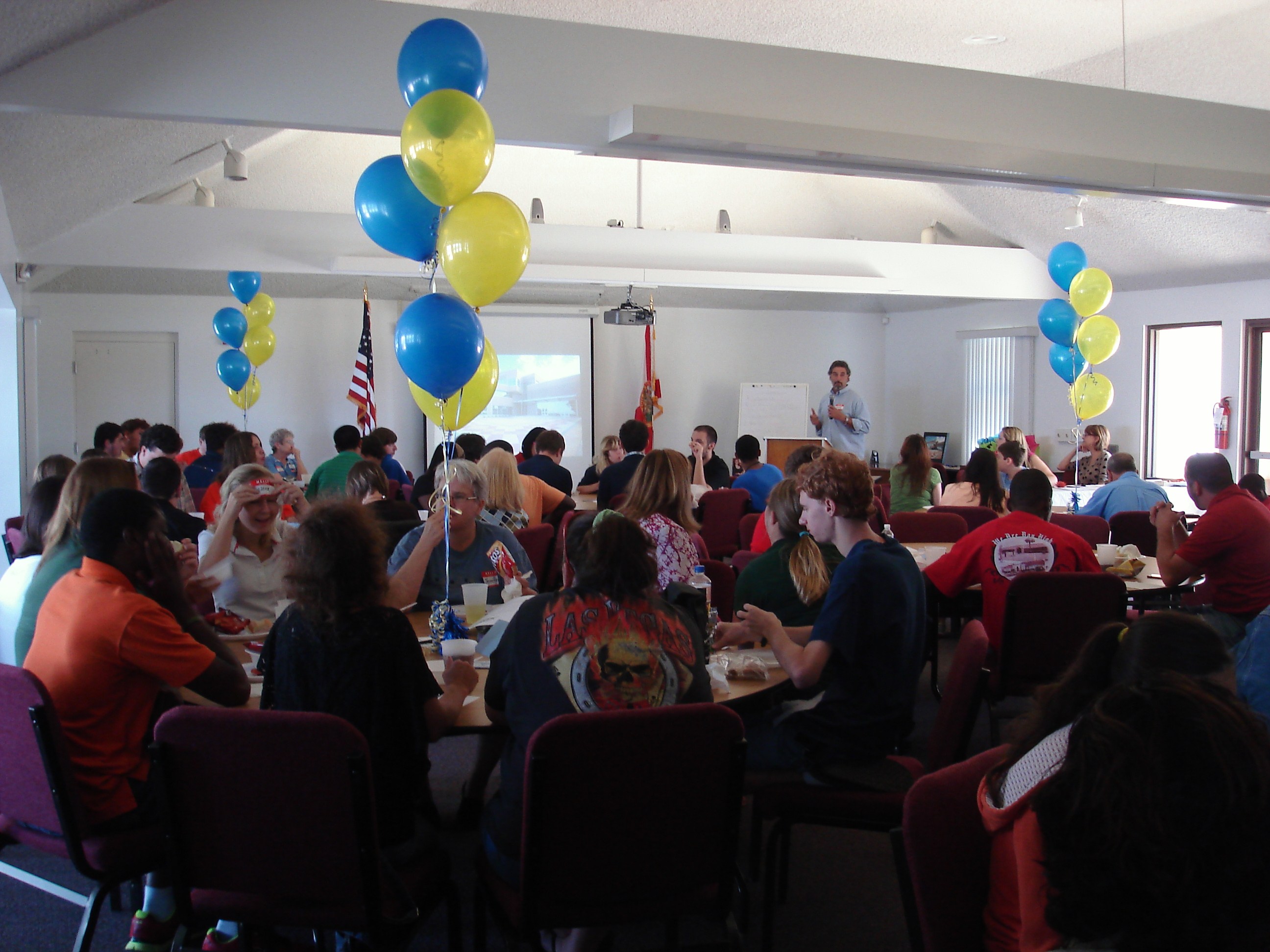 Approximately 75 students with disabilities in Bay County participated in celebrating National Disability Employment Awareness Month by spending the morning of October 1 job shadowing in a business of their choice. Afterwards mentors, mentees, and parents enjoyed a luncheon on the Florida State University-Panama City campus where students had an opportunity to share their experiences with the group.
Students were mentored by the following businesses: Publix, Winn-Dixie, Olive Garden, My Best Friend's Kitchen, Sam's Club, Wal-Mart, Bay Schools Maintenance Department, Panama City Fire Department, Bay County Sheriff's Office, Disability Resource Center, Bill Cramer Chevrolet, Zoo World, Gulf World, Longhorn's Steak House, Early Education & Care Head Start, Banfield Animal Hospital, Best Buy, Gulf Coast Regional Medical Center, and Humane Society of Bay County.
This is Bay County's seventh year of participation in Disability Mentoring Day, which gives students with disabilities a chance to learn about a specific profession and talk to professionals about their career track. Work experience, like job shadowing, provides a faster path to a successful career.
---
Above and Beyond Awards Presented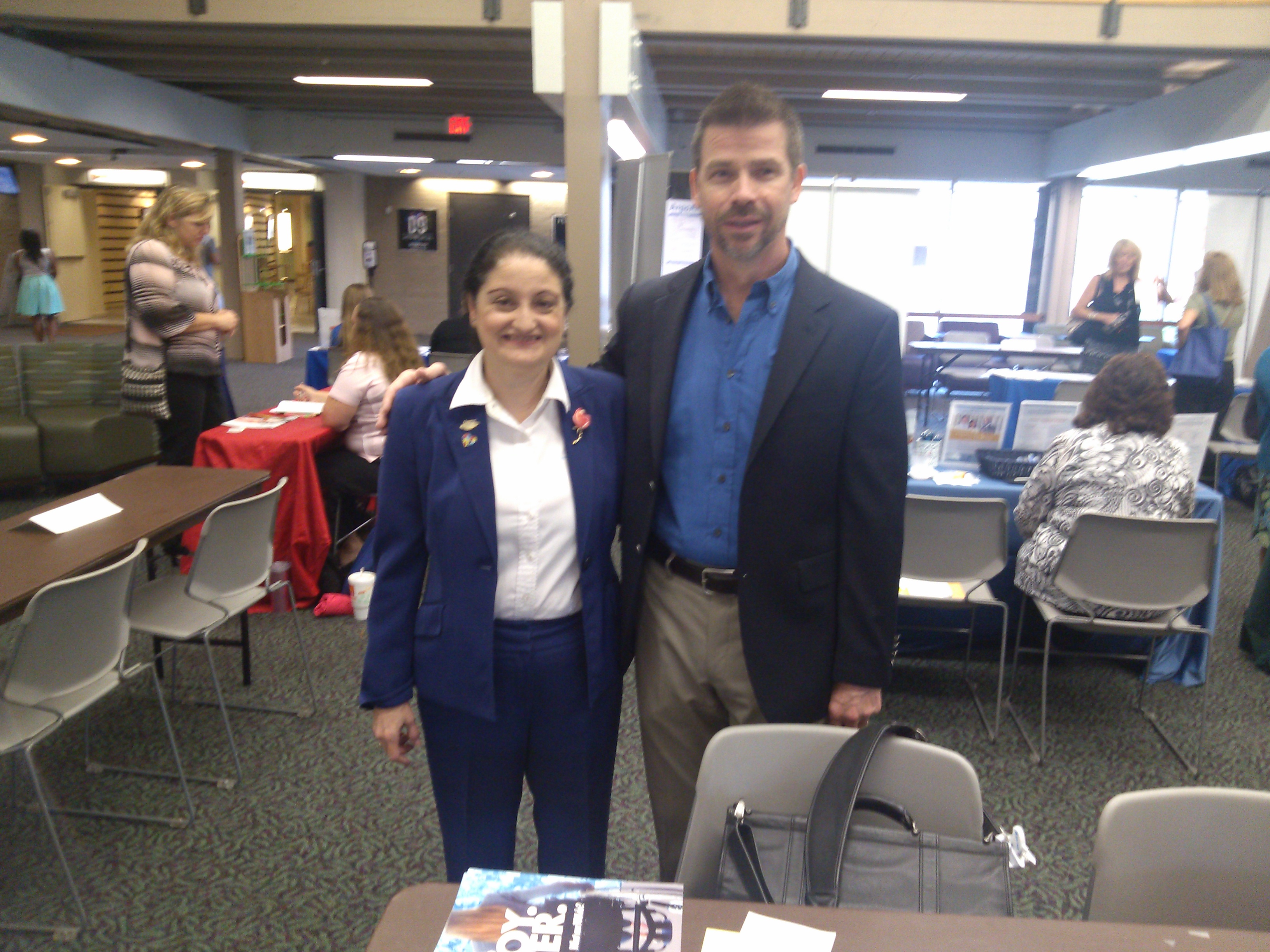 The Agency for Persons with Disabilities (APD) Northwest Region presented an "Above and Beyond Award" to Destry LeBrun and Katrina Washington on October 6 at the 10th Annual National Disability Awareness Month Luncheon at Rodizio Grill in Pensacola.
LeBrun founded PURE Friendship Ministries at Marcus Pointe Baptist Church to provide a place for families and individuals with developmental disabilities to feel welcome, wanted, safe, and loved.  Individuals are provided assistance when needed and opportunities to serve.  LeBrun has partnered with APD by offering facilities for meetings and trainings, provides free respite the third Saturday of every month,  a coffee social hour on the third Friday of every month, offers training to other churches on building respite opportunities, provides incontinence supplies, career clothes, and food to those in need.  APD is extremely appreciative of LeBrun's dedication.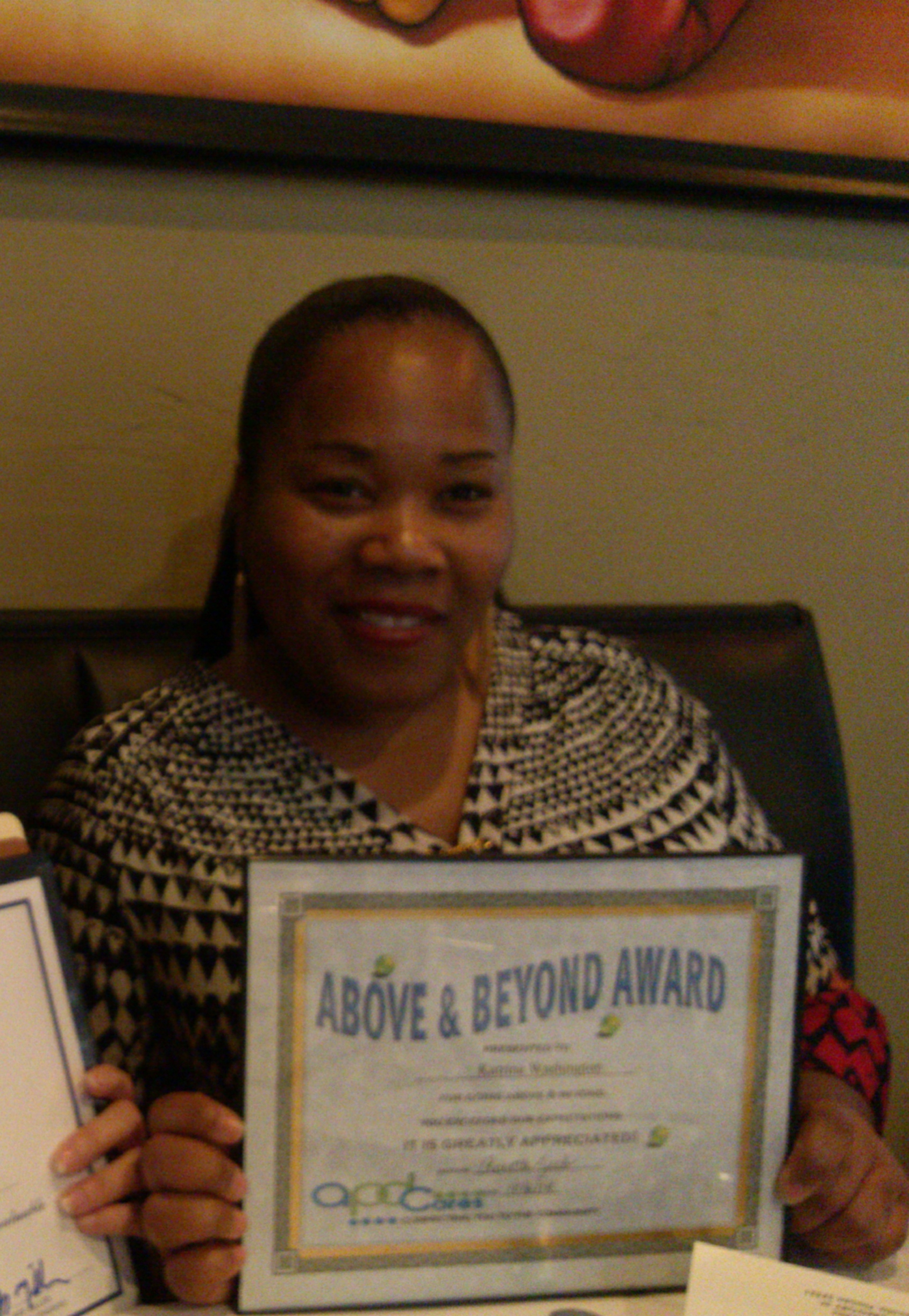 Katrina Washington was also presented an award for her strong advocacy in promoting employment for individuals with developmental disabilities.  She has developed a network of employers willing to learn about APD individuals and how they can assist others in reaching their goals.  She has been able to inspire students to try employment.  APD is appreciative of her dedicated service.
Both LeBrun and Washington also received a Congressman Jeff Miller Merit Award in recognition of their outstanding and invaluable service to the community. 
---
Project Empower of Northwest Florida Donates Computers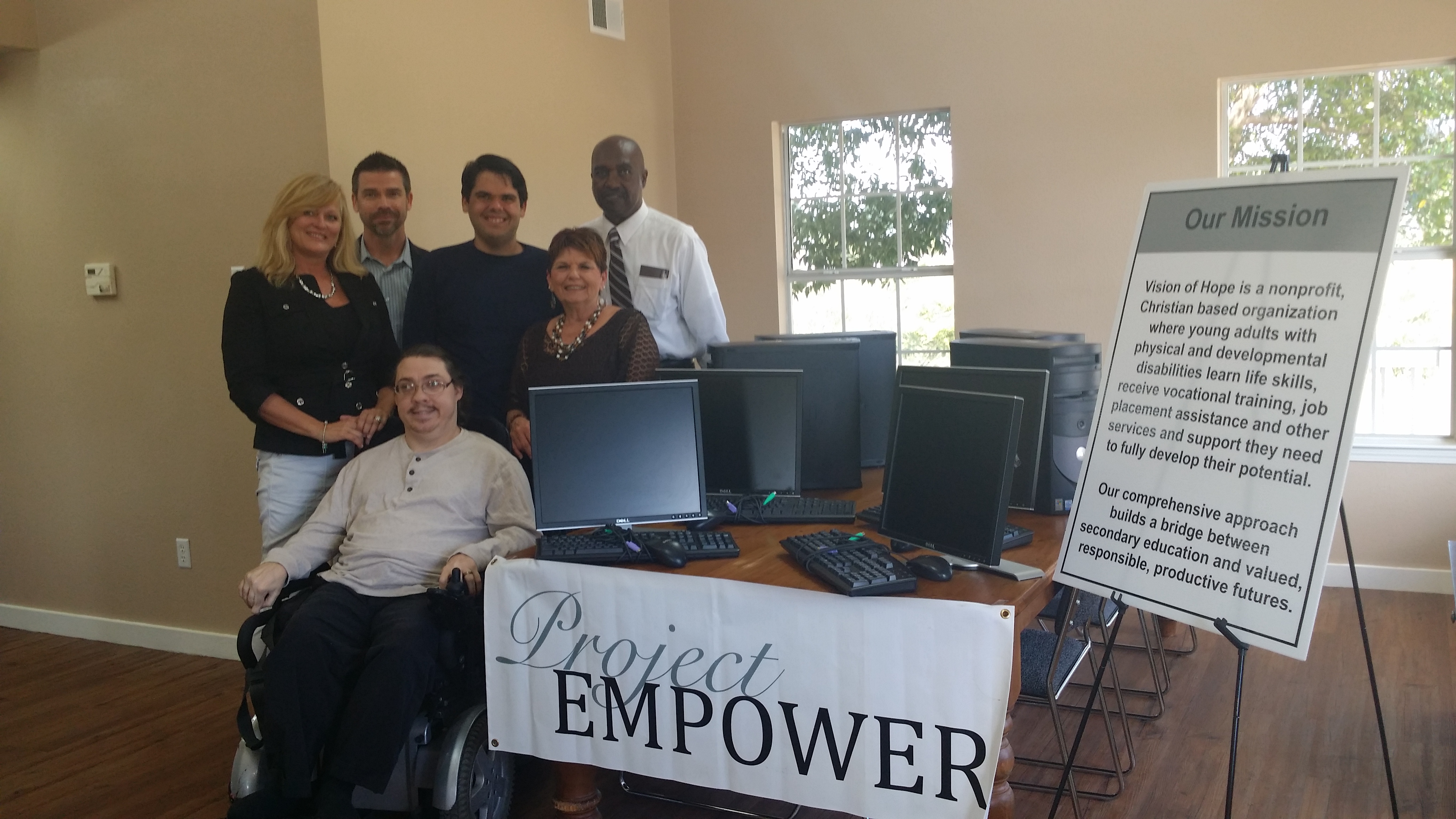 On October 8, Project Empower of Northwest Florida, Inc. donated four Dell computers, complete with Windows XP Operating Systems, to Vision of Hope's new Employment Transition facility in Milton.  The computers will be used to train individuals on how to search for jobs, fill out employment applications, access interview technique trainings, and develop resumes.
The donation to Vision of Hope is the first of many; Project Empower has 20 additional computers ready for donation by the end of this year.  Anyone with a disability in Escambia, Santa Rosa, Okaloosa, or Walton County who desires to own a computer for self-empowerment may receive one by simply submitting a paragraph to Project Empower which describes how they will use their donated computer for self-empowerment.  A commitment to perform community service at a local organization is also a requirement.  Please call Tara Potter at 850-686-9369 for more information.
Project Empower has set systems in place to offer training and maintenance support to computer recipients.  Please attend the next Project Empower meeting to learn more:  November 18, from 11 am-12:30 pm at Marcus Pointe Baptist Church, 6205 N. "W" Street, Pensacola, Florida (North Entrance, Building A, Door 4) or go to http://projectempowernwfl.org/  to get more information.
---
Let's Get to Work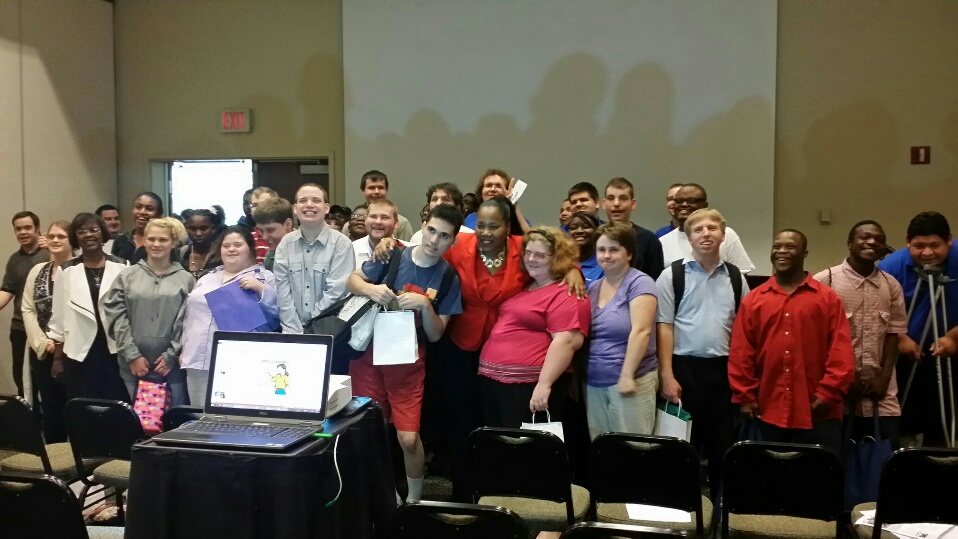 Katrina Washington, Northwest Region Employment Liaison with the Agency for Persons with Disabilities (APD), presented the National Disability theme of Expect, Employ, and Empower to the Escambia and Santa Rosa counties' exceptional education high school students on October 9 at the University of West Florida (UWF) 11th Annual Disability Awareness Conference in Pensacola.  Washington encouraged the students to become their biggest advocate by pushing themselves to succeed.  The APD Employment Enhancement Project was shared, along with encouraging employment while in school.  Interview tips were shared and practiced.  She encouraged students to raise their expectations and set employment as a goal that will empower them to take responsibility for their own lives.  The importance of connecting with people willing to help was stressed.  The students left excited about employment. 
Employers representing Gulf Coast Enterprises (GCE), Gulf Power, Lowe's Inc., and Navy Federal Credit Union were on site available to provide mock interviews for the students.  LaVesta Feagin with the Florida Alliance for Assistive Service & Technology (FAAST) demonstrated assistive technology.  The conference provided students with tools to move them closer to employment.
The conference also provided informational sessions for the community.  Rusty Branch with Gulf Coast Enterprises (GCE) touched the audience with the employment success stories of individuals at GCE and how individuals with disabilities make for a better, smarter workplace.  Cheri Hofmann with the Southeast ADA center shared her personal story, along with clarifying what are reasonable accommodations and how little they cost.  The Americans with Disabilities Act (ADA) Basic Building Blocks Course is available for free at www.adabasics.org.  The ADA toll free hotline number is 1-800-949-4232 or http://adata.org  Eladio Amores with Goodwill of Manosota presented the new rules (Section 503 of the Rehabilitation Act of 1973 effective March 24, 2014) for federal contracts.  The new rules require federal contractors to set a goal of having seven percent of their workforce be individuals with disabilities.  Federal contractor training must include:  business and societal benefits of employment of individuals with disabilities; appropriate sensitivity toward individuals with disabilities; and legal responsibilities of contractors regarding individuals with disabilities.   For more information, go to http://www.dol.gov/ofccp/regs/compliance/faqs/503_faq.htm .
Finally, Baptist Hospital, Gulf Coast Enterprises, Berryhill Manor, and Chartwells representatives participated on an employer panel.  We learned that some employers will actually provide the interview questions in advance if asked.  This annual conference is a collaboration of UWF, Escambia County School District, APD, Lakeview SVS, and the Southeast ADA Center. 
---
Panhandle Busuness Leadership Network Sponsors Wheelchair Basketball Game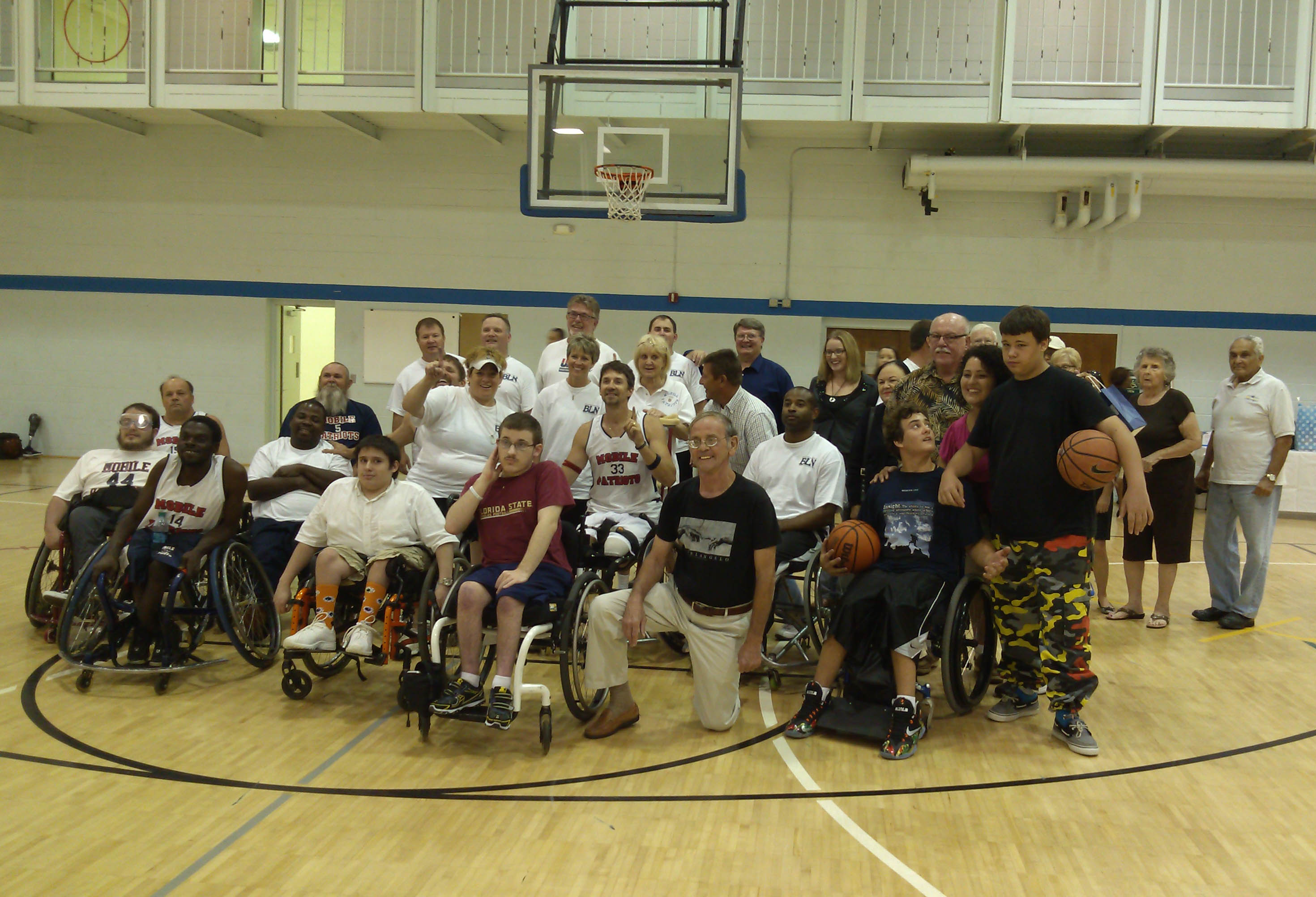 The Panhandle Business Leadership Network (BLN) hosted a wheelchair basketball game featuring the Mobile Patriots and Pensacola Celebrities on October 2 at the Olive Baptist Church gym.  The Mobile Patriots have won several national championship titles.  The Pensacola Celebrities team consisted of business leaders representing Coca Cola, Body Worx, Carver Darden LLC, Pro Basketball Scout, Lowes, Retina Specialist, Wal-Mart, Financial Advisor, and Women's Veterans Foundation.  The crowd enjoyed the game while the business leaders experienced being in a wheelchair.  A silent auction was held to help raise money for the team.  Two high school students who are Agency for Persons with Disabilities (APD) customers were special guests and given opportunities to participate.
The Panhandle BLN is dedicated to assisting businesses and organizations in the recruiting, hiring, training, and retaining of people with disabilities.  For more information about the Panhandle BLN or to get involved, contact John Mirra at 850-748-3828 or john.mirra@att.net .  To find out more about the Mobile Patriots, contact Scott Janik, team manager, at 251-554-1440.
---
UWF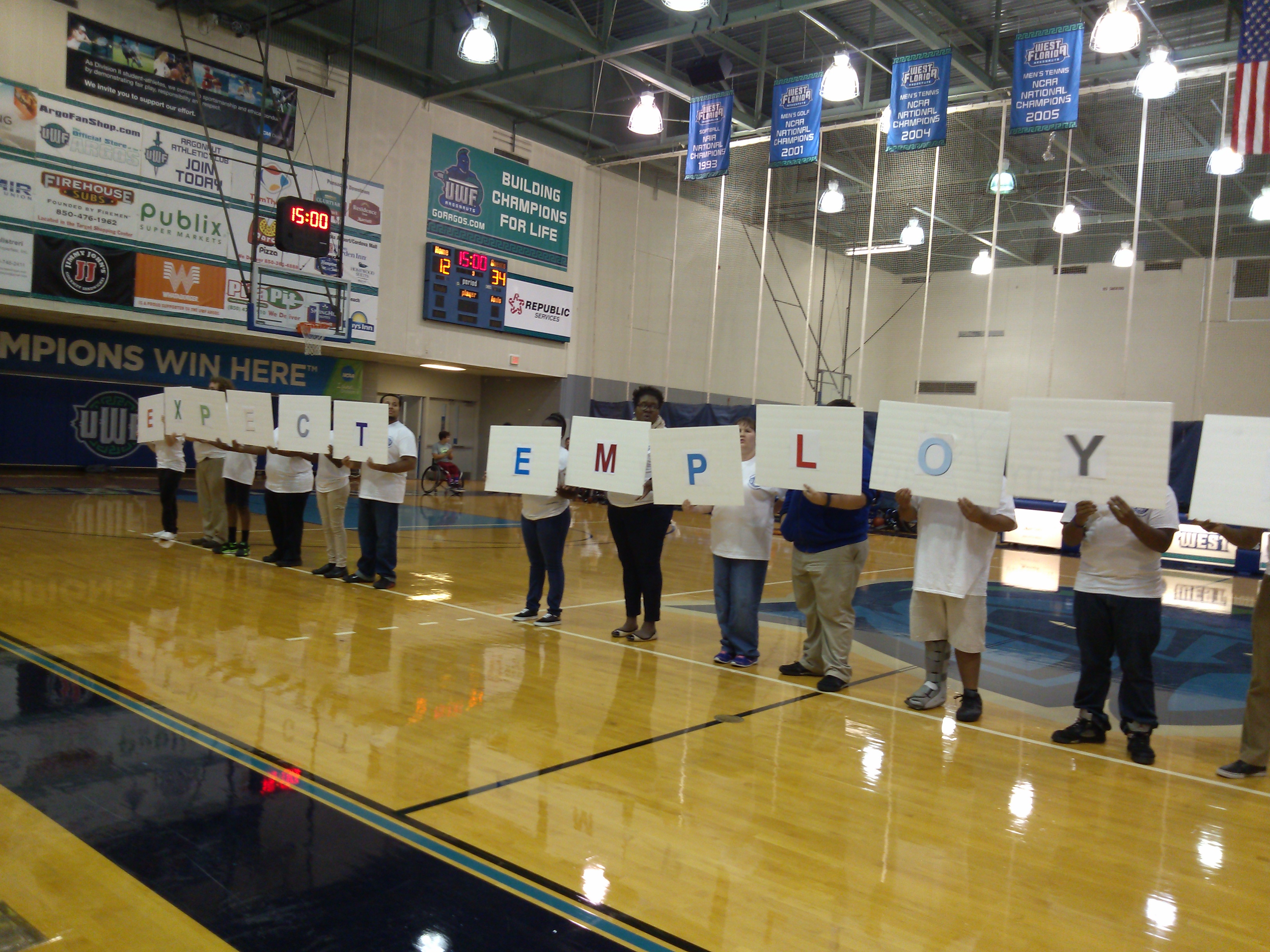 University of West Florida (UWF) Project Search students partnered with UWF employees and students to form a spirit squad for the 13th Annual Wheelchair Basketball Game with the Mobile Patriots on October 23 in Pensacola. During one of the breaks, the Project Search students along with others walked out onto the floor carrying an inspirational quote for individuals with disabilities. Once all the quotes were lined up, the students turned their signs around to spell out the National Disability Employment Awareness month theme, Expect, Employ, Empower.
---
FAMU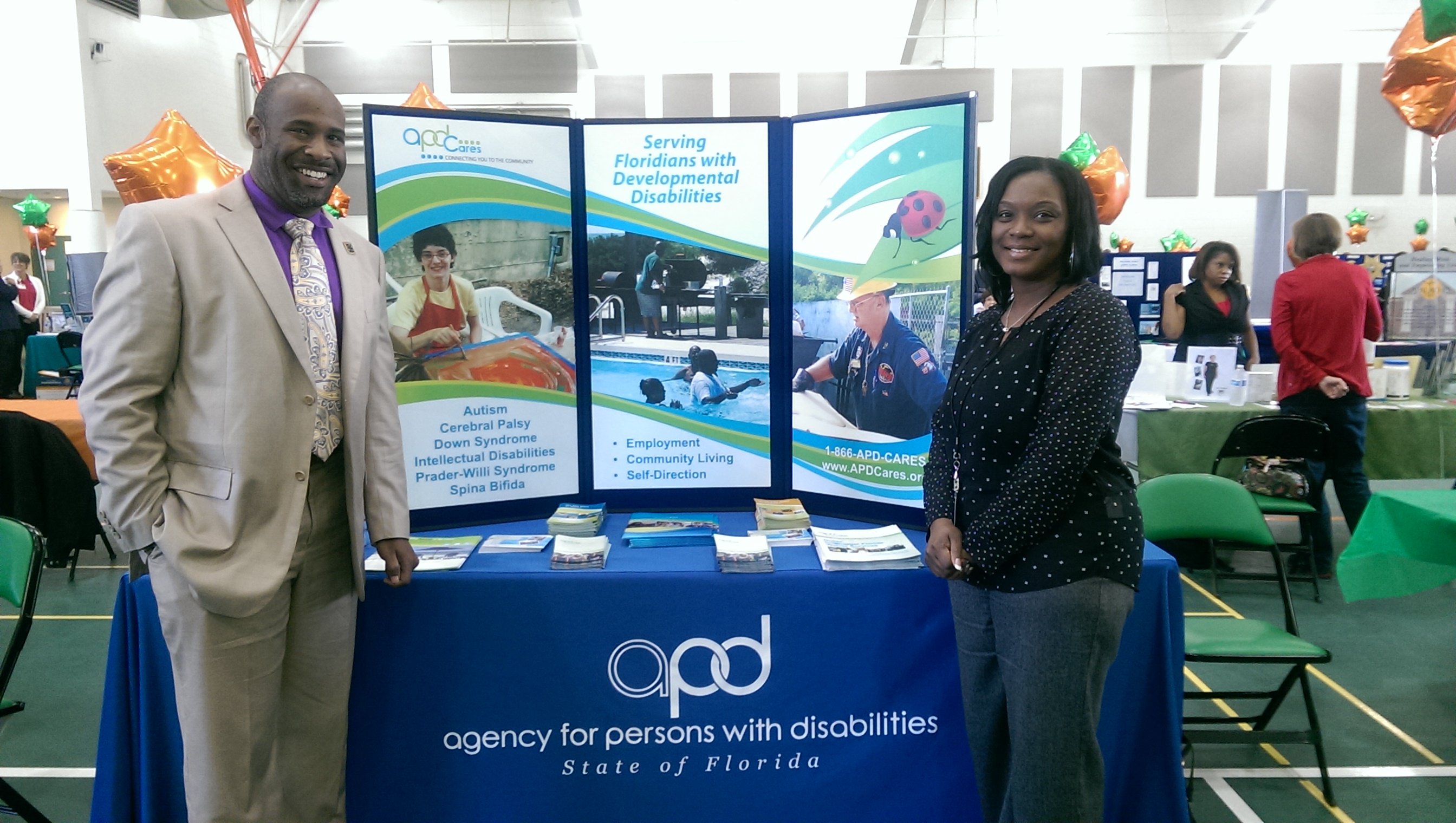 On October 28, the Agency for Persons with Disabilities Northwest Region participated in Florida A&M University's Health and Safety Day for its Homecoming week. The university's annual event involved the participation of 75 community partners. This event is to educate the students, faculty, and community regarding health and community resources. Health screenings were conducted. In addition, attendees were provided with the qualifications for services offered from the various agencies in attendance. Students also inquired about educational qualifications of various professions.
---
The Children's Trust Family Expo
By Maria Angeles Linares
On September 13, the Agency for Persons with Disabilities (APD) participated in the Children's Trust Family Expo, held at the Miami-Dade County Fairgrounds. 
The expo offered a wide variety of events and activities all with the family in mind.  It covered a range of topics from health, safety, fitness, arts and crafts, face painting, music, talent show, fencing exhibition, and a chess tournament. More than 200 exhibitors were in attendance with about 15,000 attendees.
The Agency for Persons with Disabilities had a nice corner booth in Arnold Hall and it was manned by Michael Cardello and Rosa Llaguno on the first shift, and Daliana Lee and Maria Angeles Linares for the second shift.  Many APD customers stopped by to say hello.  We also made plenty of new friends.  The day was a huge success! 
---
Asset Development Summit Held in Panama City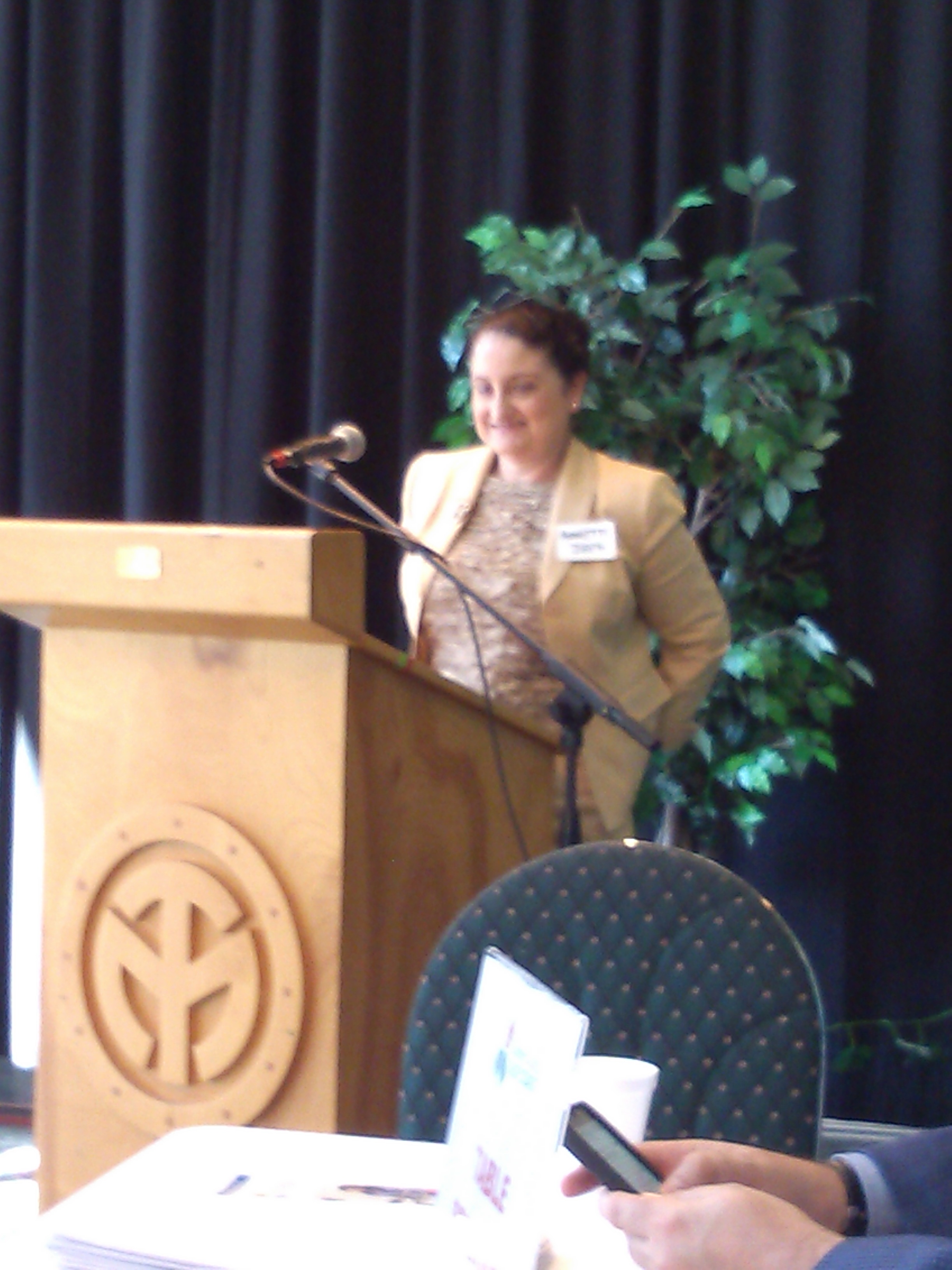 The Agency for Persons with Disabilities (APD) participated in an Asset Development Summit at the Martin Theatre in Panama City on October 15. Jackie Keller, Senior Tax Specialist with the Internal Revenue Service, presented information on the tax benefits and credits that are available to individuals with disabilities such as the Earned Income Tax Credit (EITC).   Individuals can go to www.irs.gov/eitc or call 1-800-829-1040 to find out if they qualify for EITC.  The www.ftc.gov/moneymatters provides short practical tips, videos, and more information about avoiding scams, using credit cards, budgeting, saving, and spending. 
FAAST (Florida Alliance for Assistive Services and Technology) Executive Director Michael Daniels presented information on low interest rate and no prepayment penalties Assistive Technology (AT) and Business Loans for individuals with disabilities.  Examples of AT can include hearing aids, low vision aids, home modifications, environmental controls, communication devices, durable medical equipment, adapted computers, modified/accessible vehicles and recreational equipment.  The Business Loan Program can assist persons with disabilities seeking employment through self-employment opportunities.  More information on the loan program can be found at www.newhorizonloanprogram.org or call toll free at 888-788-9216 ext 107.
APD Northwest Region Community Relations Coordinator Annette Zeeb presented information on APD including the Enhanced Employment Plan, the resources directory, and Rish Park.  The event sponsored by CareerSource Gulf Coast and the National Disability Institute was developed to gather representatives from the disability, financial services, and asset development communities to identify new collaborative opportunities to build a better future for people with disabilities in Bay, Gulf, and Franklin counties. 
---
Training on Aging
The Arc of Florida and The Arc Nature Coast are hosting a training forum in Spring Hill on November 7 on aging issues for Direct Care Professionals and other staff responsible for supporting individuals with Intellectual and Developmental Disabilities (I/DD).
The training will be presented by Dr. Ronald Lucchino, Emeritus Professor of Biology and former Director of the Institute of Gerontology at Utica College of Syracuse University. He is a nationally recognized expert on Alzheimer's disease and aging in individuals with developmental disabilities. To find out more, visit http://www.arcflorida.org/.
---
Program Pays for Personal Care Attendants
The Florida Association of Centers for Independent Living, Inc. (FACIL) is a statewide association supporting centers for independent living. They administer the James Patrick Memorial Work Incentive Personal Assistance Services Program (JP-PAS), which provides up to $1,320 a month for personal care attendants for people living with severe and chronic disabilities. Participants must be gainfully employed and have disabilities requiring assistance from a personal care attendant for at least two activities of daily living such as ambulation, bathing, dressing, grooming, toileting and other similar tasks.
Persons who wish to apply must meet ALL of the following eligibility criteria:
Must be at least 18 years of age.
Must be a U.S. Citizen or Legal Permanent Resident of the United States.
Must be a Florida resident.
Must be employed in Florida or in a county contiguous with the Florida border.
Must earn an annual gross income of at least the Individual Federal Poverty Level (2014 is $11,670) and not more than $99,999.
Must NOT receive Social Security Income (SSI) or Social Security Disability Income (SSDI).
Must be a person with disabilities who requires personal assistance service (PAS) for support or cueing for at least two activities of daily living such as, but not limited to ambulation, bathing, dressing, eating, grooming, and toileting, etc. (F.S. 429.02).
Must be able to acquire and manage a personal care attendant.
Program eligibility, the JP-PAS application, and other information can be found at www.floridacils.org/JPPASForms.html.
---
Champion Staff
Melanie Mowry Etters - Editor
Lindsey Boyington - Writer
Christine Call - Writer
Kimberly Tharpe - Masthead Design
John Milton - Webmaster

---
The Agency Supports Persons with Developmental Disabilities in Living, Learning, and Working in their Communities.