Preparing for the Holidays
By Barbara Palmer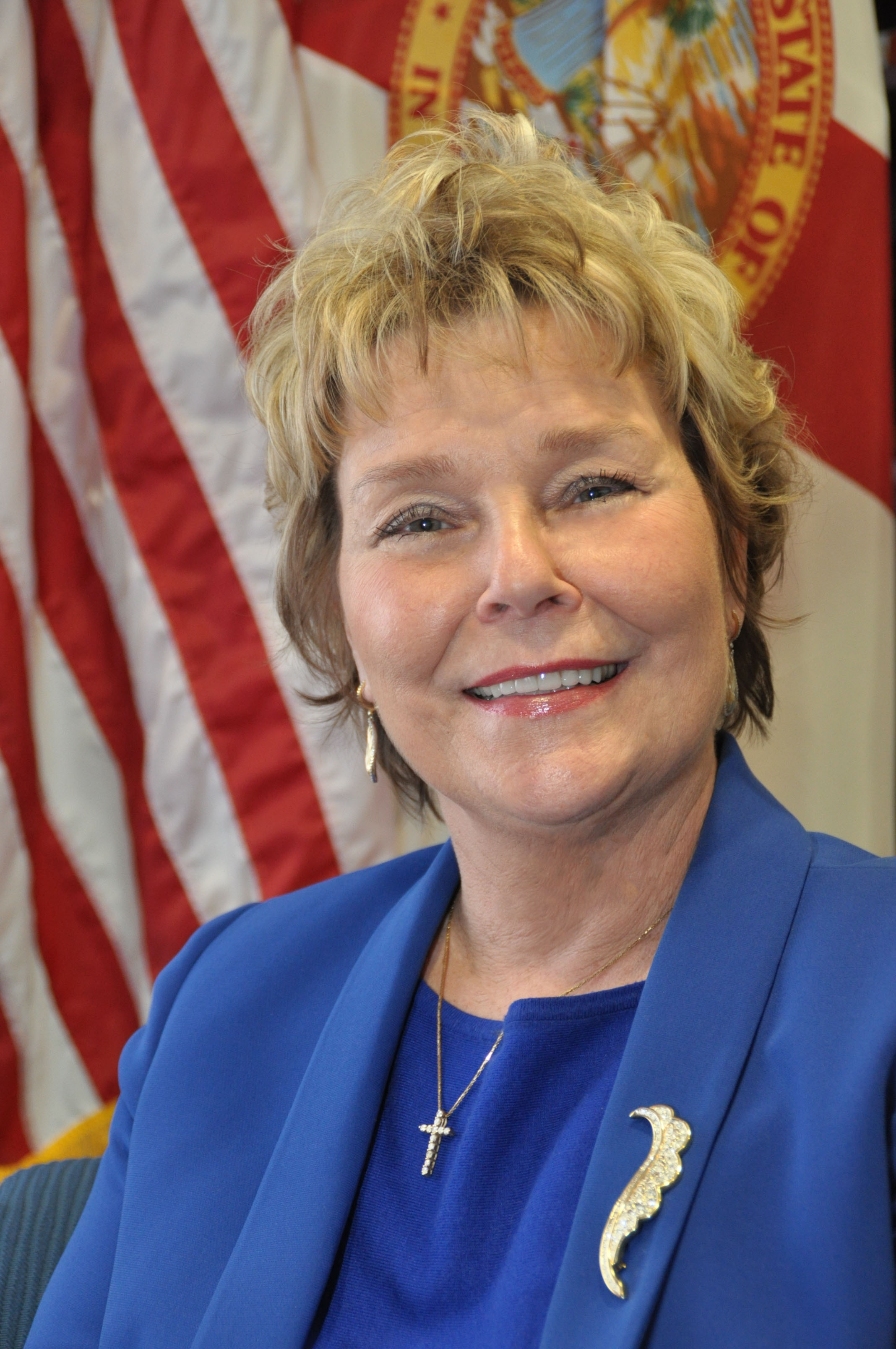 I hope all of you enjoyed a great Thanksgiving holiday with your loved ones. I am still trying to work off all the extra calories I enjoyed during a fabulous Thanksgiving with my family and friends.
As we move into December, the Agency for Persons with Disabilities (APD) continues to work hard, in conjunction with our stakeholders, waiver support coordinators, providers, and others, to meet the needs of people with developmental disabilities in Florida.
APD recently held an iBudget Florida rule workshop to ensure we are moving this important requirement forward. The agency has submitted its legislative budget request to the Governor's Office for review in preparation for the spring Legislative Session. APD has posted four Requests for Information (RFI) to explore options to meet the housing and other needs of specific populations who need specialized care.
They are individuals with:
Forensic System Involvement
Intense Behavioral Issues
Dually Diagnosed
Individuals with Developmental Disabilities and Alzheimer's disease and their Aging Caregivers
To review the RFIs, visit http://apd.myflorida.com/publications/legal/.
These projects came out of the APD and Family Care Council Town Hall meetings held last year. The recurring issue at the meetings was that for certain people with developmental disabilities, APD had to find better ways to meet their needs. The agency and its providers needed to do business differently. We had hundreds of people serving on workgroups to come up with options. I am excited that we have posted the RFIs and look forward to seeing the information submitted to help us serve these populations.
I truly love my job including all its challenges. We are continually working to figure out the best way to serve those who need APD's help.  I thank everyone inside and outside of the agency who works every day to serve our APD customers. You are making a difference in lives.
I wish you the Happiest of Holidays!
---
The Governor's Corner by Governor Rick Scott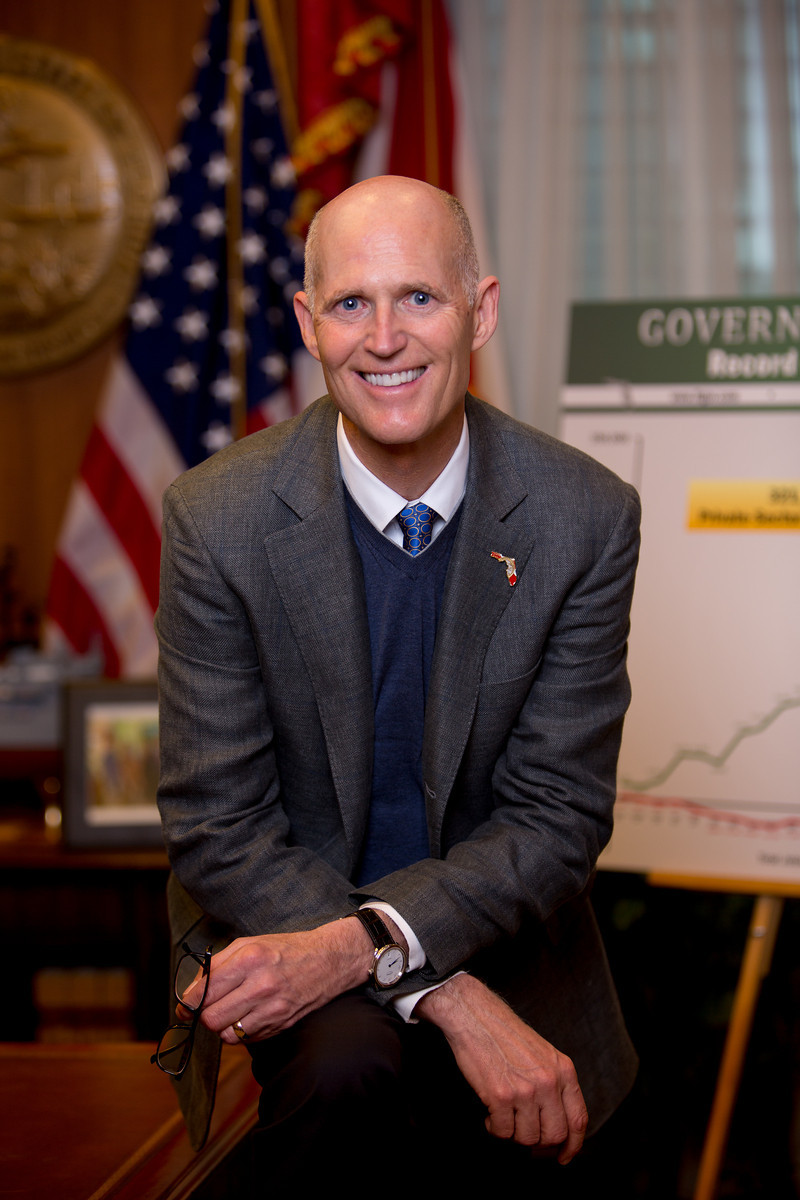 As I travel the state, families tell me over and over that they care about three things: getting a great job, a quality education, and keeping the cost of living low- and with the help of our dedicated public servants, that's what we have focused on.

Our state and our public servants have a lot to be proud of. We're outpacing the nation in job creation, we have some of the best teachers and schools in the country, and our quality of life is the best in the nation. Florida's unemployment rate has dropped to 6.0 percent and we have created 679,000 private sector jobs since December 2010.

I believe Florida is the best state for business in the country - which is why companies like Embraer, Navy Federal, GE, and Mitsubishi have decided to move and expand in Florida, and create more jobs and opportunities for Florida families. The steps we have taken over the last four years have worked, and it would not have been possible without the support of Florida's public servants.
Even though we have made great progress, there is still more work to do. Florida is on a mission – and that mission is to keep growing, and to become the very best place in the world to raise a family, to get a good paying job, to make a career, and build a great life. Let's keep working.
---
Governor Visits APD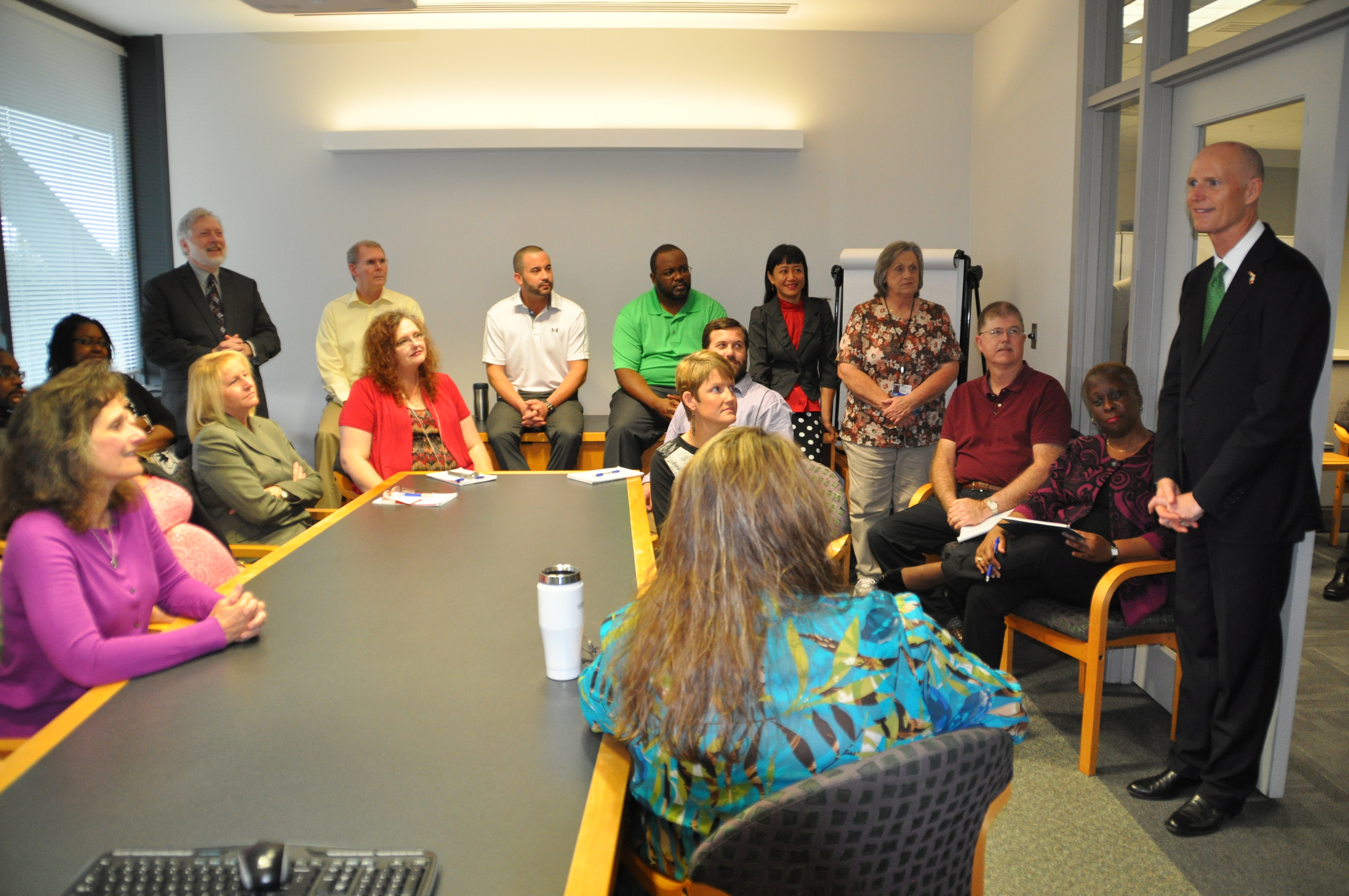 On November 13, Florida Governor Rick Scott made a visit to the Agency for Persons with Disabilities state office in Tallahassee to thank employees for the work they do. Employees gathered in various conference rooms and Governor Scott came to each one spending time to show his appreciation for the work that APD employees do each day. Governor Scott said he has had people tell him while he travels the state how important the services APD provides are to their families.
---
iBudget Workshop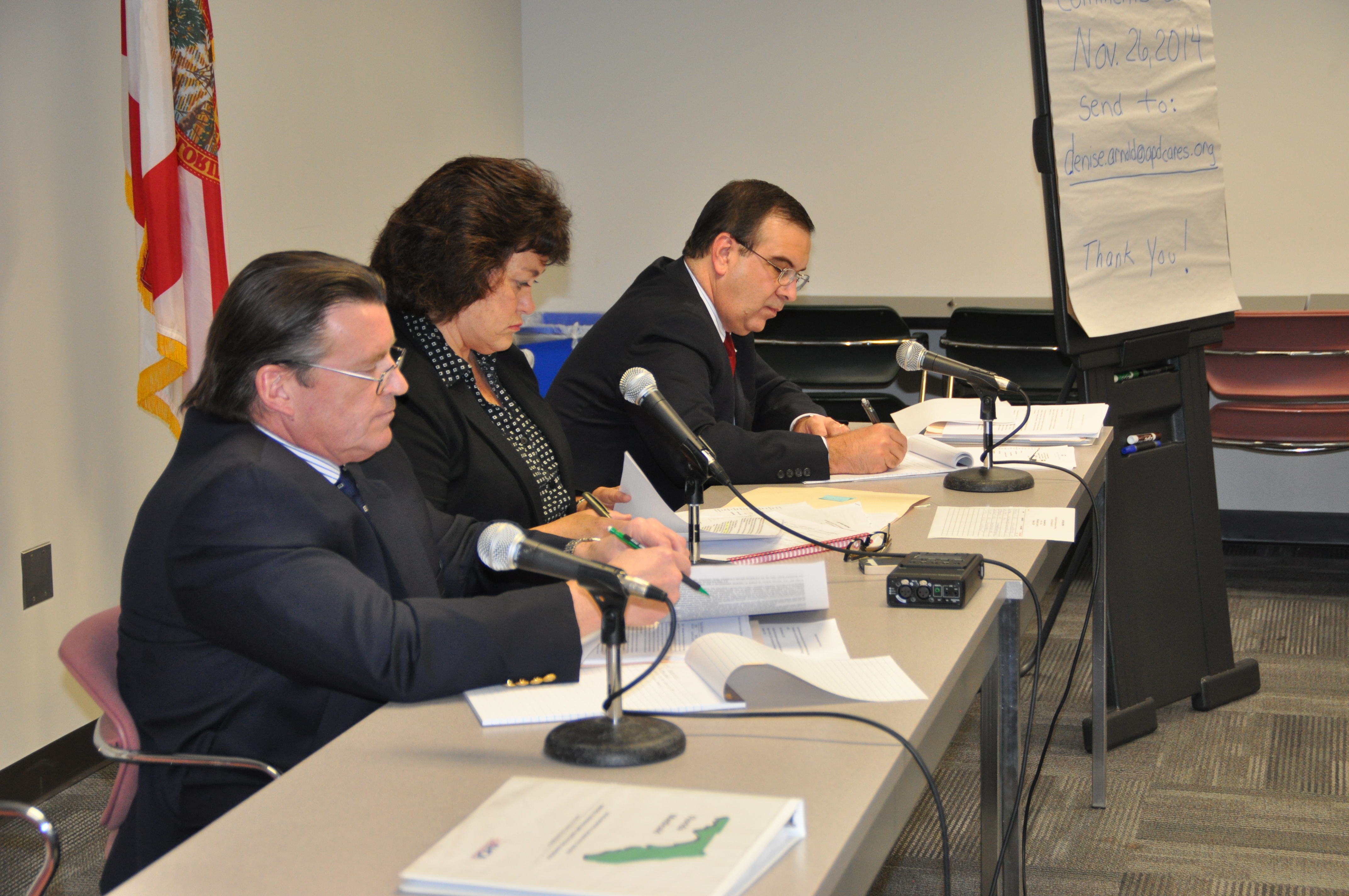 The Agency for Persons with Disabilities (APD) held a public workshop on November 20 in Tallahassee to receive public comment on proposed draft rules for iBudget Florida.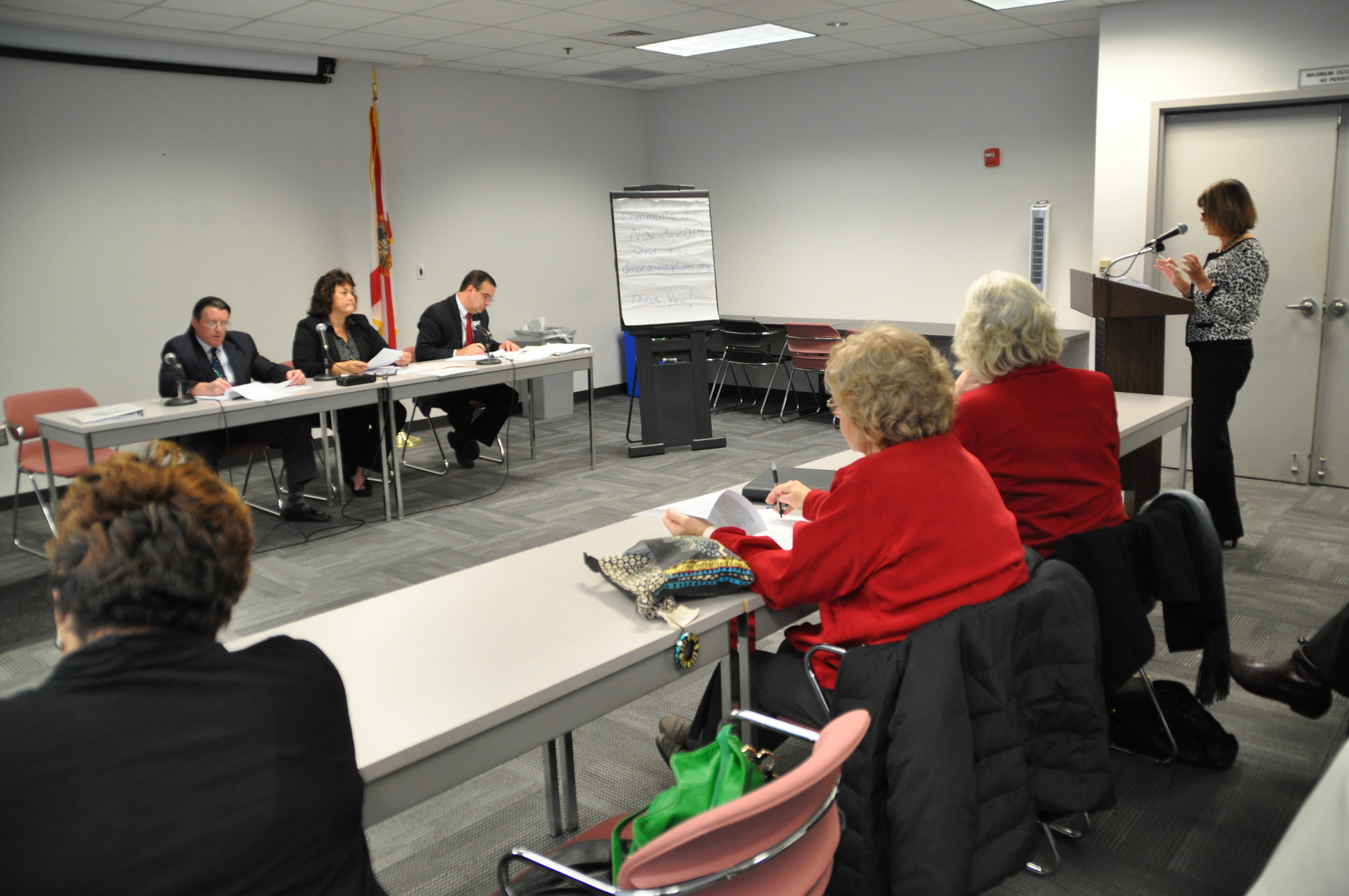 The purpose of rule development is to receive public input to be used in developing rules to comply with Section 393.0662, F.S., requiring APD to establish the individual budgeting system (iBudget program) for the delivery of home and community-based Medicaid waiver services to serve customers with developmental disabilities.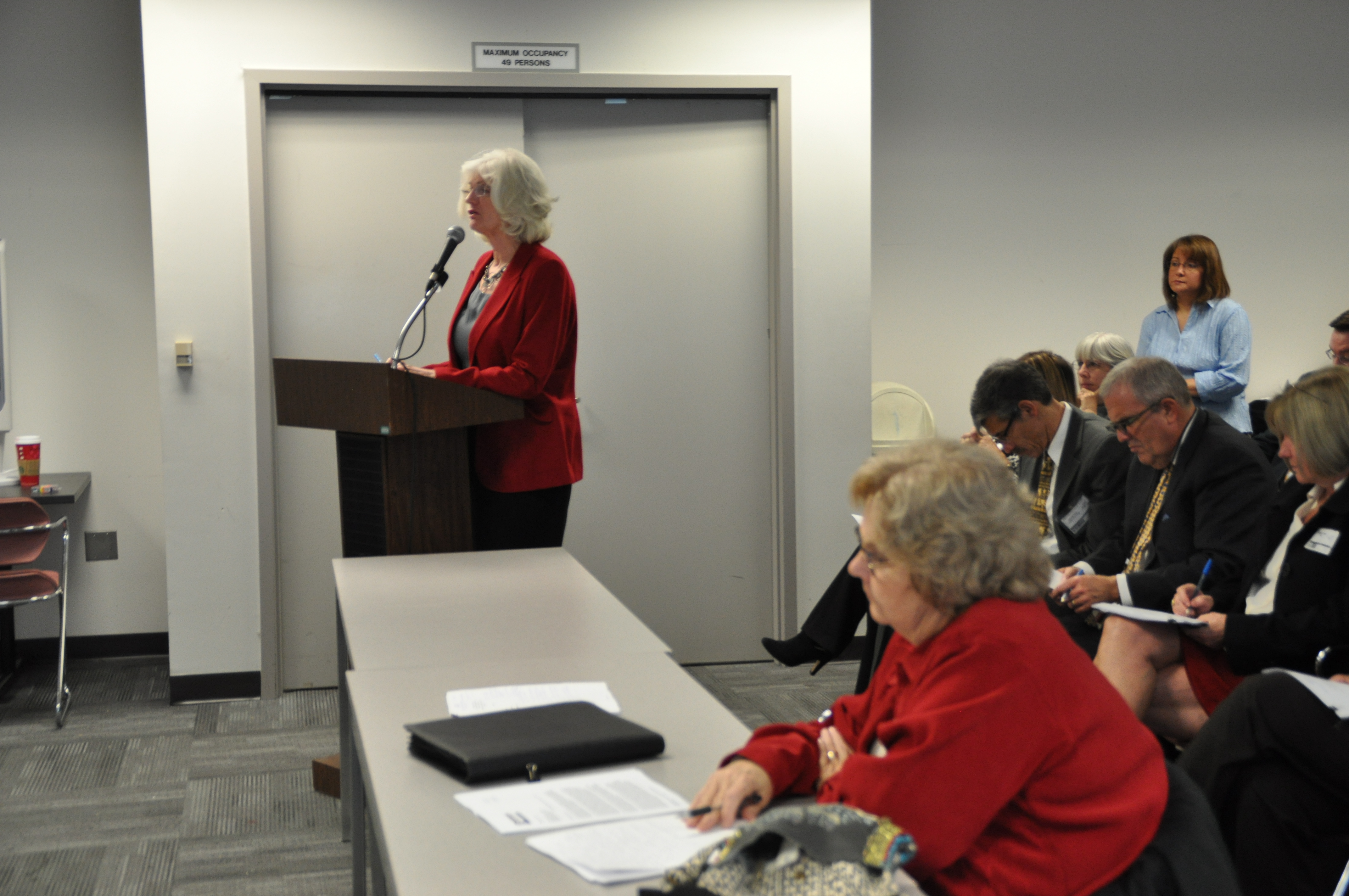 About 30 people attended the workshop include representatives from the Florida Association of Rehabilitation Facilities and The Arc of Florida who suggested some changes in the proposed rule language.
---
Jacksonville Arc Village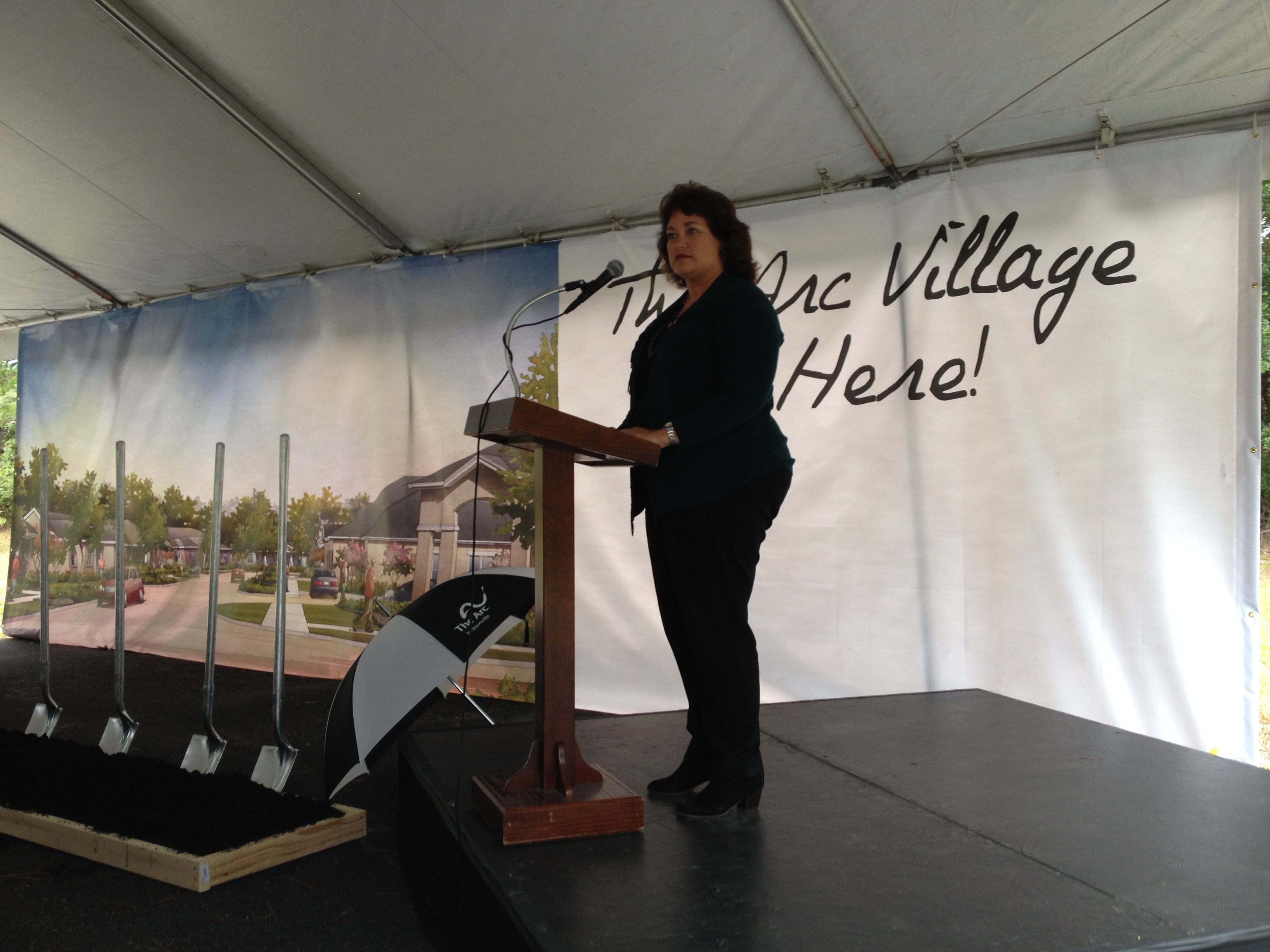 The Arc Village, a project of The Arc Jacksonville, is a planned community of affordable apartment-style rental homes for adults with intellectual and developmental disabilities. A groundbreaking ceremony was held on November 5 on the land located on Hodges Drive near Jacksonville Beach. The Agency for Persons with Disabilities (APD) is leasing the property to Arc Jacksonville.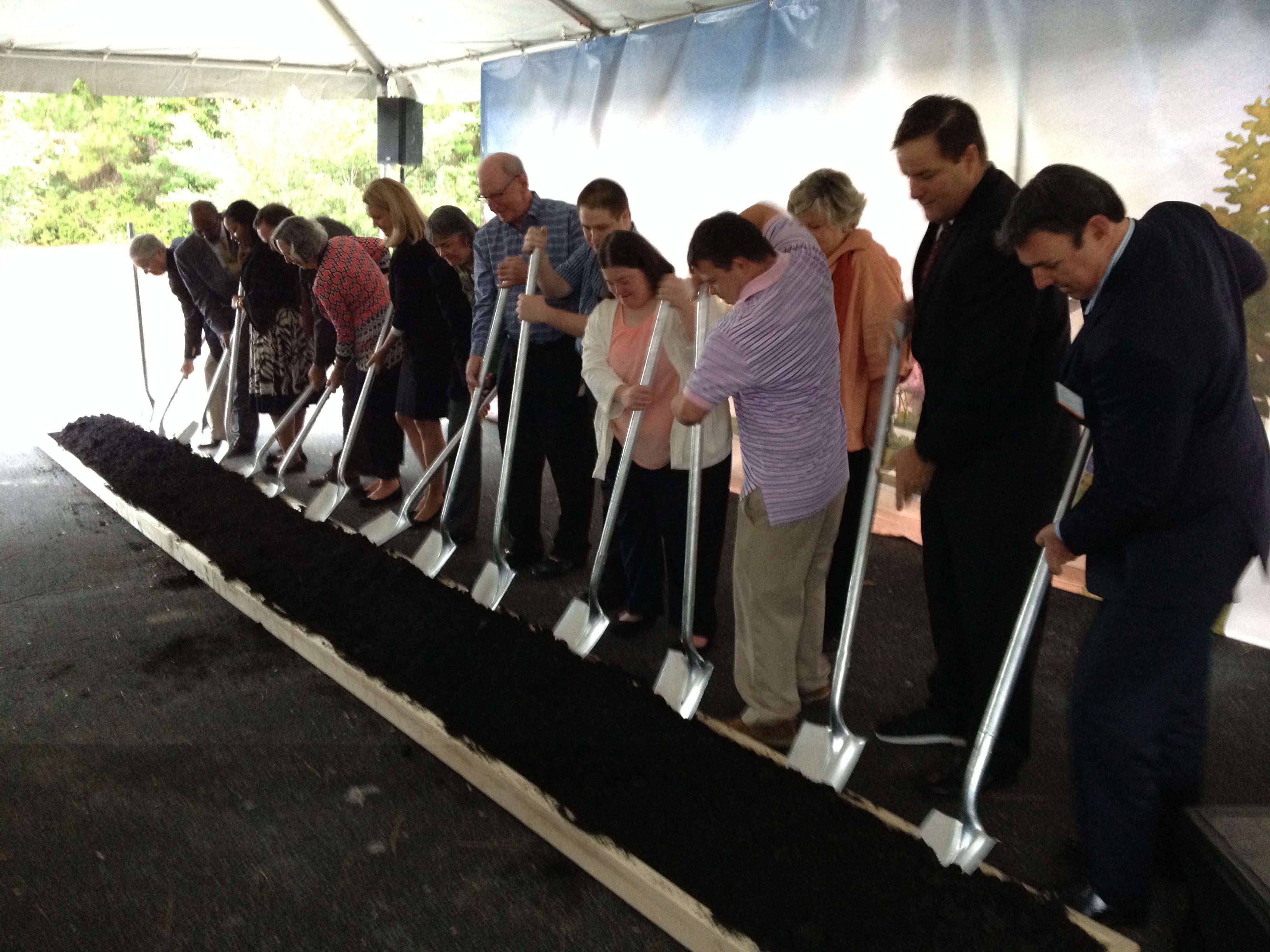 APD Deputy Director of Programs Denise Arnold spoke as part of the ceremony. APD Northeast Regional Operations Manager Leslie Richards and Communications Director Melanie Mowry Etters also represented the agency.
The Arc Village is the first community for people with developmental disabilities to be located near a bustling commercial corridor offering employment opportunities, grocery stores, restaurants, medical facilities and public parks. Arc Jacksonville will target employment opportunities nearby and there is public transportation at the community entrance to help people get to work.
The design of The Village encourages residents to live independently in their own homes, enjoy the safety of a secured neighborhood, and socialize with other villagers.
---
Gaining Work Experience by Volunteering
Mikey Bilello wants to work and is gaining valuable hands-on experience volunteering at Grace Community Food Pantry twice a week and Whispering Meadows Ranch working with four horses and a pony. The skills he's learning are transferrable to the marketplace and will assist him in gaining employment.
---
Around the State
---
Tacachale Celebrates 30 years of Holiday Lights
Tacachale Center in Gainesville is hosting two community events to celebrate the Holidays and is inviting the public to come and enjoy the fun. Tacachale is located at 1621 Northeast Waldo Road and is home to 404 people with developmental disabilities. 
On December 9, the center will host its annual Holiday Parade beginning at 10 a.m. School bands, ROTC units, law enforcement agencies, antique cars, floats and Santa will ride through the Tacachale campus.
On December 11, Tacachale will host its 30th annual Christmas Tree Lighting Ceremony at 6:45 p.m. The tree lighting ceremony is a festive event with tree trimming and holiday songs. There is a strong chance that Santa Claus may make a surprise appearance. The festivities are free and open to the public. Community members are encouraged to attend and participate in the fun activities including tree trimming. Joyce Smith, Coordinator with the University of Florida Health Office for Regional and Governmental Affairs, will serve as this year's Master of Ceremonies.  Father Roland Julien from St. Patrick Catholic Church will provide the invocation. Performers include the Duval Elementary Choir and the Tacachale Carolers. 
Tacachale is seeking sponsors for its Christmas Home Adoption.  Individuals or groups who would like to sponsor a home are asked to provide a gift for each person living there and to throw a small party with light refreshments. For more details, contact Erin Saunders at (352) 955-5973.
Additionally, the generosity of the Gainesville community is sought to help meet the Holiday wish list of Tacachale residents. Tax deductible donations can be made to Tacachale Christmas 2014 and mailed to:
Tacachale Volunteer Services                                                             
1621 NE Waldo Road
Gainesville, FL  32609
For more information about the tree lighting ceremony activities, contact Cindy Boyd at (352) 955-5981 or cindy.boyd@apdcares.org. For details about the parade or donations, contact Volunteer Services Coordinator Paula Hawkins at (352) 955-5958 or paula.hawkins@apdcares.org. 
---
More than Waiver Services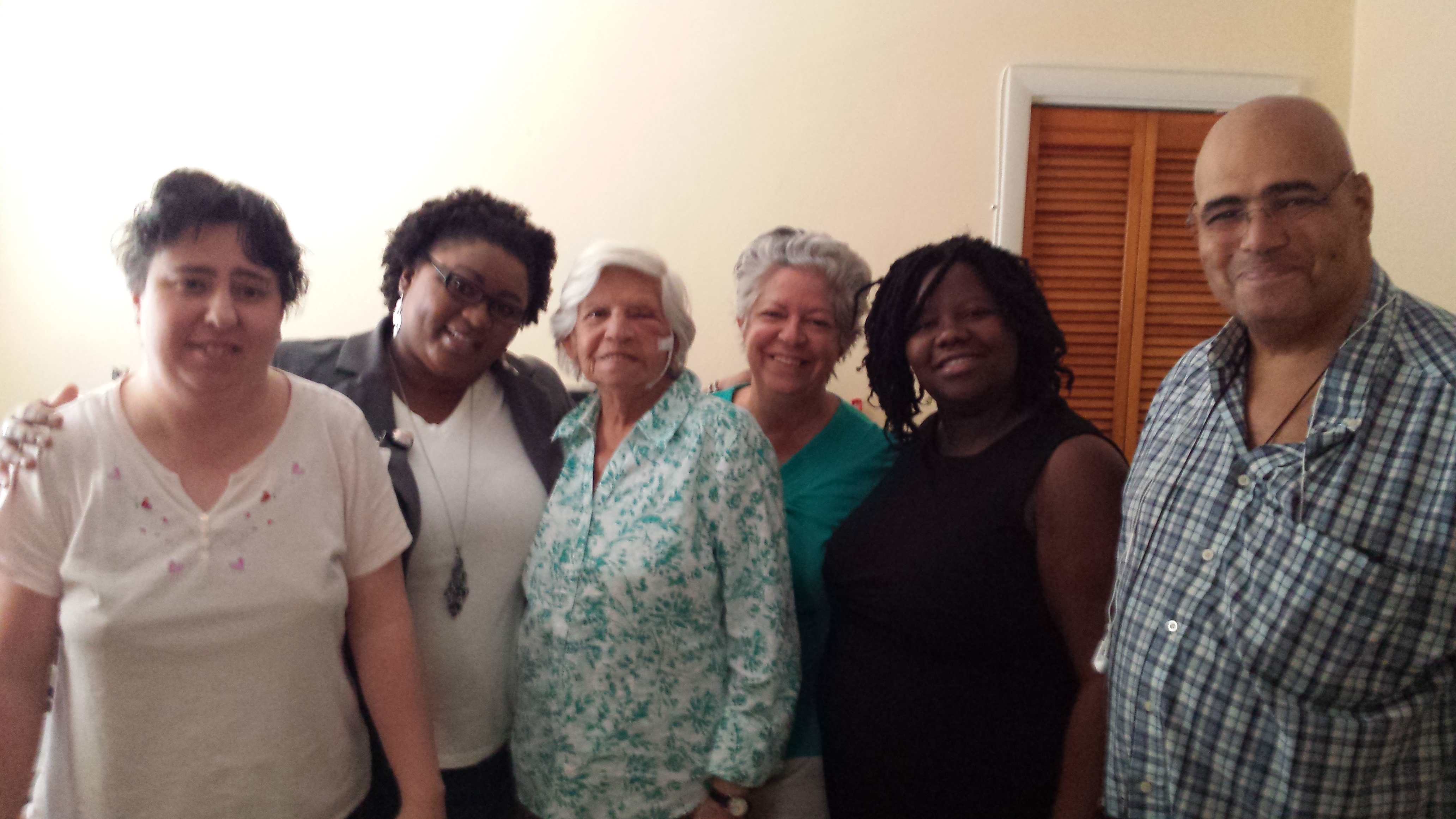 On November 14, Southern Regional Program Supervisor Hillary Jackson called Ms. Aguilera with the good news about her son, Samuel Aguilera, being enrolled on the Medicaid waiver and that personal support services would begin in two days.  While speaking with Ms. Aguilera, Jackson found out she and her family had no food.  Jackson asked what Ms. Aguilera meant and was told, "I have some rice and I cook that and mix it up with ketchup. And sometimes my neighbors give us soup or other little items. I don't have any money, that's why I walked to the APD office."
After getting off the phone, Jackson shared this information with her staff. The Southern Regional team jumped into action to help! Jackson said, "There was no way we could go home knowing that a consumer or family was hungry."
Jackson called Ms. Aguilera back to ensure someone would be home.  The team headed out to Publix and bought $75 worth of groceries for the family of four living in a two-bedroom apartment. When Jackson knocked on the door and told her the Southern Region team wanted to surprise her with a little something, Ms. Aguilera said, "You are always welcome to come by."
Ms. Aguilera, her mother (has skin cancer), and daughter Anabel were thrilled to receive the groceries.  Samuel was sleeping. She showed us around and took us into the kitchen and showed us the few items in the fridge neighbors had given (container of soup, spaghetti in a container, milk, yogurt, and a few other items). She was in the middle of "cooking dinner" which was two potatoes sliced in half, nothing else. The timing was perfect.
Jackson and the Southern Region team are staying in close contact with Ms. Aguilera to ensure the family continues to receive services and gain stability.
---
John Collins Receives Award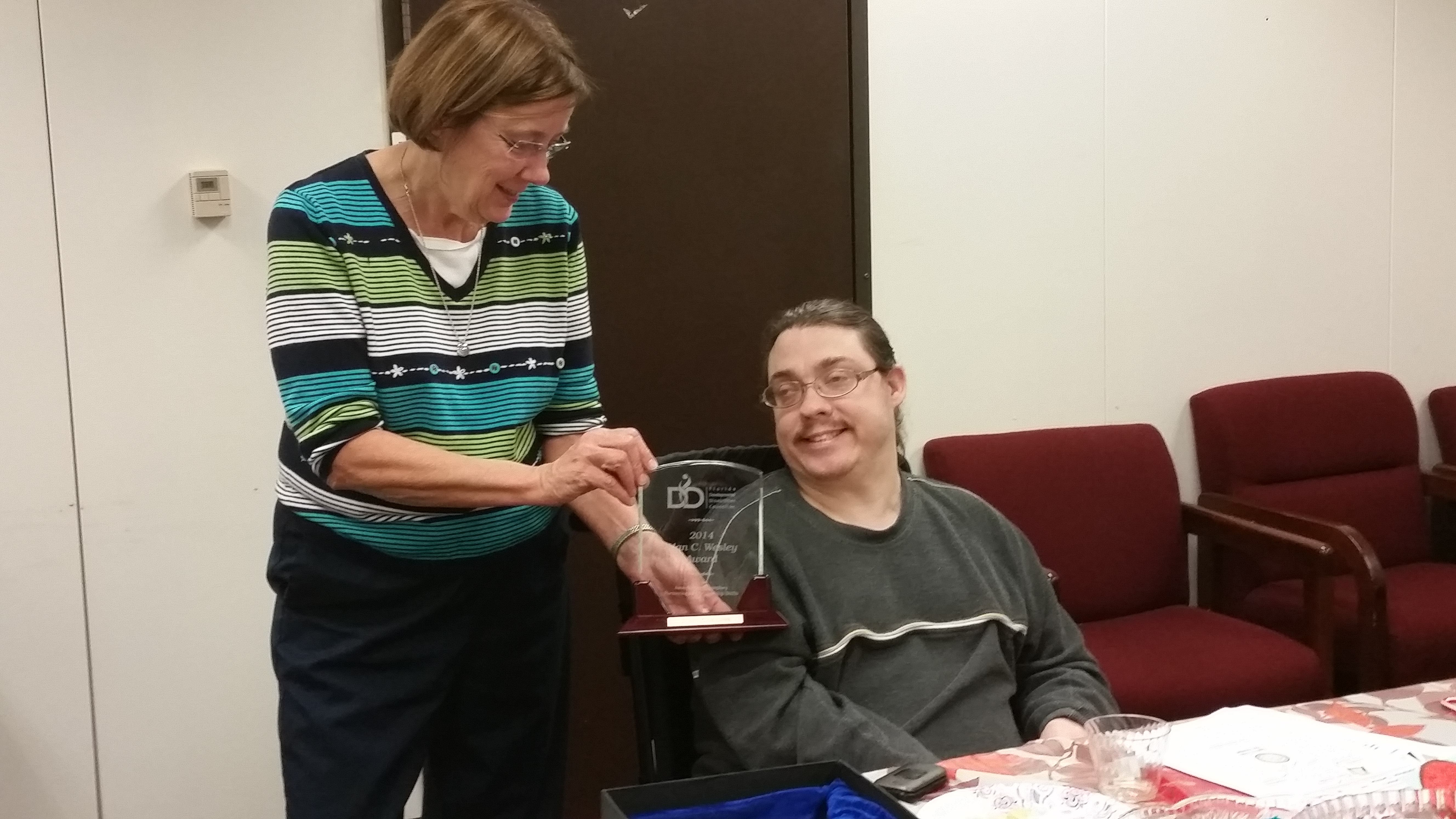 Area One Family Care Council Vice Chairman John Collins graduated with the Partners in Policymaking (PIP) class on November 15 in Orlando. The Florida PIP program has a tradition of awarding the Alan C. Wesley Award to one graduate each year. This award was created in honor of Martha "Pete" Wesley, the original PIP coordinator of the Florida program and named in honor of her son. Each year the PIP class selects one classmate to receive this award for exemplary partnering and leadership skills. The 2014 recipient was Collins from Pensacola in the Northwest Region.
---
Joni Burnett, APD Employee and 2014 Special Olympics Coach of the Year!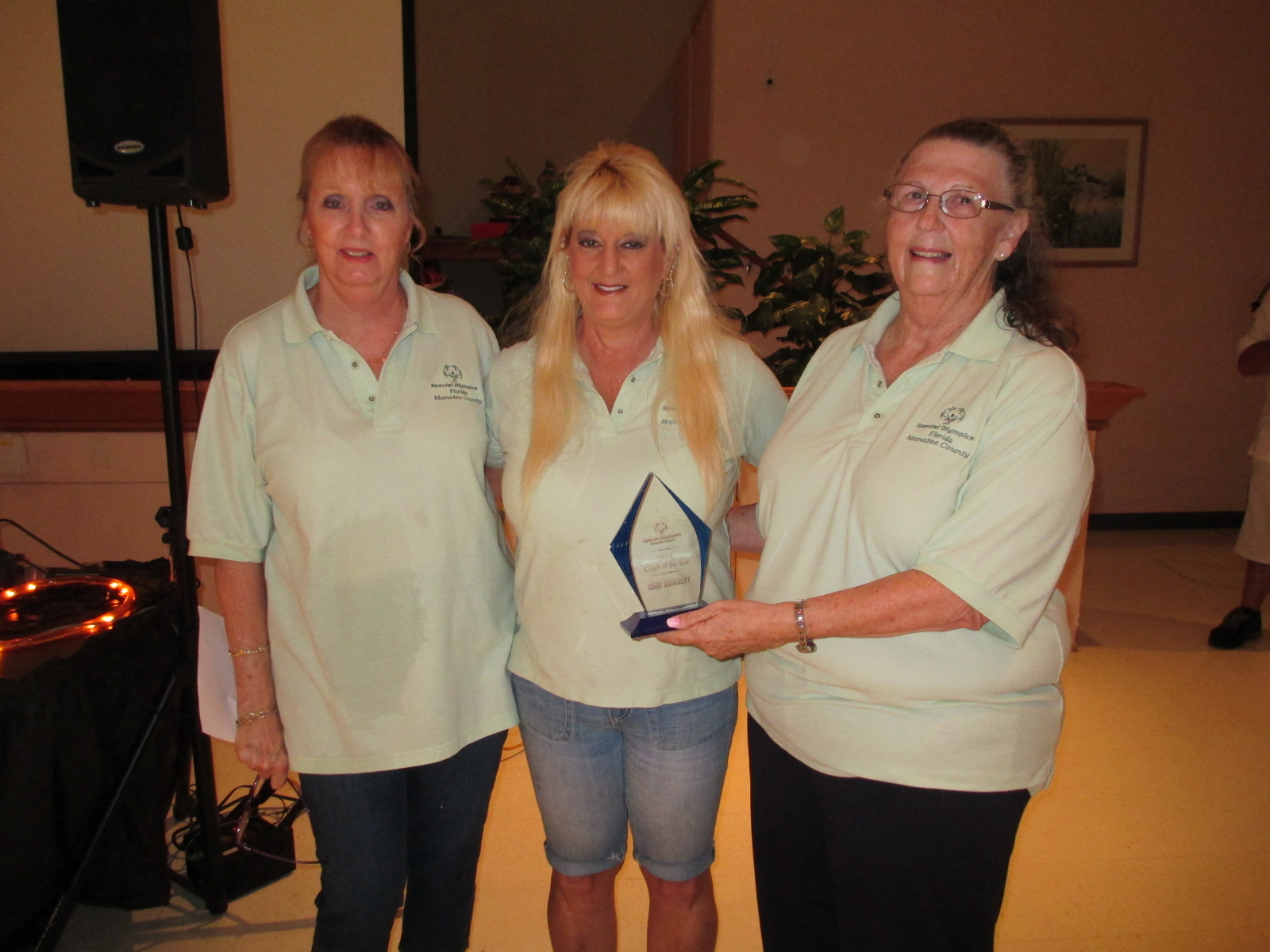 APD employee Joni Burnett was honored at the Special Olympics Family Picnic on October 11, when she received the Manatee County 2014 Special Olympics Coach of the Year award.  The award was presented by Manatee County Program Directors Pam Fazio and Sue Woodworth Fitzgerald.
Burnett has served as a coach for over 20 years. "It's really exciting and well deserved. Joni is a real inspiration-so dedicated to our folks! She is greatly loved by all of the athletes," said Anne Barrow, APD employee and Special Olympics Coach.
---
Hillsborough County Disability Mentoring Day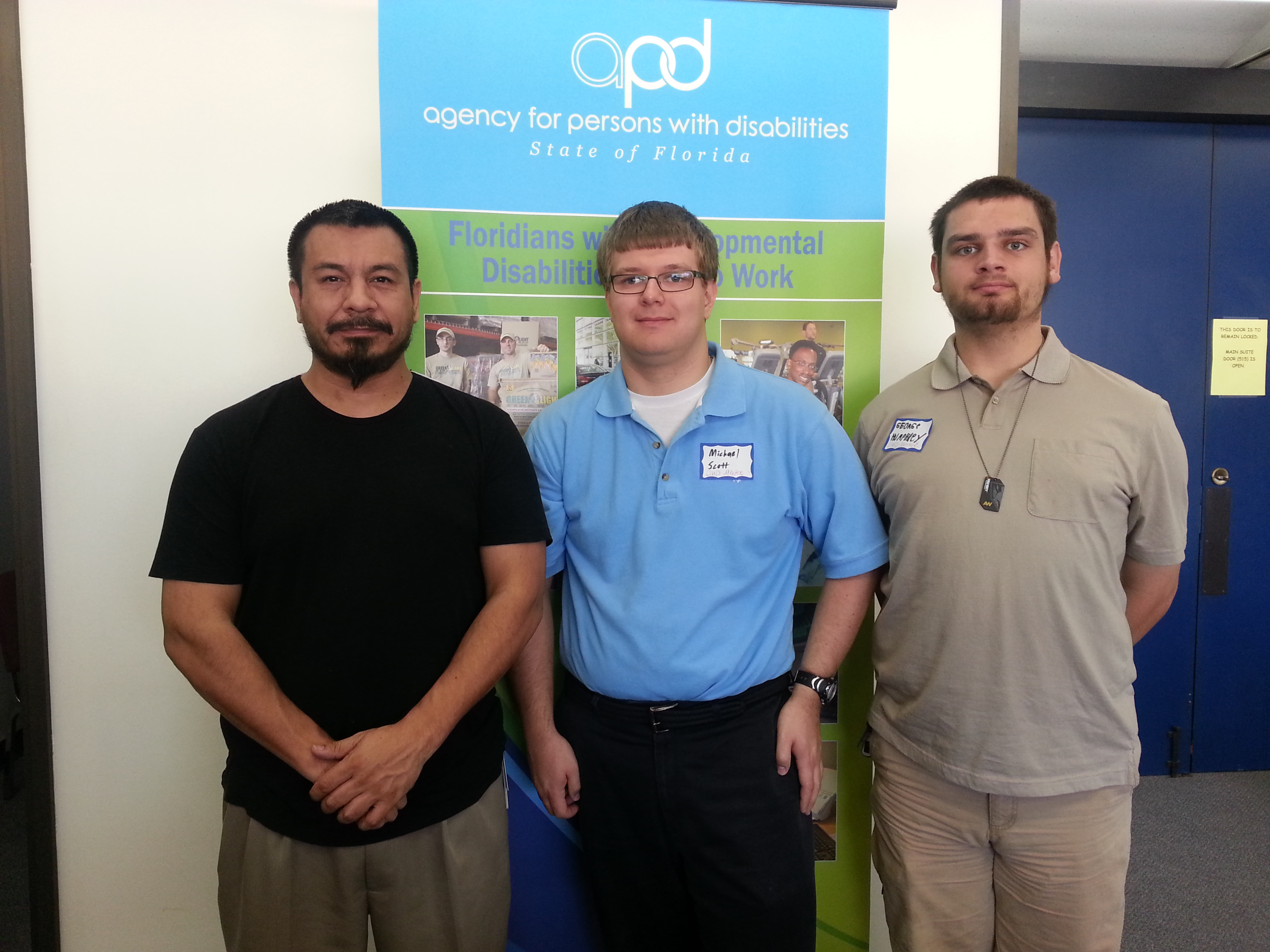 The Agency for Persons with Disabilities (APD) Suncoast Region was proud to join thousands of employers across the state as a mentor during Hillsborough County Disability Mentoring Day (DMD) on November 6.  This year the agency mentored two individuals, Michael Scott and George Humphrey, both interested in Information Technology. 
Their day started with an overview of APD followed by job shadowing with Mike Fuentes, who is part of APD's Information Technology unit. "Both gentlemen had excellent basic IT knowledge and I could see working with either of them," Fuentes said. Mentees also met with Regional Operations Manager Jeffrey Smith, and Supported Employment Liaison Debra Noel.
Disability Mentoring Day participants are matched with a workplace mentor in their desired career field. As part of the mentoring experience, mentees have the opportunity to visit the mentor's job site and learn about his or her day-to-day job experiences in an effort to better prepare and target skills for that particular career path.
Thousands of mentees and mentors participate in DMD across Florida and we look forward to it each and every year!
---
Caregiver Appreciation Christmas Luncheon Being Planned in Pensacola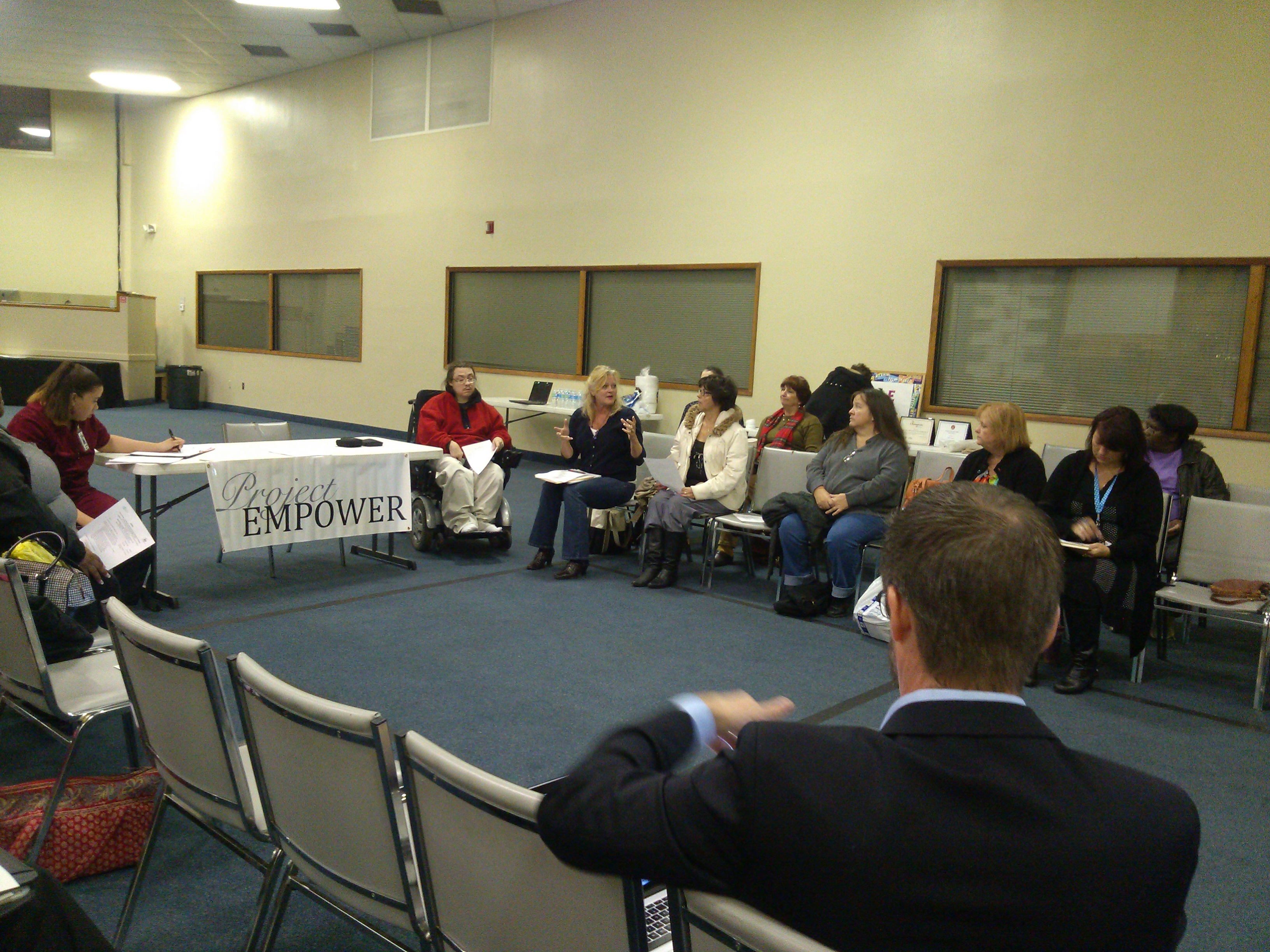 Just before this past Easter, Project Empower's first Caregiver Luncheon was hosted at Marcus Pointe Baptist Church in Pensacola.  Six, elegantly adorned round tables, dressed in Easter china, held esteemed seats for caregivers – 36 were honored.  Mildred Bush and her seven associates of Marcus Pointe Baptist Church dressed the tables in bright Easter theme and delivered a beautiful luncheon service, cooked from scratch, to our honored caregivers.  Wonderful letters of heartfelt appreciation were read by those who receive care and each caregiver received gifts, door prizes, and Easter baskets full of goodies that pamper – spa days, dinner coupons, decadent chocolates, entertainment venue tickets, and more. 
Project Empower is ready to duplicate this event with the Caregiver Christmas Luncheon. It will be held on December 16 from 11 a.m. to 1 p.m., at Marcus Pointe Baptist Church, North Entrance, Building A, Door 4, in Pensacola.   Guest Speakers include State Representative Mike Hill, Ambassadors for Change 2014, John Collins, Cameron Northup, and others from the community who wish to honor caregivers.  All area caregivers are welcome, so please don't miss this opportunity to honor your caregiver by saving a seat at the table for her or him by calling Tara Potter at 850-686-9369 or email her at tara.potter.fl@gmail.com.
---
University of West Florida Provides a VIP Game Day Experience
The University of West Florida (UWF) athletic department provided Shaquirha Prewitt, her mother, godmother, and best friend with a VIP game day experience on November 1 at the UWF campus in Pensacola.   Prewitt was given the opportunity to meet all the UWF women's volleyball team in the locker room before their game against North Alabama.  Prewitt and her guests were provided VIP luxury seating, a team roster, t-shirts, pompoms, stickers, beverages, and snacks.  She cheered each team member on.
Prewitt also had her picture taken with the team along with being introduced at half time.  UWF won the game and Prewitt was excited and honored to be a guest of the UWF team.  The event was part of the Agency for Persons with Disabilities Game Changer initiative for providing families with disabilities a lifetime memory along with helping to advance access, inclusion, and diversity awareness.
---
How To Get a Job and Keep It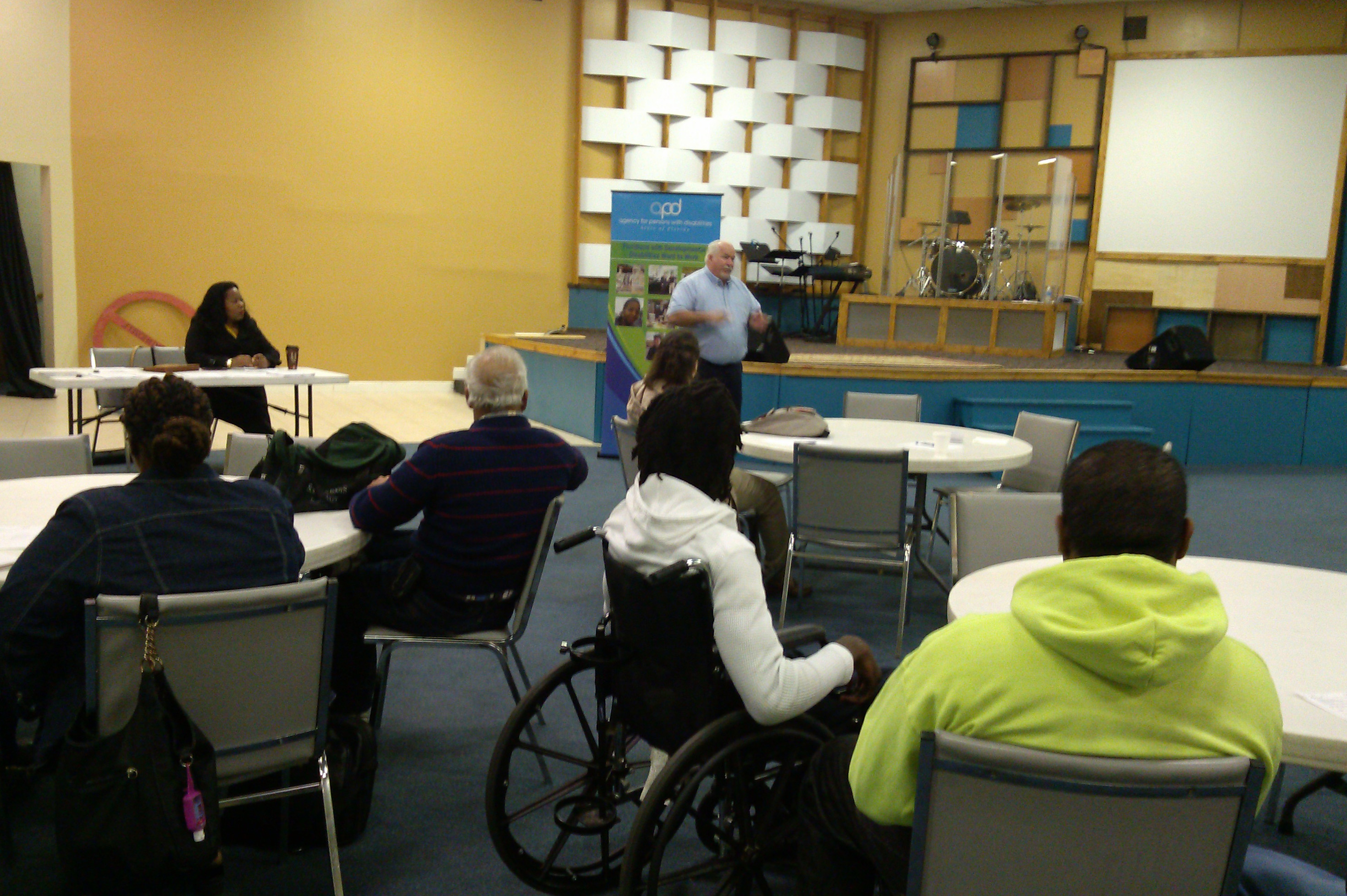 Northwest Region Employment Liaison Katrina Washington, organized and facilitated an Employment Enhancement Project (EEP) Job Club meeting on November 13 at Marcus Pointe Baptist Church in Pensacola.  Rusty Branch and Adrian Wyer with Gulf Coast Enterprises shared the importance of employment in the community for individuals with disabilities along with providing tips for getting hired with Gulf Coast Enterprises.  Lowe's Human Resources Manager Mike Dwyer expressed the importance of a resume matching the job description along with practicing interviewing.  In the customer service field; smiling, presenting well, and looking people in the eyes are critical factors. Once hired for the job, individuals need to come to work on time, have a great attitude, and do the job well in order to keep it.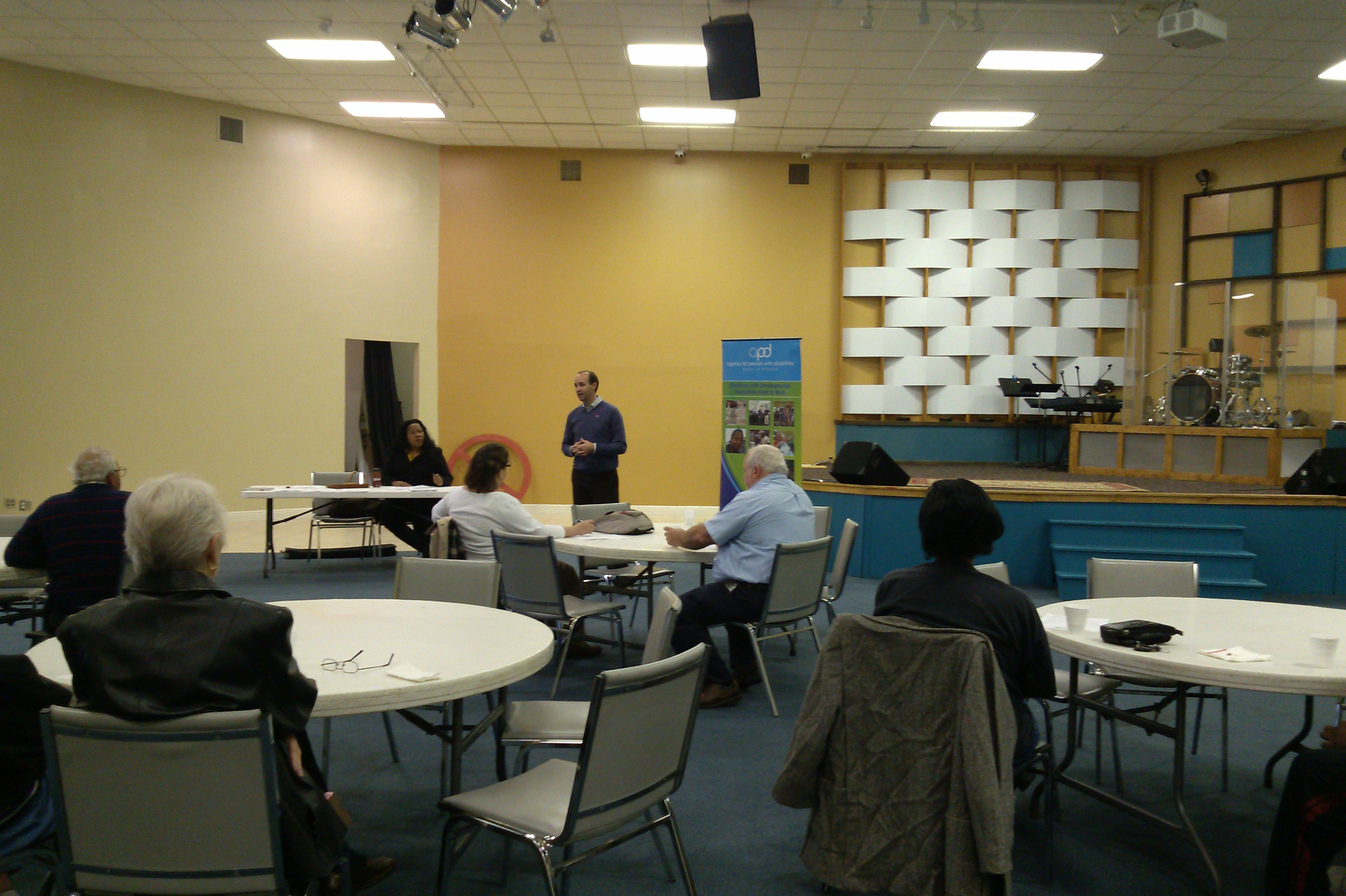 Washington also shared information on job development and follow along services.   After the presentations, Wyer and Dwyer provided mock interviews for individuals while EEP providers were on hand for candidates to select for services.  Destry LeBrun with PURE Friendships Ministries offered a rack of career clothing for individuals in need.  Individuals made great connections with the possibility of employment offers.  Dwyer and Val Johnson from Lowe's are partnering with APD in providing a resume writing workshop on December 5 at Marcus Pointe Baptist from 1:30 to 4 p.m.
---
Champion Staff
Melanie Mowry Etters - Editor
Lindsey Boyington - Writer
Christine Call - Writer
Kimberly Tharpe - Masthead Design
John Milton - Webmaster

---
The Agency Supports Persons with Developmental Disabilities in Living, Learning, and Working in their Communities.