Governor's Recommended Budget Eliminates Critical Needs Waiting List for Second Year
By Barbara Palmer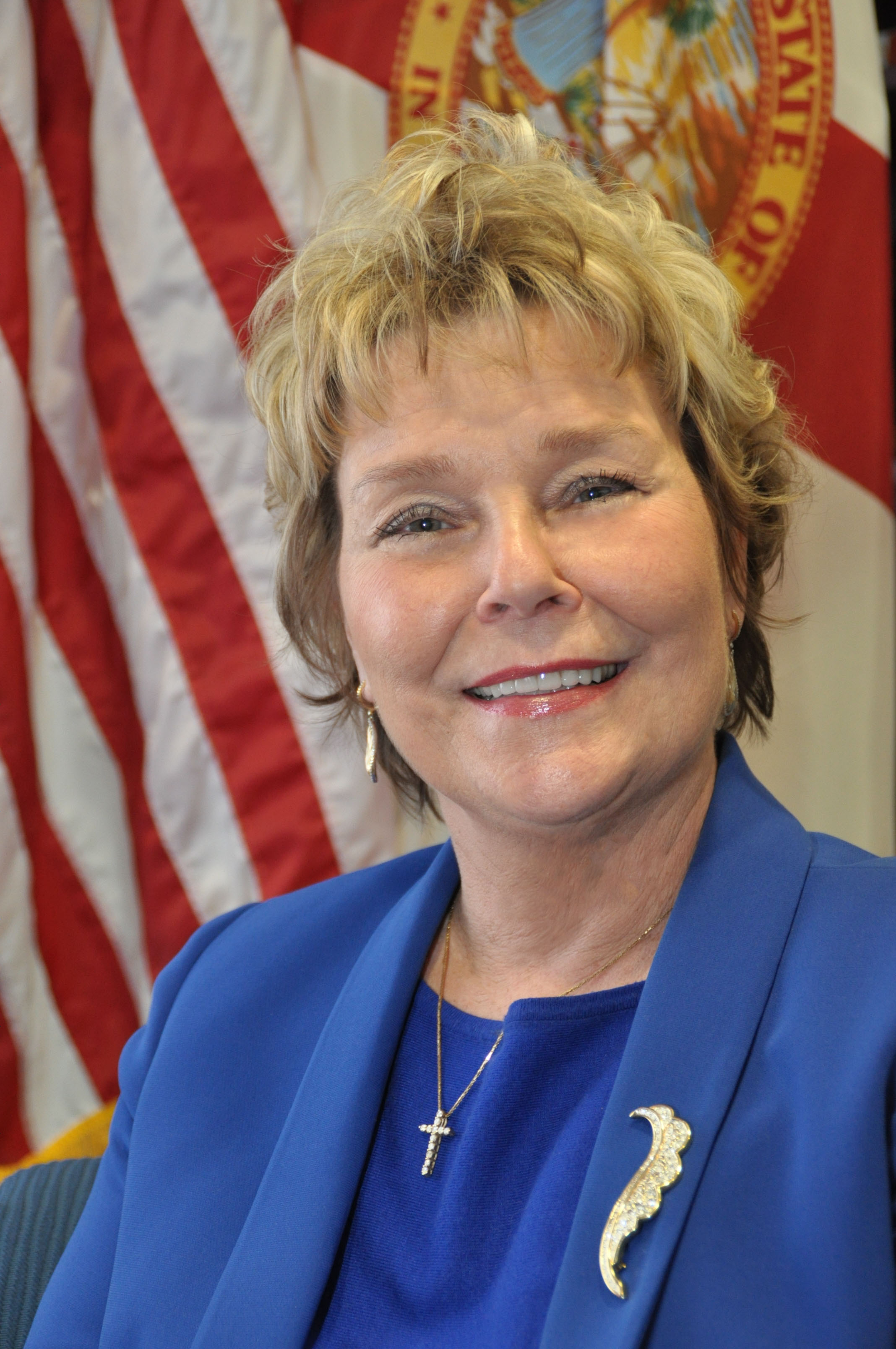 I am happy to report that Florida Governor Rick Scott is again recommending funding to serve individuals with critical needs on the Agency for Persons with Disabilities (APD) waiver waiting list. Governor Scott's proposed 2015-2016 "KEEP FLORIDA WORKING" budget includes $1.16 billion for APD with $8 million to serve the waiting list. The money will be used to enroll about 400 individuals into the APD Home and Community-Based Services Medicaid waiver so they can use this funding for community services. This is the third year the Governor has recommended money to serve the waiting list and the second year in a row that the Governor has taken the action to eliminate the individuals with critical needs on the waiting list.
I cannot thank Governor Scott enough for his continued support of individuals with disabilities. This money will allow everyone with critical needs to enroll into the Medicaid waiver in the coming year. For the past two years, APD has carefully managed its budget while also enrolling new individuals into the Medicaid waiver, which many people thought would be impossible. I appreciate Governor Scott's ongoing confidence in APD and the people we serve.
Governor Scott said, "We are excited that we are recommending the funding to again eliminate the critical needs waiting list this year. These life changing investments will create more opportunities for all Floridians to get the care and treatment they deserve."
Also for the third year, Governor Scott's budget proposal includes $2 million to assist people on the waiver and the waiting list who have indicated that they want to go to work. This funding will pay for Supported Employment and supported internship services for people with developmental disabilities.
Govenor Scott is recommending $2 million of additional state funds which will qualify for $1.2 million in federal medicaid dollars to be used to ensure the health and safety of APD customers on the medicaid waiver.
Additionally, Governor Scott is recommending $2.9 million for a new APD data system that will provide service-specific information from providers regarding service delivery dates and progress, as well as better verification that services were delivered at the times and locations that were authorized by the agency.  Additionally, this data system will include an electronic client central record that will provide the agency with information that can be used to more effectively serve individuals with developmental disabilities by providing electronic information that will track provider services and the progress of the client.
To view the complete list of Governor Scott's budget recommendations, visit www.KeepFloridaWorking.com.
---
Stakeholder Reaction to Governor's Recommended Budget
Family Care Council Florida Chairperson Pauline Lipps said, "We applaud Governor Scott for his continued efforts to reduce the waiting list of individuals with developmental disabilities across the state of Florida. Through these efforts and the Employment First Initiative, individuals will be afforded the opportunity to pursue employment services in the community that could reduce the barriers of finding competitive employment for individuals with disabilities."
Betty Kay Clements, parent and past chairperson of the Family Care Council Florida, said, "I am so pleased that Governor Scott's 2015 "KEEP FLORIDA WORKING" budget includes $2 million for APD to continue to support the employment contribution that individuals with developmental disabilities can make as they highlight their many abilities. Given the opportunity, their contribution is not just that of personal growth, self-esteem, and a paycheck, but a job well done that also benefits their communities and Florida's employers. Everyone benefits!"
The Association of Support Coordination Agencies of Florida chairperson Janice Phillips said, "We appreciate Governor Scott who continues to embrace the issues facing individuals with developmental disabilities. Providing money to move people with critical needs off the waiting list is an important priority, and I am so happy it is a priority of the governor too. Helping individuals move forward toward their goals is what we all want.  I am pleased that funding has been earmarked to assist people with disabilities with their employment goals.  Having a job is extremely important to everyone, including those with disabilities who are trying to enter the workforce and become productive citizens of our state."
Area 2 Family Care Council Chairperson Lou Ogburn said, "We applaud the Governor for his efforts to reduce the size of the waiting list.  We are also pleased he is providing help to the developmental disabilities community in employment.  It is critical for those who are able and want to work to be able to earn a paycheck.  His understanding and push to help overcome some of the hurdles with finding willing employers is so important.  We are also pleased with the money for a new Client Data Management System in order to more closely track the services to individuals with developmental disabilities so can be offered more timely when possible."
Florida Association of Rehabilitation Facilities President and CEO Suzanne Sewell said, "We are thrilled to see that waiver enrollment will continue in the coming year and that the Governor is investing in a strong provider network to meet the needs of individuals with developmental disabilities. Providing community services to people with developmental disabilities is essential. We are pleased to see that Governor Scott is recommending about $8 million to continue to move new individuals into the Medicaid waiver and to ensure that a strong viable network is available to provide the services they need."
"Special Olympics Florida applauds Governor Scott and the Legislature for dedicating critical funds that will help to ensure the safety, health, and well-being of people with intellectual and developmental disabilities in Florida. With this funding we are proud to work with APD to create communities statewide that value the contributions of all citizens," President and CEO of Special Olympics Florida Sherry Wheelock.
---
ADA Celebration Plans in Miami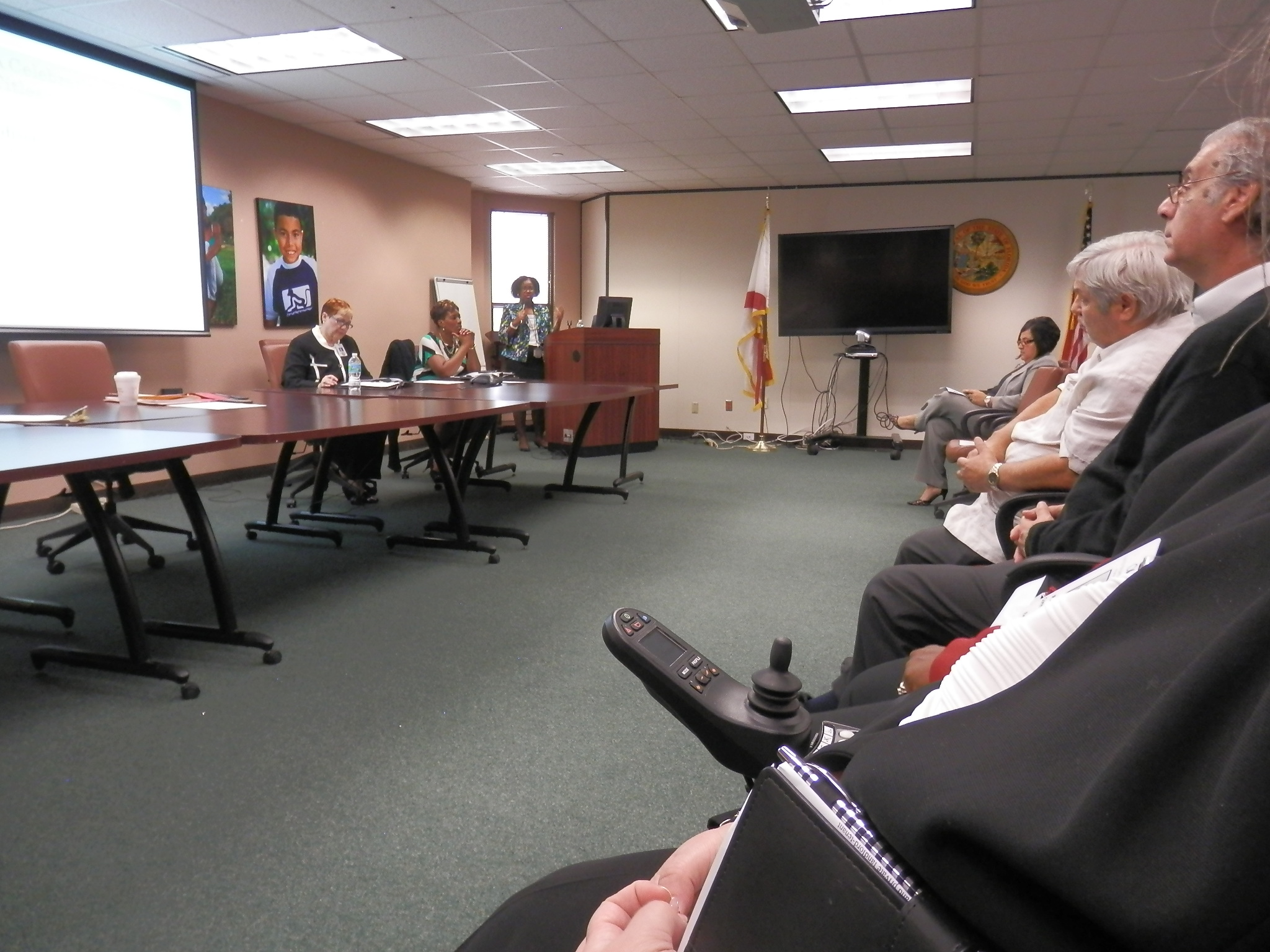 The Southern Region Americans with Disabilities Act (ADA) celebration committee, Kirk Ryon, Maria Linares, Rosa Llaguno, Michael Cardello and Evelyn Alvarez, has been planning the Southern Region ADA Celebration for July 1-11, and ongoing monthly events throughout the year in collaboration with various community partners.
Our kickoff event was January 14. We were honored to have Assistant US Attorney Veronica Harrell-James as our guest speaker. Providers were given credit training hours for their participation. And the City of Miami presented APD with a Proclamation.
Our regional event in July is coming along nicely. Our celebration will coincide with the 7th Annual Gallery of Dreams. The artwork displayed will commemorate the ADA 25th Anniversary. We are waiting for confirmation from Congresswoman Ileana Ros-Lehtinen who we invited as honorary guest speaker. We also planned to extend an invitation to Miami-Dade County Mayor Carlos Jimenez, and the Miami-Dade County Delegation to join us.
---
APD Wins Five Prudential Productivity Awards
The Prudential Productivity Awards annually honor state employees for creating and implementing innovative solutions that save taxpayer dollars and improve services to Floridians. On January 27, Florida TaxWatch announced the 2015 Prudential Productivity Award winners at the Capitol in Tallahassee. This year marks the 27th annual awards and had record participation by state employees. Almost 850 state employees across the state, teams and individuals, were honored with 217 cash and plaque awards. During that past 27 years, state employees have implemented cost savings to Florida taxpayers totaling $9 billion.
The Agency for Persons with Disabilities (APD) submitted and won five plaques for the following programs implemented this year:
Saved $2500 on handrails at Billy Joe Rish Park

Sunland Maintenance Team – Scotty Edwards, Randy Lowery, Adam Chambliss, Clay Mitchell, JC Folsom

Saved $15,000 on staff travel

Central Region – Arthur Ciesla

Saved $3,400 on pool pump at Billy Joe Rish Park
Saved $28,000 on Reactive Strategies Training

Prevention and Safety Strategies Transition Team at Sunland – Heather Traylor, Jose Martinez, Michael Holloway, Chip Hensgen, Stacy Gibson, Stacy Collins, Willie Stevens, Philip Anderson

Saved $820 on washer frames
Winners will be honored at either the main Tallahassee celebration on March 12 or during regional celebrations held across the state in June.
---
By the Letter
By Melanie Mowry Etters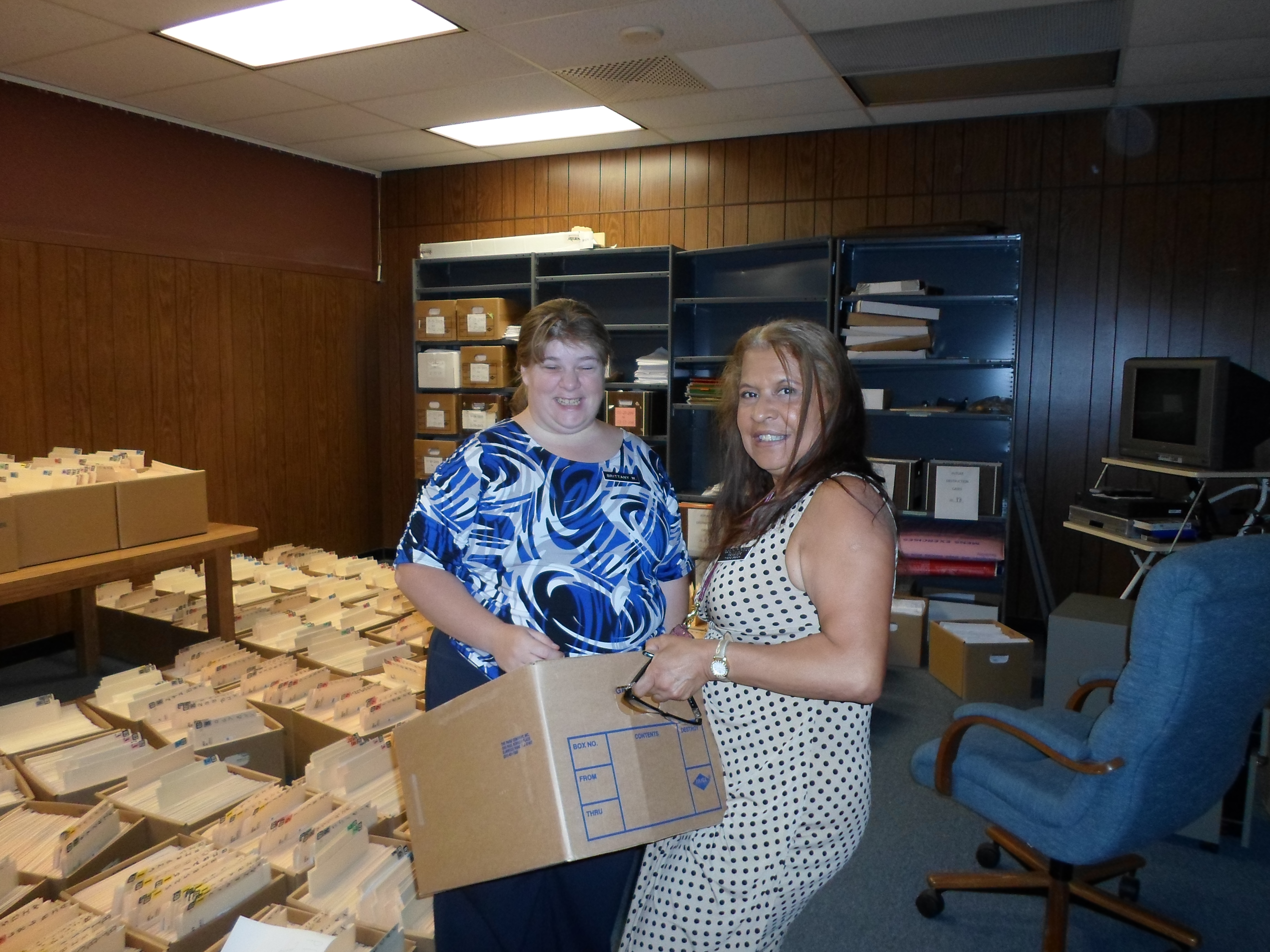 Brittany Whitby has made a special place for herself in the Pinellas County Clerk of the Circuit Court office in Tyrone. Whitby's job, Office Clerk Assistant, was created by bringing together tasks that other workers did not have time to accomplish, but needed to be done.  Job Coach Mona Andrews with Placement Works helped structure the work and teach Whitby the skills needed for the tasks she performs.
Tyrone Branch Office Manager Nancy Dickman said, "Whatever you ask Brittany to do, she is more than willing to do it or learn how to do it if she hasn't done it before. We have found tasks to make this a positive and special experience for Brittany. I think she enjoys being here and looks forward to coming to work."
Whitby has a developmental disability and is a customer of Florida's Agency for Persons with Disabilities (APD).
Dickman said, "All the employees have taken a great liking to Brittany. She is a joy to have and a joy to see each morning."
Whitby works every morning, five days a week. Her job responsibilities include shredding paper, labeling return envelops, filling printers and copiers with paper, and other clerical duties. Whitby said, "I like my job. It is fun. I like to learn new things. I get along with everyone." Having a job is helping Whitby be more independent, which is a goal. She currently lives at home with her mother. She enjoys receiving a paycheck and is being smart with the new income. "I save my money by keeping it in the bank," said Whitby. When she finishes work each day, Whitby takes a taxi home. When not on the job, she visits a nearby park and goes for walks. She likes to exercise to try to stay fit. Whitby competes in basketball with Special Olympics. Additionally during the summer months, she serves as a Junior Coach at Gladden Park Summer Camp. Whitby enjoys playing with and supervising children.
---
Around the State
---
Attitude is Altitude
A crowd of 7,000 including Northwest Region APD staff, providers, and customers attended the Pensacola Bay Center January 26 as part of a benefit for the Children's Hospital at Sacred Heart to be inspired and motivated by John C. Maxwell and Nick Vujicic.
Maxwell is a leadership expert, coach, and author.  During the first session, Maxwell told business leaders that attitude is not everything, but it is the main thing.  Attitude is a personal choice.  Employers do not have to hire people who complain.  He stressed growing people along with themselves. Maxwell shared five of his 15 Invaluable Laws of Growth in the second session.  The person who wins the race is not the fastest, but the person who gets started first.
Vujicic was born without arms and legs.  He travels the world sharing his story hoping to reach and inspire students to live life to its fullest.  Having a disability does not mean you cannot find a purpose and make a difference in the world.  Inspiring videos and his story can be found at www.lifewithoutlimbs.org.
Vujicic just introduced a new free online magazine called Attitude is Altitude, in which he shares real-life stories of inspiration and motivation.  The first issue can be found at www.theaiamag.com
---
Persistence Pays Off
By Michael Cardelo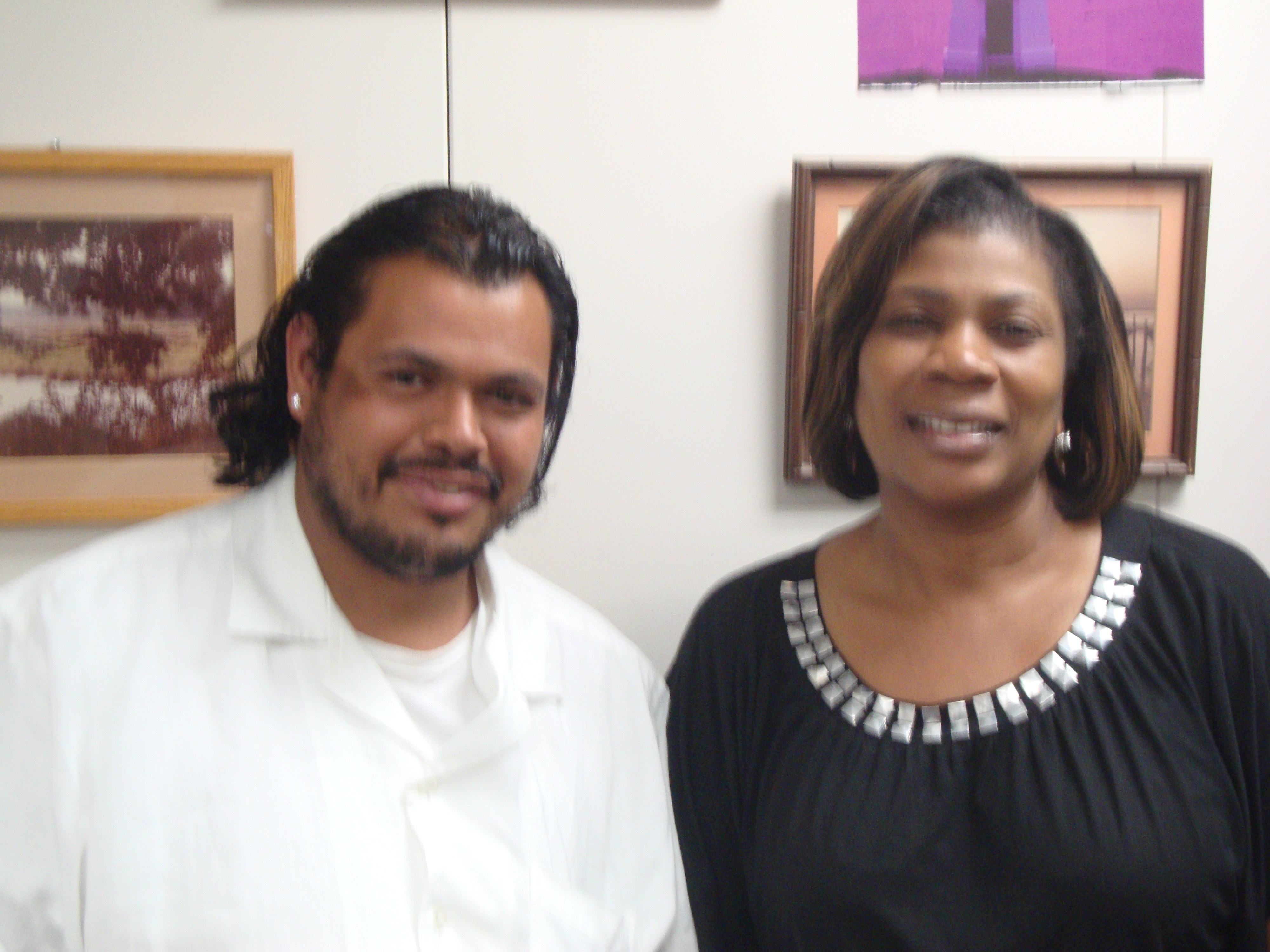 APD customer Daniel Martinez has made major strides in his three years working at Marshall's in Miami. Although it took two years of submitting applications on a monthly basis, he persisted and was finally employed in August 2009.
Martinez started out in a maintenance capacity and progressed to unloading the delivery truck. He then became an associate in the Suitcase Department where he tagged and placed sensors on suitcases. He is now in the Receiving Department and, along with providing excellent customer service, he manages up to 15 workers in the absence of the department's manager.
In August 2012, Tracy McPhillips, a Regional Vice President of Marshall's, wrote a letter of commendation regarding Martinez. In it she commended him on completion of three years of service with Marshall's and said to him, "During all of them you have given of your talent and worked hard. People with your enthusiasm, dedication and commitment to customer service are what have made this company the success it is today. We are proud to have you on our team."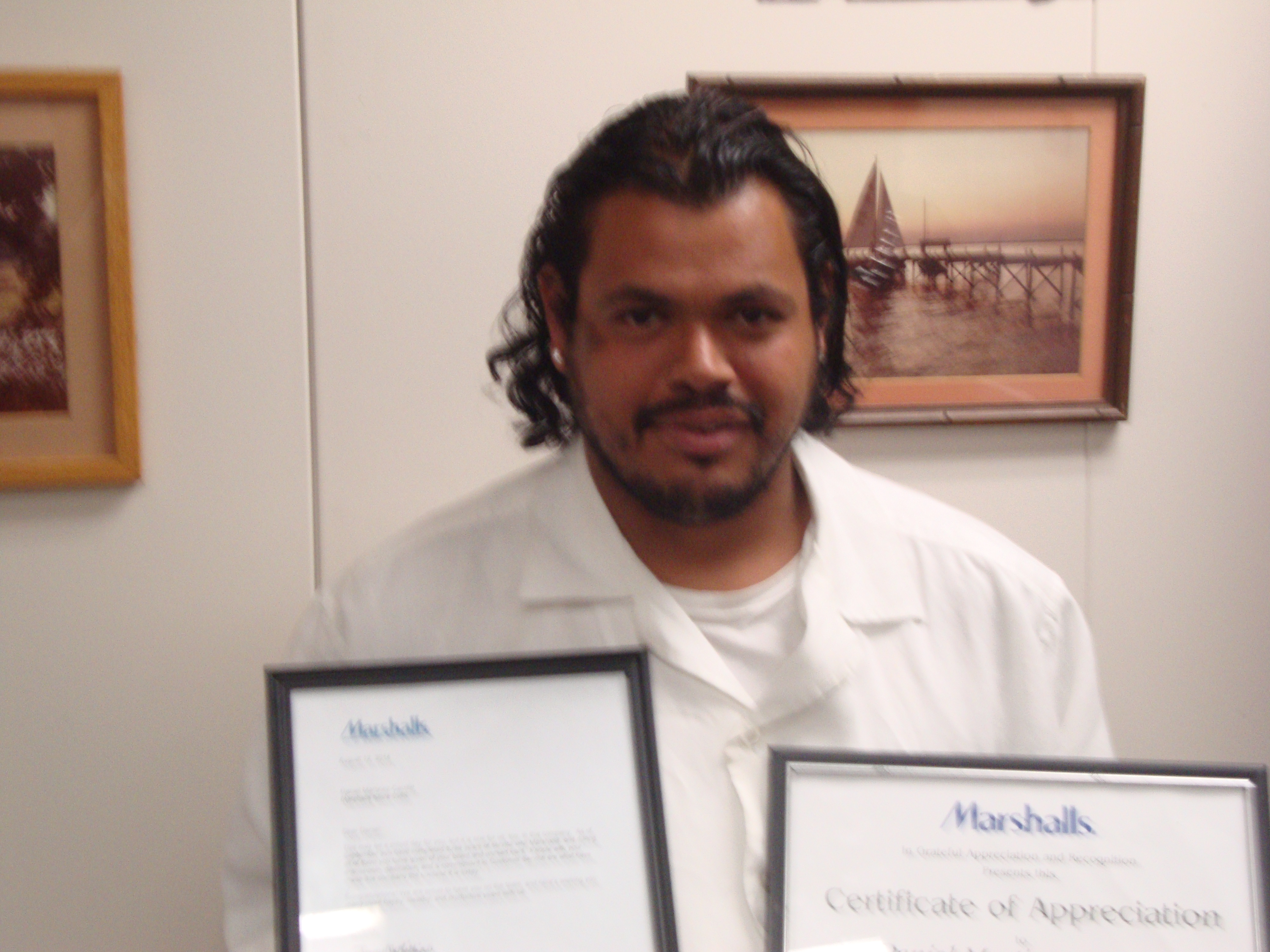 At the same time, Martinez received a certificate of appreciation for three years of continuous loyal and conscientious service from the President of the Marmaxx group.
Martinez states that he is very happy to have the job, that he has learned to improve his interpersonal skills, and the job has enabled him to purchase some favorite items of his choice, such as watches and a bicycle, which he often rides to work.
Martinez says his current job coach, Rosie Shaw, is very lovable and that she always returns his calls promptly if he needs assistance resolving any issues. All in all, Martinez has demonstrated that his persistence and willingness to persevere and learn have paid big dividends in his work and personal life.
---
Jenny's Journey - CILDRC Volunteer Appointed to FAAST Board of Directors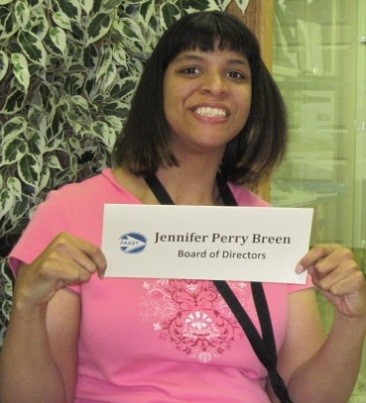 This is a story about a young woman named Jennifer Perry-Breen, or "Jenny" as she prefers to be called.
Jenny was born on August 11, 1988, with Cerebral Palsy that affects her motor skills and speech. She uses a wheelchair and a device called "Go Talk 20+" to communicate.
Jenny came into Center for Independent Living Disability Resource Center (CILDRC) two years ago to inquire about a specialized telephone device. During her appointment at CILDRC, she expressed (through her mother/caregiver) an interest in volunteering.  At 24 Jenny had never held a job and really wanted to develop some new skills, as well as be part of a real work environment.
Jenny was assigned a very important task that involves electronic data management; she scans documents into a folder on the CILDRC server, then moves to a computer workstation where she renames each document she has scanned.  Under the watchful eye of Volunteer Coordinator Danny Broxson and her fellow staff members, Jenny took ownership of her new position with due diligence and respect for the opportunity to be part of the CILDRC mission.
Early in 2014, Florida Alliance for Assistive Services and Technology (FAAST) interviewed Jenny during a CILDRC site visit.  Executive Director Michael Daniels was very impressed with Jenny and suggested that she apply for board membership at the statewide FAAST!  Jenny was so excited to be considered for such an important position!
The application process took several months to complete.  At last, Jenny was invited to the FAAST Quarterly Board of Directors meeting in Orlando on November 18, 2014.  Jenny and her mother/caregiver travelled to Orlando to attend the meeting.  Jenny, by way of Go Talk 20+ made the following speech:
"My name is Jenny, thank you for inviting me to your board meeting. The FAAST program is wonderful. I volunteer at the Center for Independent Living Disability Resource Center in Pensacola. I see people with disabilities trying different equipment and it makes them happy when they find something they can use. The device I am using is the Go Talk 20+ and it was provided to me through the FAAST program. Thank you for this device. With the help from my Caregiver, my Mother, I can communicate when volunteering and learning employment skills. I can offer this board my opinion on the use of FAAST equipment items for persons who have a similar disability."
Jenny's speech left many of the board members in tears; with a unanimous round of applause and support, Jenny was installed onto the FAAST Board of Directors.
So Jenny's world has just gotten a little bigger as she embarks on her new responsibilities that come with her service on the board of a statewide program that has a direct impact on the availability of assistive technology for people with disabilities in Florida.  We, as her CILDRC family, are so very proud to have been a part of her journey.
---
The College Experience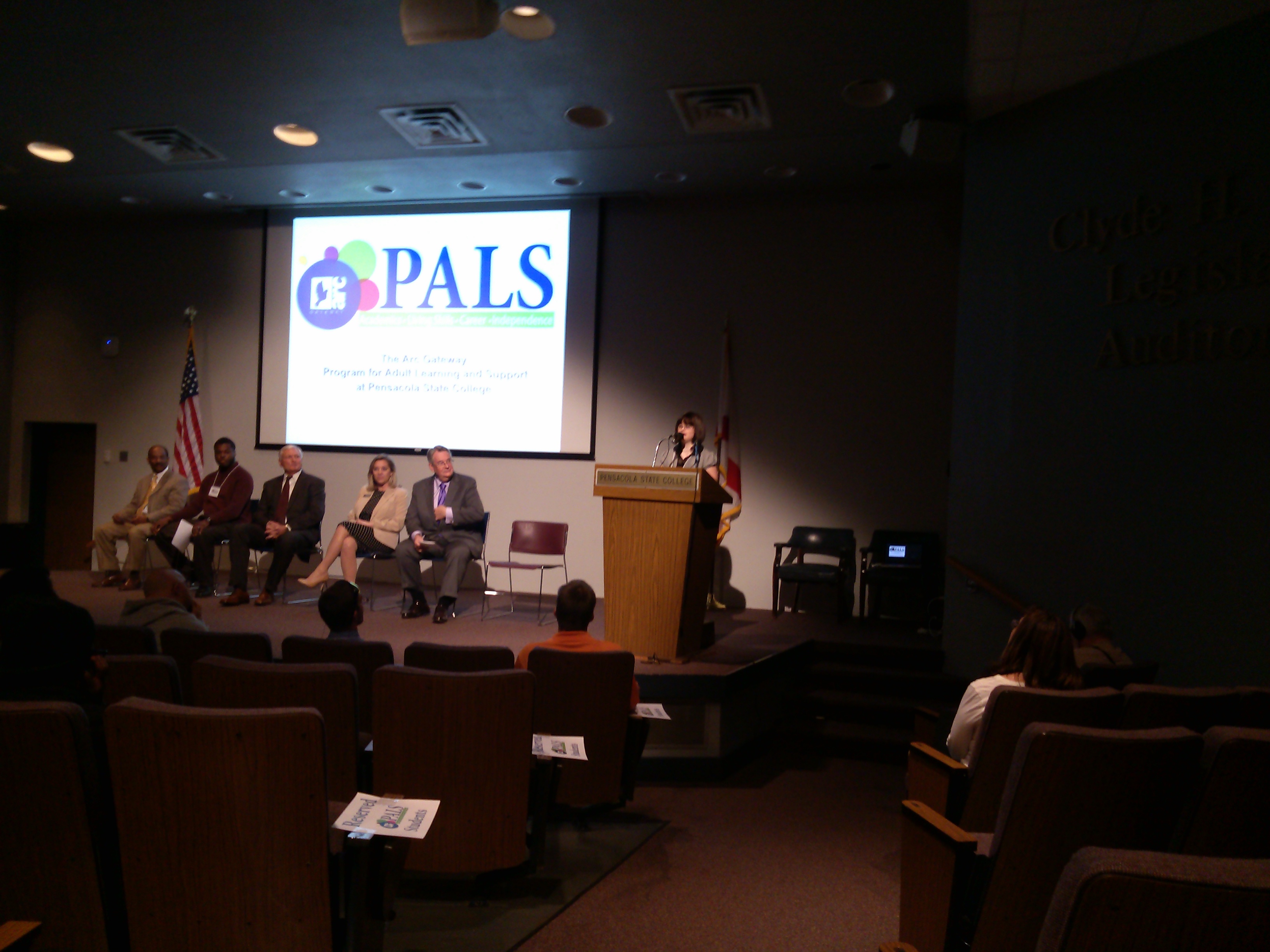 The Arc Gateway Program for Adult Learning and Support (PALS) at Pensacola State College began on January 7, 2015.  PALS is a two year post-secondary program for people with intellectual disabilities.  The goal of PALS is to provide substantial and relevant learning experiences, within an inclusive educational setting, that leads to meaningful employment, increased independence and being well connected in the community.  The first class includes 19 individuals on the Agency for Persons with Disabilities (APD) waiting list, seven individuals receiving APD Medicaid waiver services and six individuals with military connections.
A news conference was held on January 29 at Pensacola State College to kick off the program along with expressing appreciation to Senator Don Gaetz and the Florida Legislature for appropriating the funding to develop the program as a potential model for the state.  Cameron Northup, a PALS student, welcomed everyone to the press conference by sharing her dreams which included going to college.  Dr. Ed Meadows, Pensacola State College President, shared his excitement over being able to broaden their access to a population that could not be served before.  Senator Gaetz shared that his wife has a physical disability so he understands focusing on abilities rather disabilities.  He expressed his appreciation to the individuals who had a vision, developed that vision and being persistent in presenting it.
The students are excited about being on campus and having a college student as a mentor.  Recruitment for 40 more students for the fall semester will begin shortly.   For more information and the application, individuals can go to http://www.arc-gateway.org/pals/ or call 850-484-1185.
---
Project Enable First Respite Day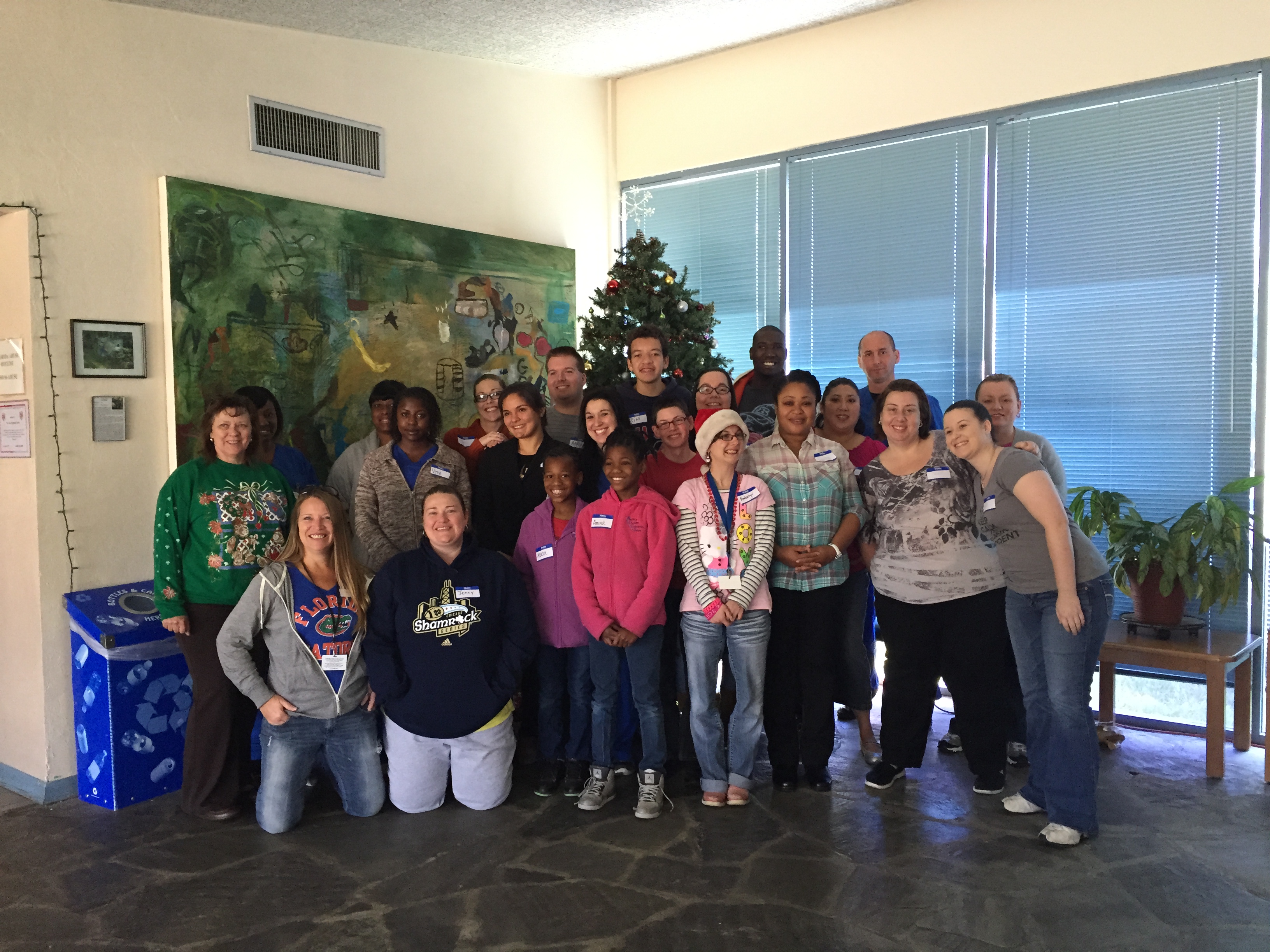 Project Enable is a new coalition of agencies, community leaders, and stakeholders dedicated to providing support and respite to families of individuals with developmental disabilities. Their first Respite Day was held before the holidays on December 13 from 9 a.m. to 1 p.m.
The Arc of Alachua County in Gainesville graciously hosted this event. With the assistance of Linn Nolte, nursing students from Express Training Services volunteered their services to participants in Respite Day.
This respite event was free to the families of loved ones currently on the Agency for Persons with Disabilities Medicaid waiver waiting list. There were a limited number of openings to maintain the required 1-to-2 ratio. Applications were filled out by caregivers in advance to note medical conditions, food allergies, and activity preferences. Participation was on a first come, first served basis.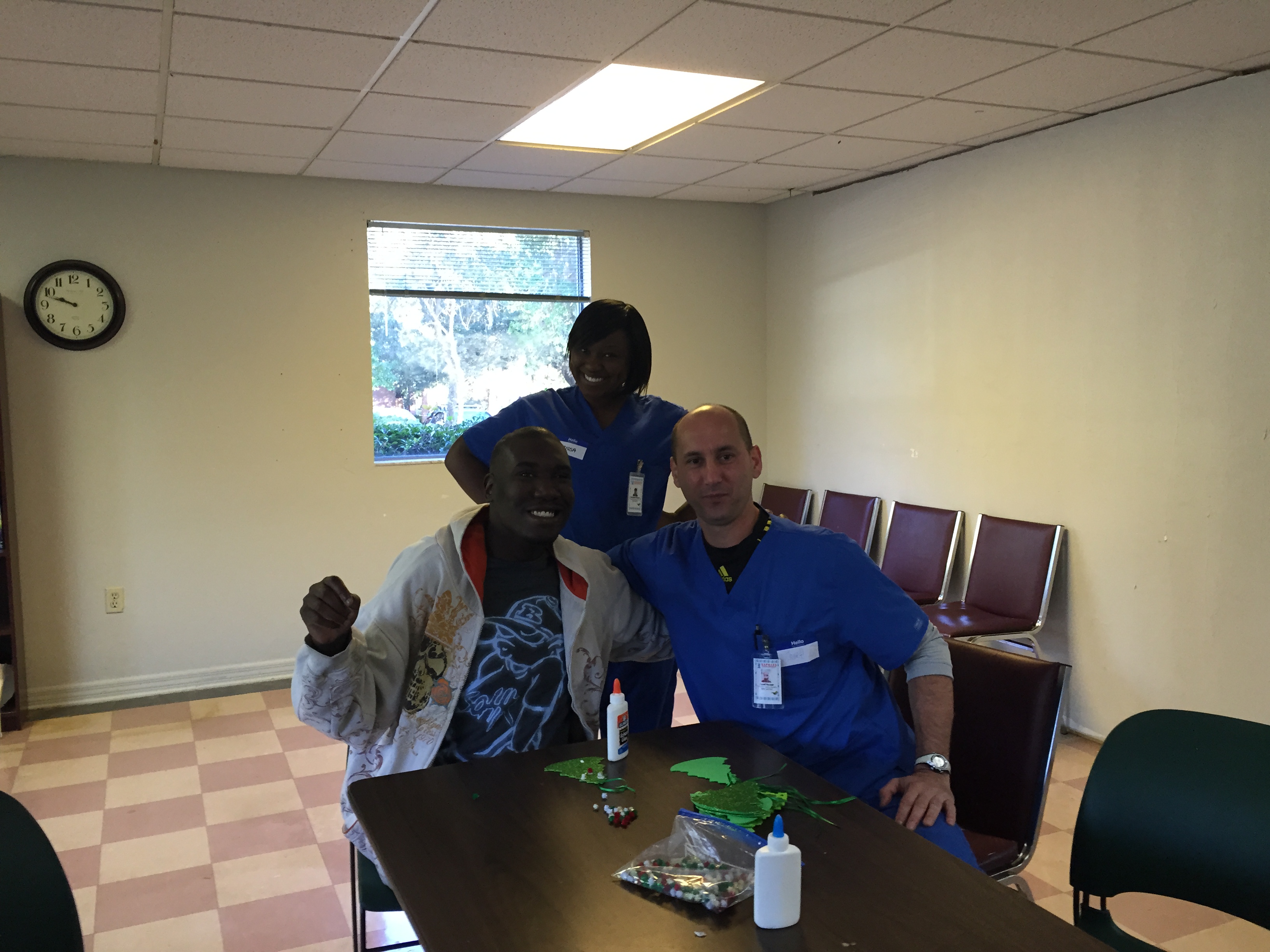 A variety of activities were offered. Arts and crafts and karaoke were two of the favorite activities of attendees. Family members were pleased that they were able to do some holiday shopping, take some personal time for themselves, run errands, or simply enjoy some quiet time. Additional respite events are in the planning stages.
---
Wheelchair Derby making debut at state park
Originally posted in Highlands Today, January 26
The Florida Park Service and motorcycle clubs in Central Florida have joined hands to host the Highlands Hammock Wheelchair Derby 9 a.m. to 4 p.m. Feb. 21. This new event, which is being held at Highlands Hammock State Park, will feature many unique recreational activities, including wheelchair races, a wheelchair obstacle course and a 5K Stride and Stroll Run, park officials say.
"All those who use wheelchairs may experience a fun-filled day in the park, and if they choose, have the opportunity to participate in an exciting and challenging race," park officials add.
Competitive events will be held for all age divisions including children, teens, adults and seniors. Trophies will be presented to division winners and event ribbons will be presented to all participants.
"Physically challenged" wheelchair contestants will be able to showcase their athletic skills and raise public awareness. Local medical support, wheelchair assistance personnel and other support staff will be available to help make this a safe event.
A large group of motorcycle enthusiasts, park staff and volunteers are partnering with private, local, state and federal organizations and businesses to ensure this will benefit all physically disabled individuals through improved park service.
The Gathering Of Clubs is an informal group of motorcycle clubs, associations and motorcyclists that coordinates all special motorcycle riding events in Highlands County and provides support for many worthwhile causes. The Florida Park Service is strongly committed to providing access for all. Increasing wheelchair accessibility and expanding recreational opportunities will greatly assist in meeting this goal, park officials say.
Park Manager Brian Pinson and the GOC have set the bar high. Their objective is to raise $8,000 for the purchase of an all-terrain Nomad wheelchair.
Nomads can negotiate trails whose contours, tree roots and muddy areas may prove too difficult for standard wheelchairs. Once the park acquires a Nomad, it will be available free of charge to visitors whose disabilities restrict them from trails due to mobility issues.
Wheelchair demonstrations are being planned so visitors may experience trying out a contemporary model on various challenging terrains.
All funds raised through donations and GOC auctions at the event will benefit park accessibility improvements via the Friends of Highlands Hammock, the park's Citizen Support Organization.
Food vendors will be on site and live music will be provided by local bands playing on the Music in the Park stage. Work and planning are currently underway. Local businesses and civic organizations are being contacted to assist with donations and preparations. Contributions may be mailed to: Attention: Friends of Highlands Hammock, Highlands Hammock State Park, 5931 Hammock Road, Sebring, FL 33872. Checks may be made payable to the Friends of Highlands Hammock Wheelchair Derby.
Wheelchair Derby participants will receive free park admission. Regular park entry fees of $6 per vehicle (up to eight people), $4 per single occupant vehicle and $4 per motorcycle apply.
To pre-register, call the park at 863-386-6094.
Registration may also be completed on the morning of the derby, but participants are asked to notify the park they want to attend by calling by Feb. 18, and provide event entry information.
---
Resume Writing 101 Workshop
The APD Northwest Region along with Lowe's will be hosting a Resume Writing 101 Workshop on February 6 in Tallahassee. For more information about the workshop, be sure to check out this flyer.
---
Champion Staff
Melanie Mowry Etters - Editor
Lindsey Boyington - Writer
Christine Call - Writer
Kimberly Tharpe - Masthead Design
John Milton - Webmaster

---
The Agency Supports Persons with Developmental Disabilities in Living, Learning, and Working in their Communities.