Message from the Director
I am Thankful
By Barbara Palmer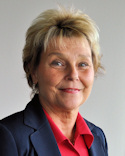 After enjoying a delicious Thanksgiving dinner, I realized the Holidays are already upon us. It made me think about all that has been achieved in 2013. The Agency for Persons with Disabilities (APD) has had an extremely busy and productive year for which I am extremely thankful. I want to extend my appreciation to customers, families, providers, stakeholders, waiver support coordinators, employees, and everyone else who helped APD make a difference in the lives of so many.
This year, APD successfully implemented iBudget Florida.  I know change is scary but customers, families, providers, and waiver support coordinators all worked together to make sure iBudget was doing what it was intended to do, and that is allow customers to direct their care and make choices about the services they want and need.
Governor Rick Scott and the Legislature provided $36 million to enroll people from the waiting list onto the Medicaid Home and Community-Based Services waiver.  So far, more than 1,450 people have been offered enrollment, which is about half of our APD customers with critical needs.  Working together, we have all made a tremendous difference in the lives of these customers. Additionally, the governor and the Legislature provided $500,000 to pay for internships and on-the-job training for APD customers on the waiting list. APD is working to find job opportunities for about 200 individuals with developmental disabilities before July 2014.  These people will be able to learn job skills so they will be more marketable when seeking permanent positions.  We want everyone we serve to have a chance at employment.  We know people feel better about themselves if they feel productive.
This year, I had the wonderful opportunity to travel around the state and, with the help of the Family Care Councils, was able to host 16 Town Hall meetings.  I loved being able to talk face-to-face with so many of you.  I heard your concerns, suggestions, and compliments. This was a fabulous experience for me.  I want to thank everyone who attended, coordinated, or participated in anyway in making the APD Town Hall meetings so successful.
These are just a few of the wonderful things that have occurred in 2013. I want to say Thank You to you all. I could not have done any of it without you. Happy Holidays!
---
The Governor's Corner by Governor Rick Scott
With our unemployment rate below the national average and more private sector jobs being created every month, Floridians across the state are enjoying the benefits of our recent economic turnaround. Thanks in part to the hard work of our public servants, Florida's economic success is joined by safer communities, a growing tourism industry and the lowest unemployment rate since August 2008 at 6.7 percent.
Last month we announced that crime in Florida during the first six months of 2013 dropped 5.2 percent compared to the first six months of 2012. With these numbers, Florida is continuing on the path to reaching a 43 year crime low. Florida's success in reaching these historic lows would not be possible without the bravery and hard work of Florida's law enforcement officials and public servants. Thanks to their commitment to keeping our homes and communities safe, Florida continues to be a great place to work, live and a raise a family.
We also recently announced that according to VISIT FLORIDA's preliminary estimates, Florida reached another record quarter for tourism. From July through September, 22.9 million visitors came to Florida, which is the largest third quarter visitation in Florida's history.
The success of Florida's economic turnaround is reflected in our dropping crime statistics and rising tourism. With the help of Florida's public servants, we will continue to work until every family has the opportunity to live their version of the American Dream in the Sunshine State. It's working in Florida.
---
Martin gets Dream Job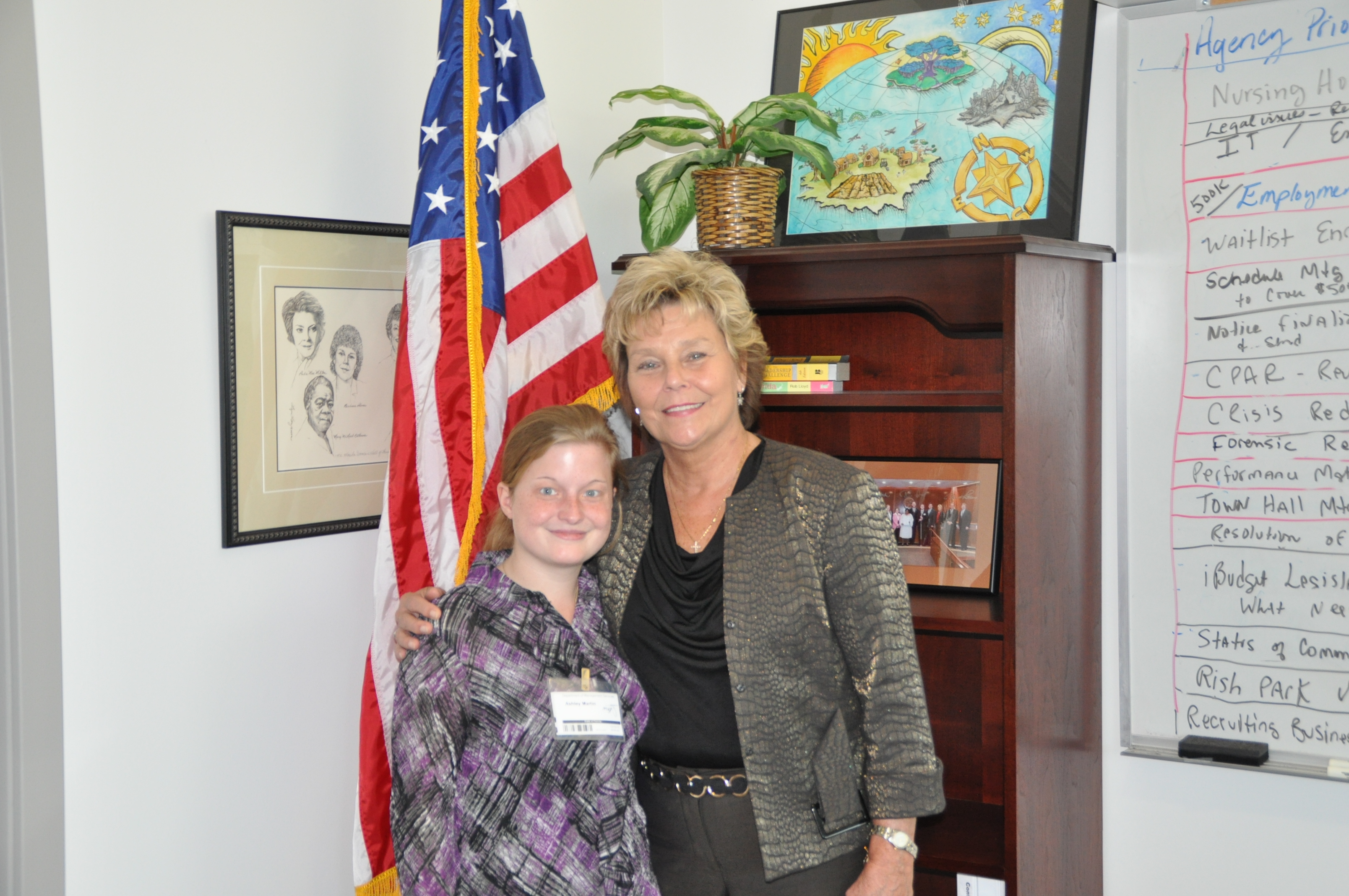 Ashley Martin was very enthusiastic when she got to shadow Director Barbara Palmer at the Agency for Persons with Disabilities (APD) Central Office on Disability Mentoring Day. She had a great time and told Director Palmer that she hoped to get a career working with animals.
Martin now works at Cavallo Farms in Lloyd three days a week where she is a stable hand for 35 horses. She works with two other employees mucking out the stalls (using a pitchfork to scoop up cedar chips and manure and putting them in a bucket). Her duties also include emptying the water buckets, providing clean water, and adding hay and feed to the horse troughs. Occasionally, she has to add medications to the feed, as well as remove the horses' blankets or put on rain blankets.
She said, "I love this job! It's a blessing. I want to work there for a long time. The people there are really nice and I love the horses."
---
Mark Your Calendar for DD Day
In 2014, Developmental Disabilities Awareness Day at the Capitol will be held on March 18.  Make plans to be in Tallahassee for the various activities that will be scheduled for the day. We hope to see you there!
---
APD Donates Laptops
The Agency for Persons with Disabilities (APD) recently donated 42 refurbished laptops to the Florida Alliance for Assistive Services (FAAST). This is the first time the agency has been able to provide such a service.
Mark Ervin, APD's technology director, said that he and JR Harding were discussing what they should do with old computer equipment when Harding suggested they donate it to a local developmental disability charity. FAAST were the ones who responded.
For the charity, it was a dream come true. "We've worked with APD in the past," said Andre Howard, interim executive director at FAAST. "When JR mentioned that we could get these reconditioned laptops at no charge, we jumped at the chance."
FAAST will loan out the laptops to individuals with developmental disabilities, who in turn can use them for employment and educational purposes. Additionally, Howard noted that some recipients will use them simply for community living. "It gives people who might be homebound an opportunity to interact with others through email."
Ervin hopes the agency can do this again in the future when the opportunity arises.
For more information about FAAST's device loan program, please visit FAAST.org or call them at (850) 487.3278 (TDD: 877.506.2723).
---
iBudget Customers Receiving New Notices
Agency for Persons with Disabilities (APD) customers who had a funding reduction when moving into iBudget Florida will receive a notice of a proposed class action settlement. A federal judge approved the class action settlement on November 27. APD agreed to enter into a settlement rather than a potentially prolonged legal battle over the adequacy of its original iBudget legal notice.
The iBudget Florida Medicaid waiver is used to direct and receive Home and Community-Based Services (HCBS) through APD. The HCBS waiver is funded by state and federal tax dollars to help people with developmental disabilities live in their local communities. iBudget Florida provides greater ability to choose services that matter most to customers given their unique situations. It also gives more flexibility for customers to respond to their changing needs.
APD Director Barbara Palmer said, "In the interest of saving tax dollars to pay large legal bills, we agreed to settle this matter. In late November, 11,377 settlement notices were mailed to APD customers and guardians. We expect that some customers may be confused as we comply with the terms of this settlement which will require two more notices to be sent in the future. Because most of our customers have been living with their new iBudget amount for about a year, we hope this process is not too distracting."
iBudget Florida is designed to make the funding process fair and equitable for all Medicaid waiver customers. This enhanced system also provides for financial predictability for the Medicaid waiver which will allow the agency to move more people from the waiting list to the waiver.
---
Ability 1st Caring for Caregivers
The Caring for Caregivers program, operated by Ability 1st in Tallahassee, provides educational and supportive group meetings, individual solution focused counseling, and resource referrals to caregivers who are residents of Leon and Wakulla counties. To qualify for services, the caregivers must be either 55 or older and caring for an adult with a developmental disability or caring for a person with a disability who is 60 or older. Additionally, the person being cared for must need assistance with two or more daily living activities.
Services can be received at Ability 1st, at a community location, or sometimes even at the home of the caregiver. All services are free. To get more information about the program, please contact Carrie Milhous of Ability 1st at 850-575-9621, ext. 107.
---
Around the State
Brevard Awards Ceremony
Two Employee Awards Ceremonies were recently held in Brevard and Orange counties. The purpose of the ceremonies was to recognize APD customers who had completed at least one year of employment. Individuals received awards noting their name, the company they work for, and the number of years employed.
The first ceremony was held at the Renaissance Senior Center on September 27 and recognized customers from Orange, Osceola, and Seminole counties. Twenty-two people received awards at the event, while 11 certificates were mailed to those who couldn't attend. Years of employment ranged from one to 17 years.
Olive Garden provided lunch and Seasons 52 provided desert. Door prizes were donated by Publix, Mary Kay, Herbalife, Walgreens, and AMC Downtown Disney. The Renaissance Center donated the use of their facility.
The Brevard County ceremony was held on October 3 at the Health First Holmes Regional Medical Center. Thirty-four individuals were present to accept their certificates and another five were mailed to those unable to attend. Years of employment ranged from one year to 39 years.
Food and beverages were provided by Olive Garden and Publix. Door prizes were donated by Premier Theaters, Carmike's Avenue 16, Cinema World, Five Guys Burgers and Fries, Darden Restaurants, Publix, and Hilton Melbourne Rialto.
Many employers were able to attend both events and participated in the award portion of the ceremony.
A great time was had by all.
---
Advocate Receives Van
By Eileen O'Brien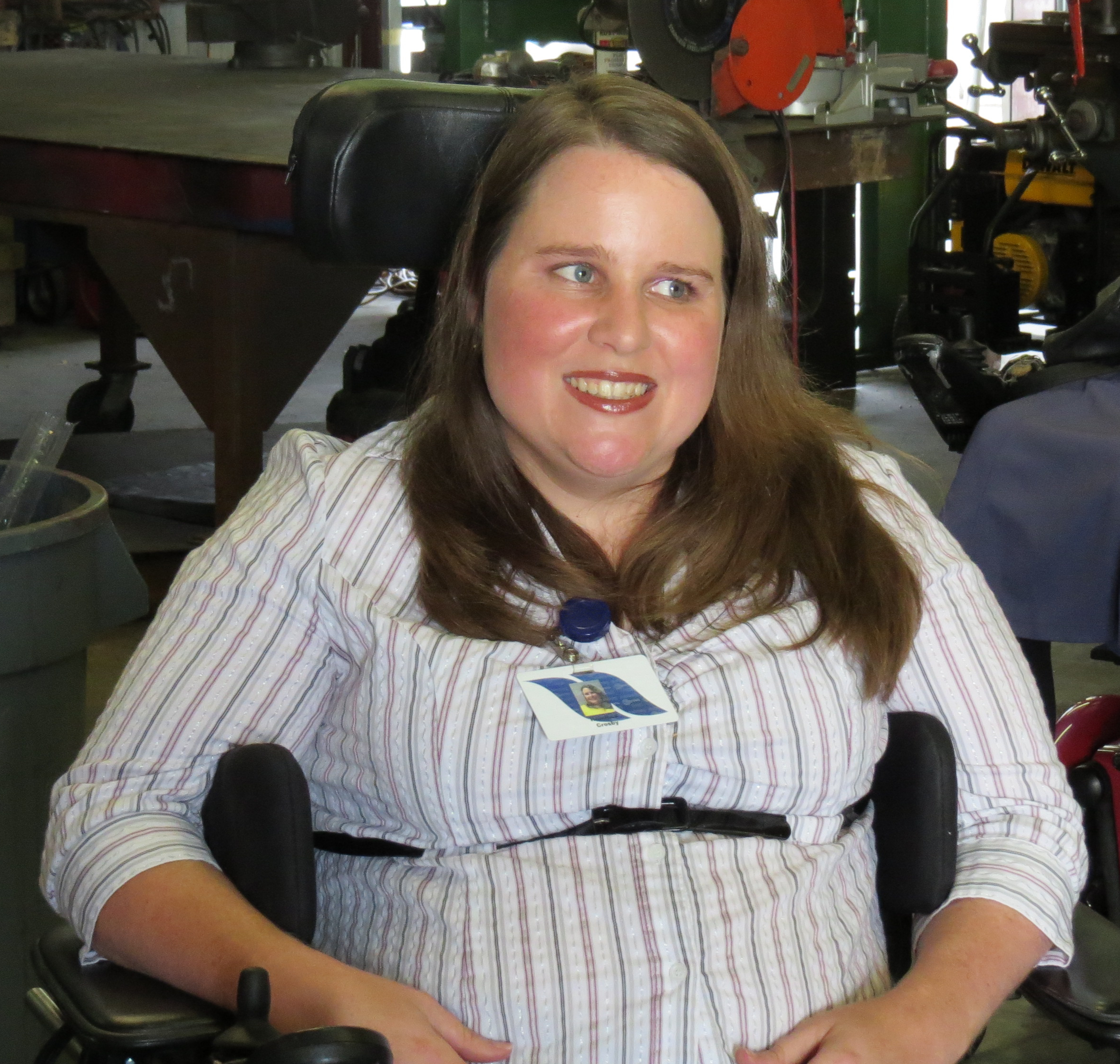 Self-advocate leader Rebecca Crosby had a dream come true when she was given a van in honor of her advocacy achievements and dedication to employment issues for people with disabilities. In addition to her many advocacy roles, Crosby, who has cerebral palsy and uses a wheelchair for daily mobility, works 20 hours a week as a Wellcare Incorporated Community Liaison.
She indicated that Hands on Education wanted to choose a self-advocate who would use the van for employment and advocacy-related purposes. Crosby is currently the vice chairwoman of the Florida Center on Inclusive Communities Employment Committee and has worked tirelessly to promote employment readiness curriculum development for youth with disabilities. Additionally, she serves on the Managed Care Committee of the Florida Developmental Disabilities Council promoting health care options for people with disabilities and volunteers at the University of South Florida Model Patient Program, which trains student physicians on appropriate care for people with disabilities.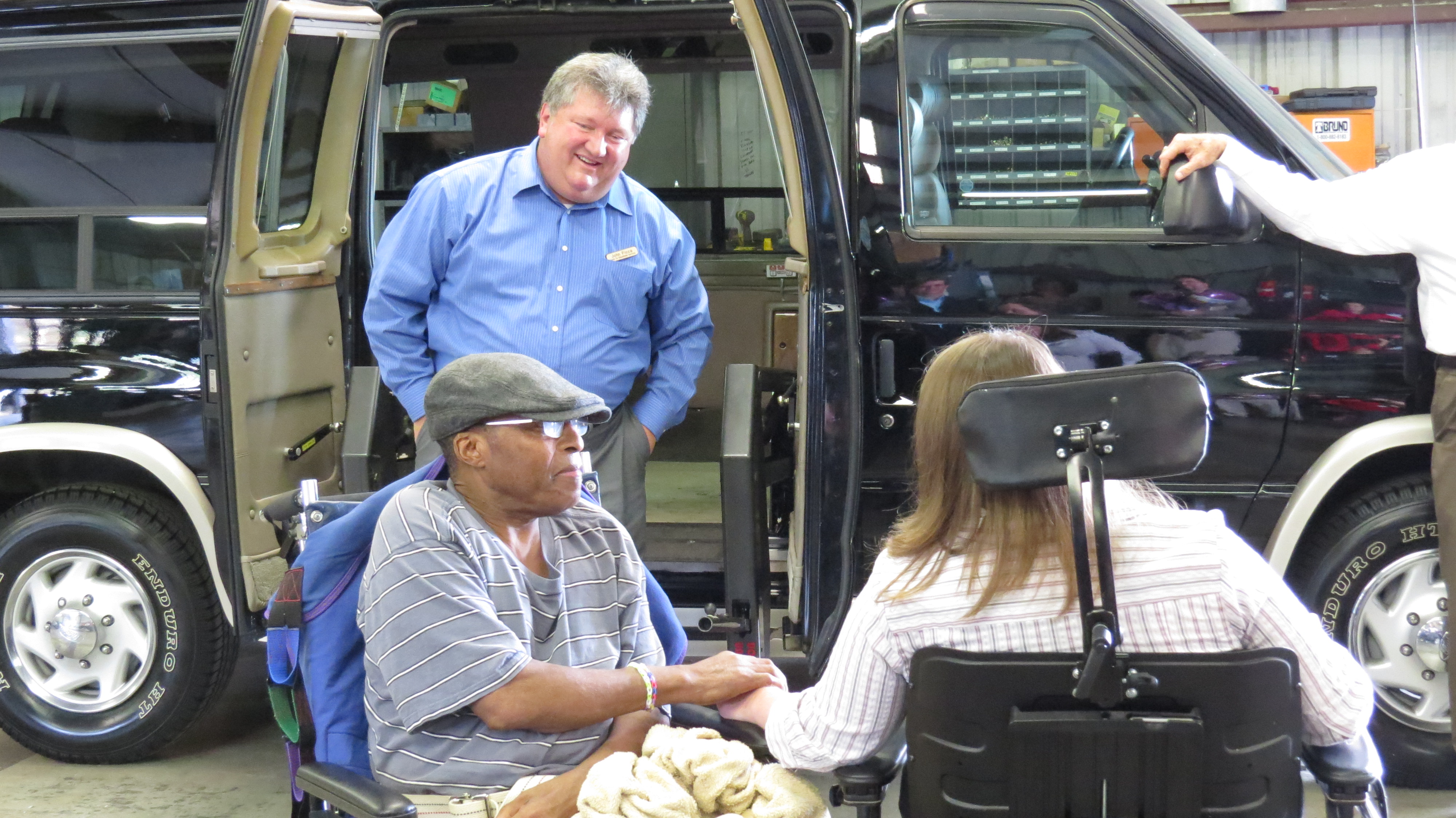 Crosby is an accomplished public speaker on issues relating to disability advocacy. At the 2013 Family Café, an annual statewide disability event, Crosby presented on the importance of self-advocacy and co-presented with Agency for Persons with Disabilities (APD) Director of Programs Denise Arnold on the benefits of the iBudget Program. In 2006, she served as Ms. Wheelchair Florida, a statewide advocacy position, in which she traveled to many areas of the state developing greater awareness on issues connected to inclusion for people with disabilities.
Crosby epitomizes the meaning of empowered self-advocate and functions as a role model to many people. The van will enhance her ongoing employment and advocacy efforts. Crosby states that she wants everyone to know that she does not take the honor of the awarded van lightly but intends to use it to benefit others. Her goals include growing in her current career and advocacy roles.
---
DMD in Polk County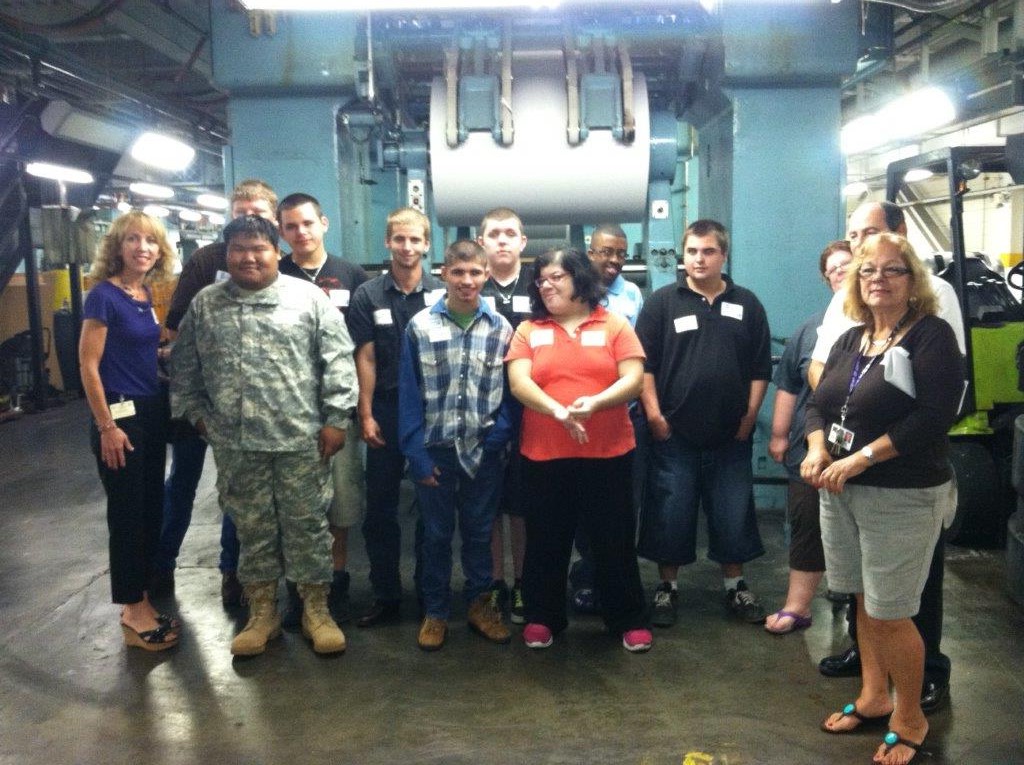 The 2013 Disability Mentoring Day events in Polk County were a great success! Beginning on October 16, over 100 mentees were provided with a wide variety of one-on-one job shadowing experiences and other activities at 13 different mentoring sites.
Among the activities was a tour of the Lakeland Ledger newspaper, Lakeland Regional Medical Center, Publix, Sam's Club, and Longhorn Steakhouse. Former Mayor Gow Fields gave opening remarks to welcome the students to the event. Chuck McDanal, Director of Operations for the Ledger Media Group, also welcomed the students, teachers, and special guest Heather Monteath, the Deputy Regional Operations Manager for the Agency for Persons with Disabilities (APD).
McDanal spoke of how inspiring it was to work in a job that provides news to the whole community. He asked for a show of hands of how many of the students received the Ledger at their homes. Most of the hands in the room went up. This brought a lot of smiles and cheers.
The tour included stops in the news room, the packaging center, and the press room. All of the mentees seemed in awe of the size of the paper presses and the incredibly elaborate machinery used to create a paper from start to finish. At the end of the tour, each mentee was given a Ledger tote bag with a copy of the paper and other items. A number of students were heard saying, "I want to work for the newspaper!"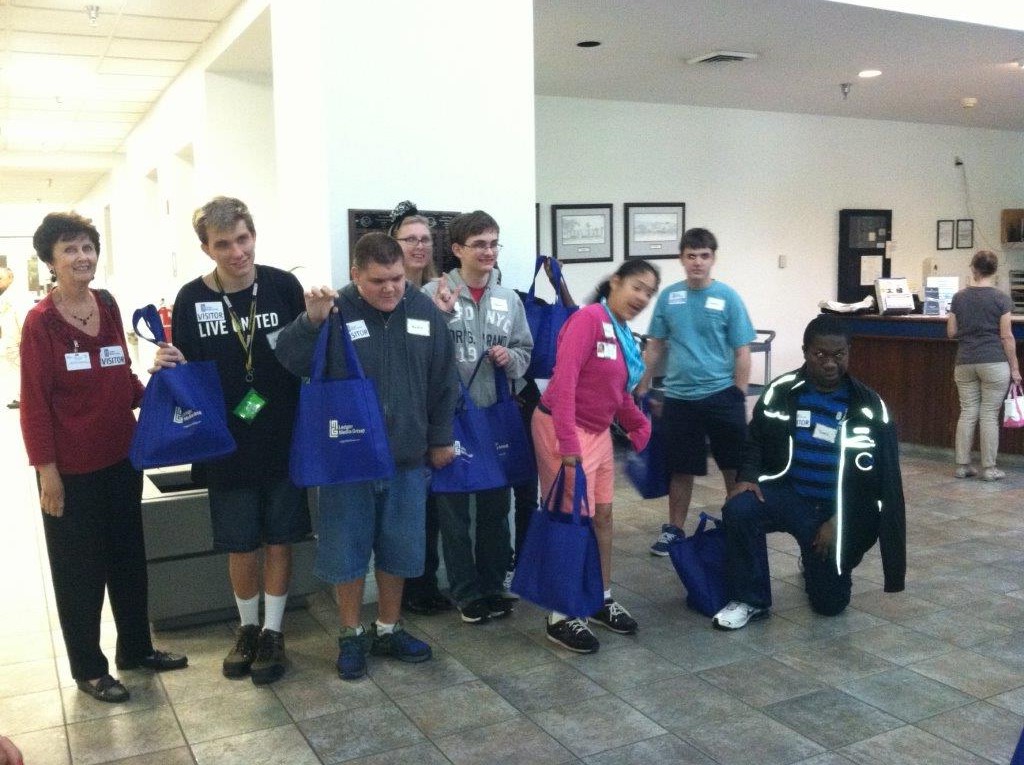 Another event was at Lakeland Regional Medical Center. Janie Lineberger, OnBoarding/G.O. Training Coordinator for the hospital, coordinated a wonderful hands-on fair. Almost a dozen different departments from the hospital set up stations in a large auditorium. There were stations for culinary, maintenance, engineering, and the most popular was the surgery station where the very creative staff had taken a life-size dummy with a hollow stomach and filled it with candy and the mentees donned surgical masks and used surgical instruments to remove candy from the "patient." It was like a giant game of Operation.
While the LRMC fair is very popular and lots of fun, the staff is serious about educating the mentees about what it's like to work in a hospital. They are also serious about hiring people with disabilities. For many years they have provided the opportunity for students in transition to gain career experience by working in a number of different departments. Some of these students have gone on to be regular employees after finishing school. In addition, Lineberger has been actively working with APD to recruit job seekers enrolled in the agency. In late November, APD staff and the local providers of employment services met with the LRMC HR staff to work toward this goal. 
Publix has been a long-term sponsor of DMD activities throughout the state. Greta Dupuy, the Associate Diversity and Inclusion Specialist for Publix, is also president of the local Business Alliance for Persons with Disabilities. Dupuy elicits participation from store managers and staff around the state to serve as mentor sites. The stores do a combination of tours and hands-on activities. In addition, the Publix corporate headquarters in Lakeland acts as a mentor site.  Mentees job-shadow in administrative services, the print shop, and cafeteria. Publix also hires a number of individuals with disabilities, including those who have participated as mentees on DMD. 
Sam's Club has been another long-term sponsor of DMD. The Sam's Club in South Lakeland holds a tour for mentees from around the area. Store Manager Kacey Brindle coordinates the tour and always makes sure there is a fun activity mixed in with the focus of learning what it's like to work at Sam's Club. This often involves icing cakes in the bakery department and letting the mentees sample their results. Sam's enjoys DMD so much that they have asked to hold more events throughout the year.
Longhorn Steakhouse in South Lakeland is another popular DMD site and a long-time supporter of DMD activities. Vicki Fiddelke, Managing Partner, contacted APD two years ago to say that she wanted her restaurant to be a DMD mentor site. For the past two years she hosted three mentees. Each mentee was given a Longhorn shirt and hat to wear. During their few hours on site, they learned about safe food handling, prep work, and safety in the kitchen. They also got to work side-by-side with kitchen staff. They prepped and assisted with the cooking of their lunches, and then were invited to sit down and enjoy the food they had prepared. Not only did the mentees rave about the delicious food, they were thrilled to get the opportunity to work side by side with the staff of a restaurant kitchen.
---
Southern Region Disability Mentoring Day
By Michael Cardello
In keeping with the spirit of Disability Employment Awareness Month (DEAM) and Disability Mentoring Day (DMD), the Southern Region office invited several APD customers to enjoy the opportunity to learn about different job fields and demonstrate their current skills. Over 80 individuals participated in DMD in Miami-Dade County, which ran from June 14 to November 5. Six mentees are currently being considered for paid internships, which may lead to permanent employment. Other opportunities for volunteering and permanent employment are being explored by APD staff working in collaboration with job coaches, support coordinators, and adult day training managers.
Matthew McFarlane participated in the Southern Region's DMD by shadowing a mentor at Baptist Health South Florida. McFarlane's mother said, "Matthew would like to express his gratitude to everyone in allowing him to participate in Mentoring Day at your facility. He enjoyed meeting everyone and learning some of the duties. I think that will be a perfect department for him to work in if a vacancy becomes available."
Colette Henry and Jacqueline Bowman were mentored at Olive Garden. Their job coach, Ellen Bethel, said, "Thank you for selecting these two individuals to participate in DMD at the Olive Garden. Today was good for the both of them. They learned a lot and were pleased to see that there are opportunities to help them get employed. I expressed my gratitude to the mentor at the Olive Garden and asked if she could open up a pathway for our participants to become employed at her restaurant."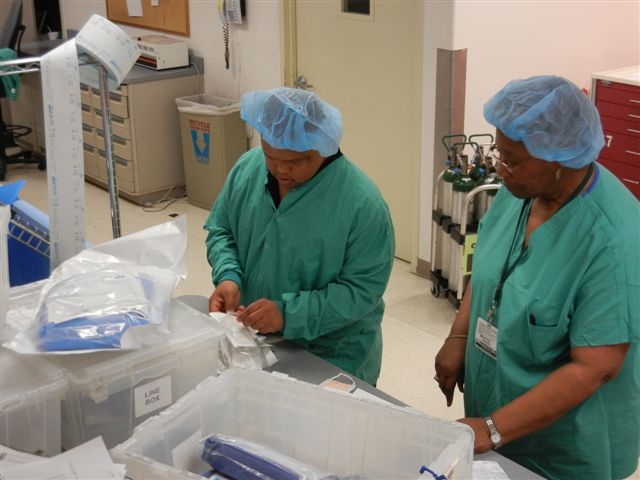 Ryan Perkins, another DMD participant, started his day at the concierge desk at the Baptist Medical Arts Building at Baptist Health South Florida. Perkins's mentor, Daisy Armenteros, said, "He was able to interact with patients and employees. He shadowed with security and performed rounds and was excited to work alongside security (his true passion). He mentioned that everyone was very friendly and that he would like to work in a security capacity at our facility."
Part of this year's success can also be attributed to the Division of Vocational Rehabilitation's provision of staff to serve on a DMD committee along with established DMD Community Liaisons.
As always, we wish all the DMD participants the best in their job searches and will continue to support them in their career pursuits.
---
Transition Fair at Mosley High School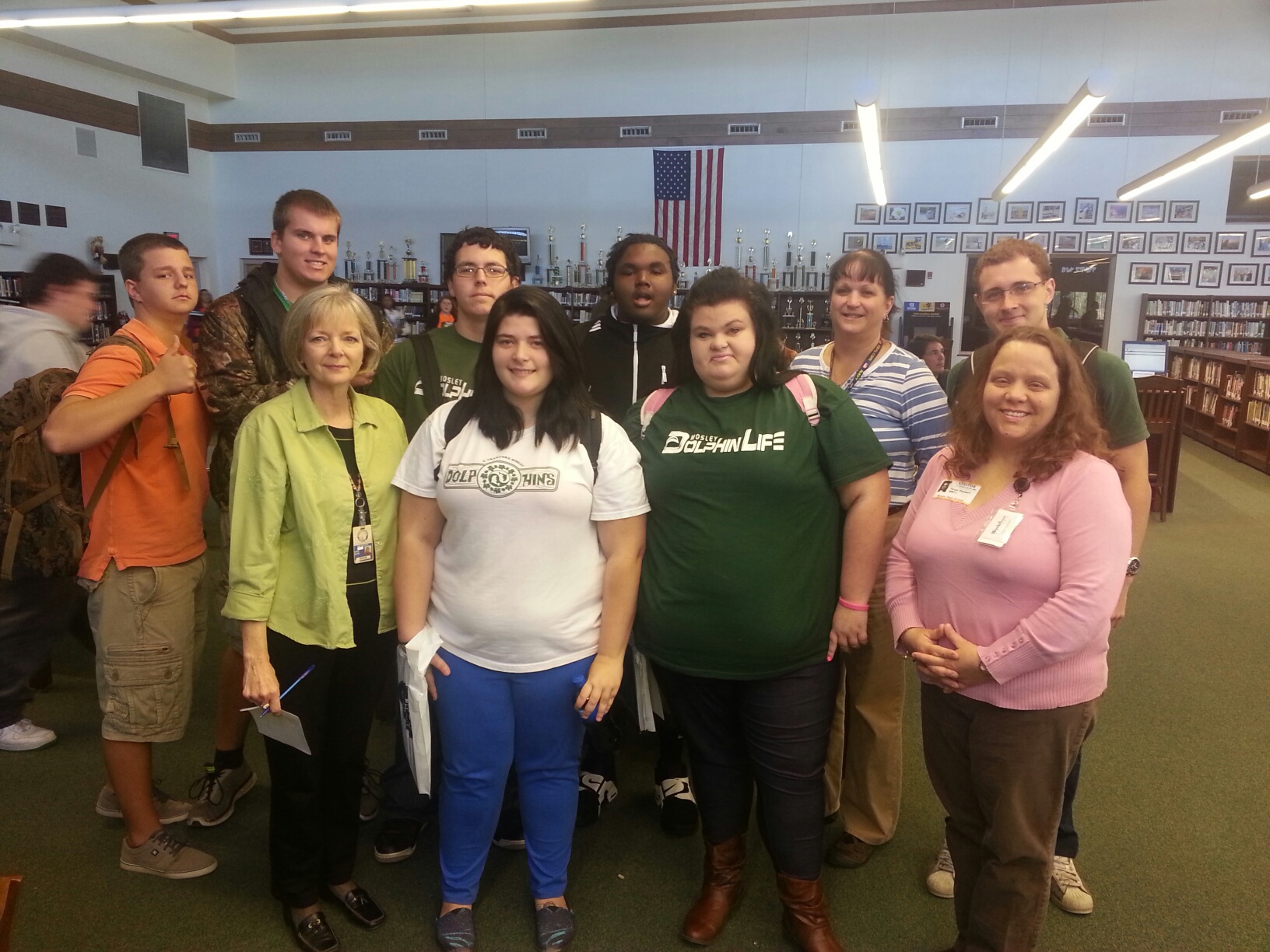 Bay County Schools hosted a mini Transition Fair at Mosley High School in Lynn Haven on November 19. Sixty students participated in the event. Several local organizations participated in the event including: Gulf Coast State College, Florida State University, Haney Technical Center, Vocational Rehabilitation, Workforce Center, GC Workforce TRADE Program, and the Agency for Persons with Disabilities (APD). APD also had the opportunity to present information about the Employment Enhancement Plan for students who are18 to 24 years old.
---
NASA DMD Day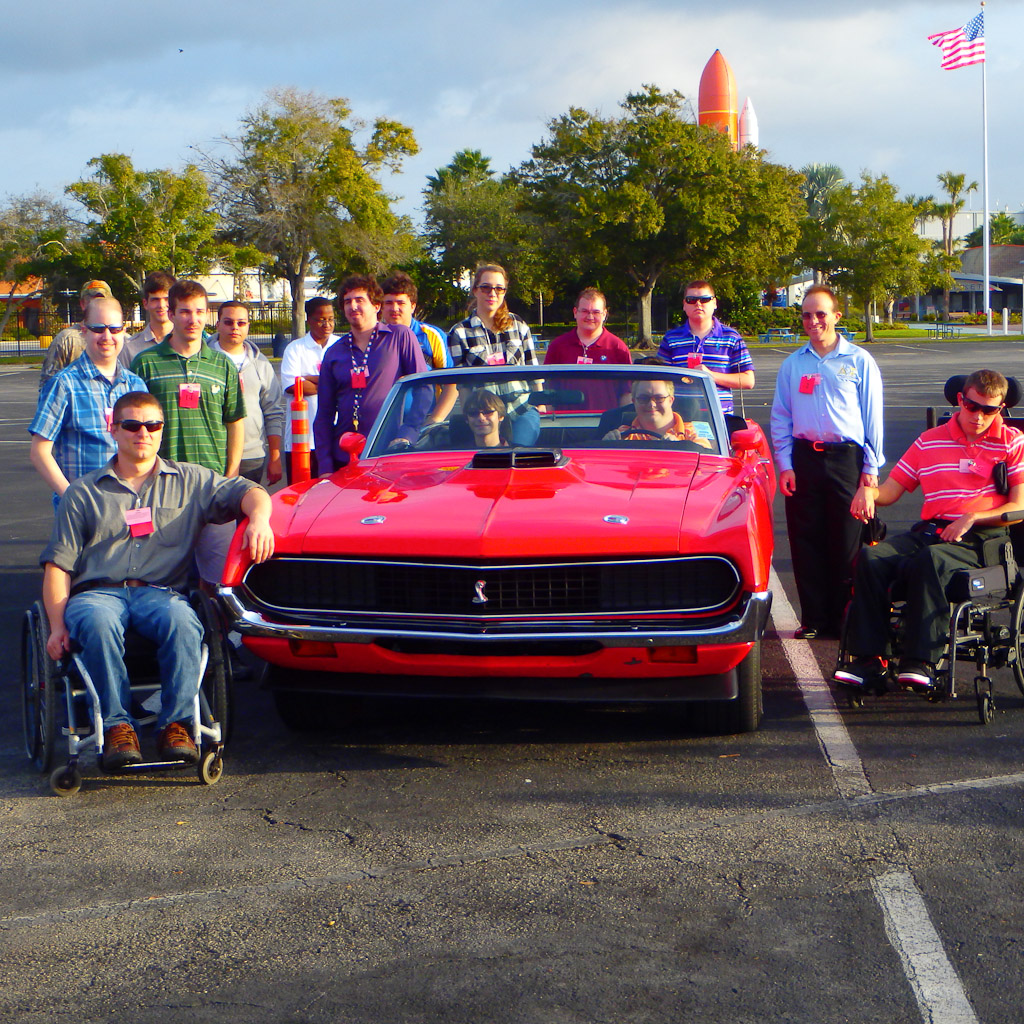 Disability Mentoring Day (DMD) was a popular event all over the state. In fact, 15 people participated at NASA on November 20. Everyone involved had a great time and picked up a lot of interesting information of NASA programs.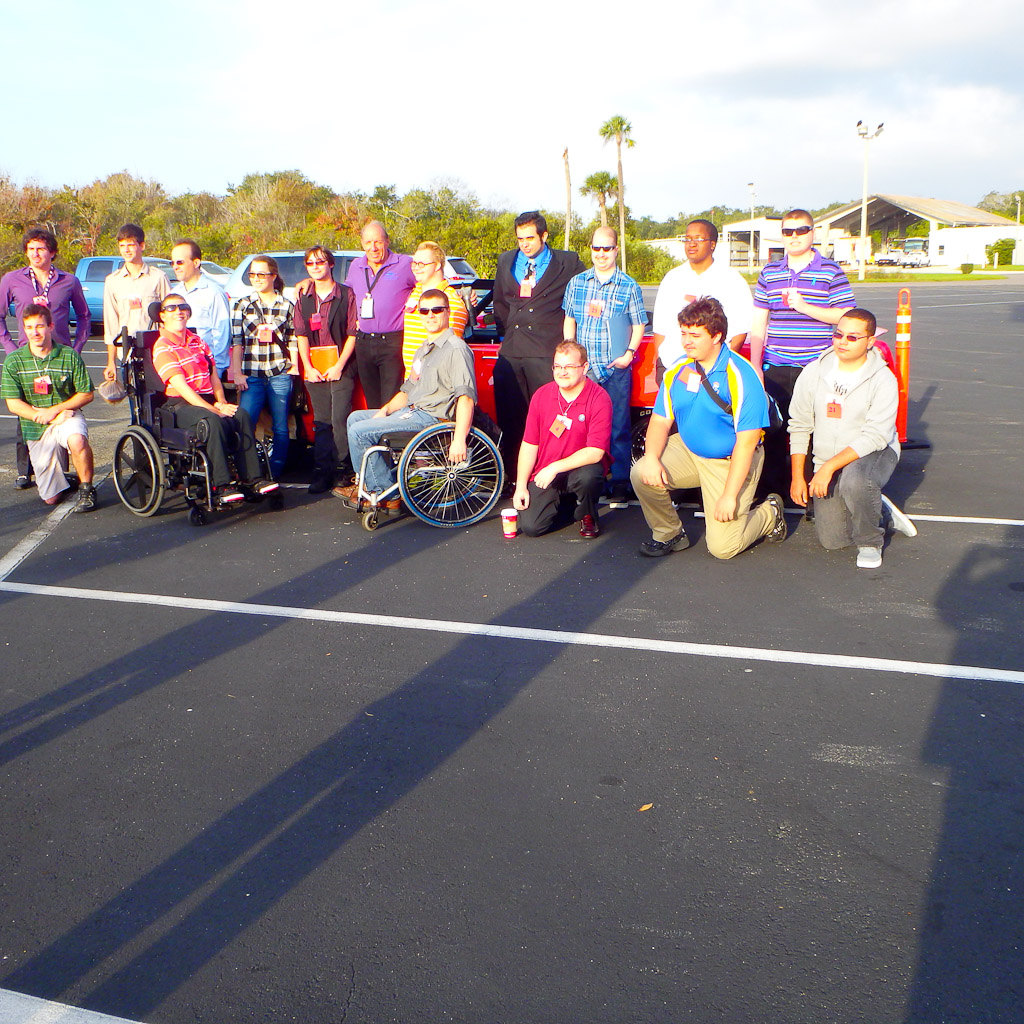 ---
BP Oil Restore Act of 2012 Funding Projects
On November 18, a public presentation entitled "Access RESTORE: People with Disabilities" was given before the Escambia County Restore Advisory Committee in an effort to obtain access to millions of dollars from fines paid by BP Oil Company. The purpose of the presentation was to ensure that all programs, projects, and activities funded by BP Oil fines be accessible to people with disabilities, including access to beaches, recreational facilities, workforce development, and much more.
The fines are being paid to the federal government for violation of various environmental laws. The money is federal dollars that will be coming to eight counties in the Northwest Region from Escambia to Wakulla.
The presentation was given by Sheri Myers, Advocate and Outreach Coordinator with the Center for Independent Living (CIL) Disability Resource Center; and Frank Cherry, Executive Director of the CIL Disability Resource Center.
The presentation was supported by a coalition including the Disability Summit Council, the Center for Independent Living Disability Resource Center, APD, and other agencies involved with individuals with disabilities. Additionally, people with disabilities along with their families and friends were on hand to lend support.
The three recommendations made to the Restore Advisory Committee in charge of developing the criteria for any projects funded through Escambia County:
 Hire an expert consultant to design criteria for evaluating project compliance with federal and state disability civil rights laws.
 Place high priority on enhanced accessibility to builb environment through innovative design in consultation with people with disabilities.
Establish a committee to ensure that economic and workforce development projects target persons with disabilities, minorities and other underemployed populations.
The committee will take the recommendations under consideration and expect further discussion to take place at future meetings.
---
6th Annual Yes! F. A. I. R. (Family Abilities Information Rally)
By Eileen O'Brien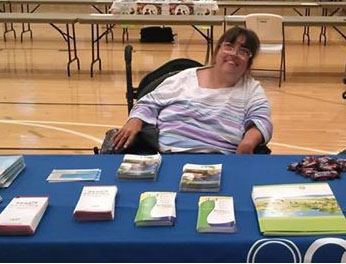 The 6th Annual Yes! F.A.I.R. took place on October 5 and more than 200 community partners were invited. Attendees enjoyed fun crafts, activities, music, and games while receiving lots of information about services available to individuals with disabilities and their families. APD was on hand throughout the day to answer questions, give out information, and build important relationships with the community.
---
Wright Foundation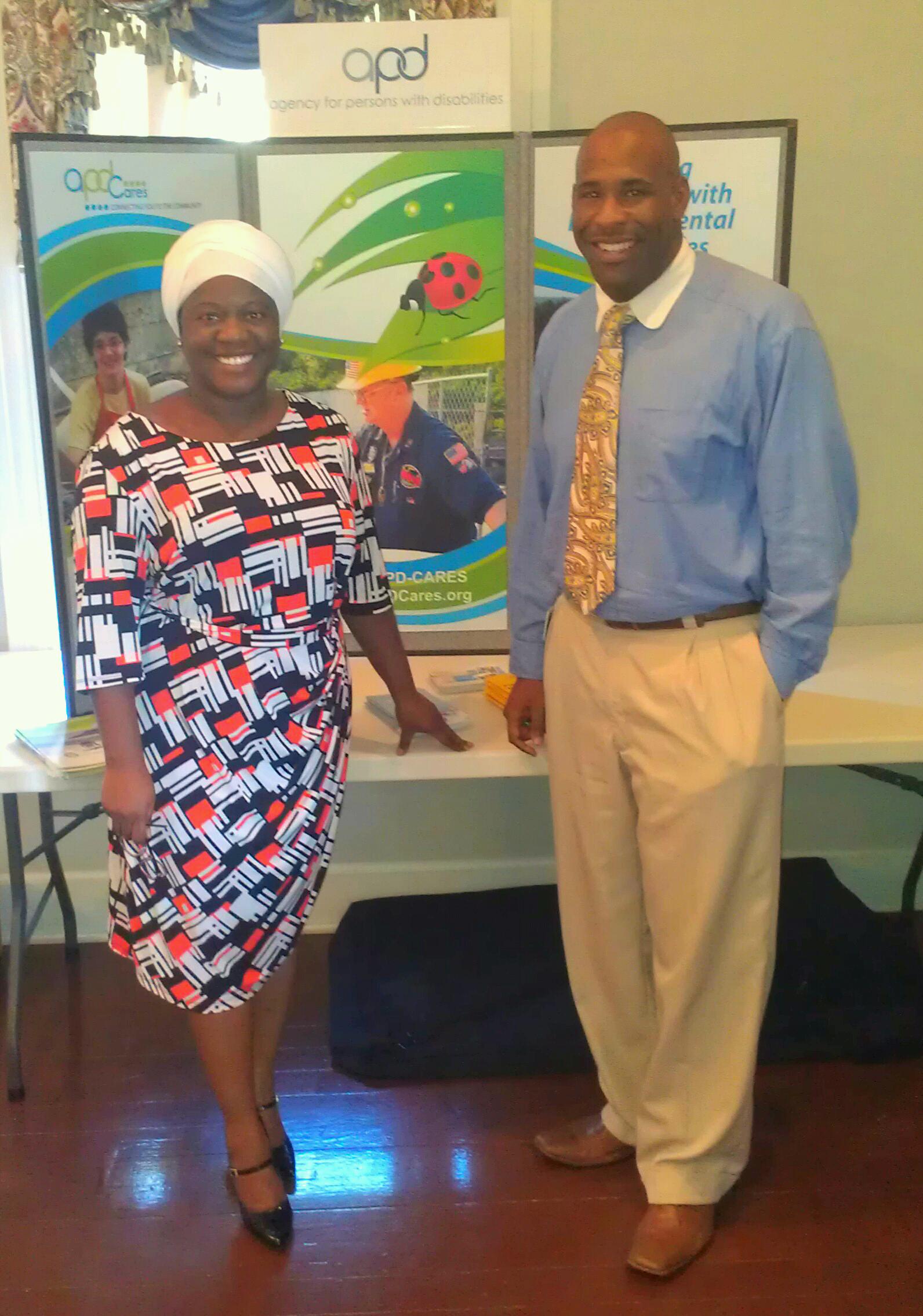 APD was invited to be guest speaker at the Wright Foundation's monthly Community Liaison meeting. APD representatives presented information about their new regional structure, the disabilities served, the waiver application process, employment, the Resource Directory, and Rish Park.
During the roundtable discussion, each community liaison was allowed to share the programs, events, and services they offered. The Wright Foundation discussed their new Christmas for Kids program, which provides utility reconnections during the holidays for families who can't pay their bills, and their energy assistance program for seniors that need help paying for their utilities.
---
Challenge Enterprises Award
On October 24, Challenge Enterprises celebrated 41 years of service with a dinner and presentation of awards to people and businesses who have help them in their efforts to improve the quality of life of individuals with disabilities. The Northeast Region of the Agency for Persons with Disabilities (APD) received the Community Business Partner award for the outstanding support they have given to Challenge Enterprises. Gayle Granger accepted the award on behalf of all the APD employees who have worked with Challenge Enterprises in so many different capacities. Northeast APD is grateful for the recognition and proud of to be associated with this outstanding agency.
Challenge Enterprises is an agency that has been providing services to individuals with disabilities for the past 41 years. Their mission is to promote "The Power of People and Possibilities" not only for individuals with disabilities but also with their family, friends, and co-workers. They were one of the first agencies to embrace the concept that people with disabilities can work, earn at least a minimum wage, and become contributing members of society. They employ thousands of individuals in their business ventures.
---
Employment First
Kathy McAllister, Florida Developmental Disabilities Council Chair
People with disabilities want to work — and Florida is ramping up efforts to ensure that employment is the first option for individuals with disabilities, including people with intellectual and developmental disabilities.
Over the past decade, "Employment First" has emerged as a declaration of both philosophy and policy, stating that integrated employment is the first priority and preferred outcome for individuals with disabilities. On October 8, Gov. Rick Scott issued Executive Order 13-284, Reaffirming Commitment to Employment for Floridians with Disabilities. The order supports Employment First efforts in Florida by stating that, "Employment is the most direct and cost-effective means in helping an individual achieve independence and self-fulfillment, which should be the primary objective of public assistance programs wherever possible."
The executive order mandates development of a cooperative agreement among key Florida agencies and organizations, including the Agency for Persons with Disabilities, the Florida Department of Education, Division of Vocational Rehabilitation, Division of Blind Services, and Bureau of Exceptional Education and Student Services; the Department of Economic Opportunity and Workforce Florida Inc. boards; the Florida Department of Children and Families, Substance Abuse and Mental Health Program; and the Florida Developmental Disabilities Council Inc. Other state agencies and disability service organizations — including the Governor's Commission on Jobs for Floridians with Disabilities and The Able Trust — have been meeting with these stakeholders to formalize Employment First efforts. Other state agencies and disability service organizations may become involved in developing and implementing the agreement.
Not only does employment lead to maximum self-sufficiency of individuals with intellectual and developmental disabilities, but, according to the Social Security Administration, "SSA disability beneficiaries who are employed through vocational rehabilitation support provide a return on investment of $7 for every dollar spent." In the long term, prioritizing employment for people with disabilities will lead to an expanded tax base and more dollars returning to the community.
The National Governors Association's Blueprint for Governors report, "A Better Bottom Line: Employing People with Disabilities," indicates that states with Employment First policies tend to achieve better employment outcomes, and it encourages states to develop and support Employment First initiatives.
Governor Scott's executive order is designed to strengthen collaboration with state agencies and other disability service organizations to improve employment outcomes for individuals with intellectual and developmental disabilities in Florida. Through Employment First, Floridians with disabilities will become tomorrow's taxpayers, voters, neighbors, and friends.
---
Governor Rick Scott Appoints Eleven to Family Care Councils
Governor Rick Scott announced eight appointments and four reappointments to Family Care Councils across the state.
Area Four, Family Care Council
Alphonso "Al" Carter, 78, of Jacksonville, is a retired mathematics instructor. He succeeds Melina Willaford and is appointed for a term beginning November 18, 2013, and ending July 2, 2015.
Laura Edmunds, 35, of Jacksonville, is a job developer with Duval County Public Schools. She succeeds Gerald Aveson and is appointed for a term beginning November 18, 2013, and ending April 5, 2015.
Anita "Lynn" Ellis, 65, of White Springs, is an advocate for persons with disabilities. She fills a vacant seat and is appointed for a term beginning November 18, 2013, and ending November 17, 2016.
Mary Smith, 55, of Orange Park, is the owner of PCA Plus Inc. She is reappointed for a term beginning November 18, 2013, and ending August 6, 2016.
Melinda Morrison, 56, of Jacksonville, is a nurse care coordinator with Children's Medical Services. She is reappointed for a term beginning November 18, 2013, and ending August 20, 2016.
Area Six, Family Care Council
John Bodack, 32, of Tampa, is a bagger at Publix. He is reappointed for a term beginning November 18, 2013, and ending September 10, 2016.
Area Twelve, Family Care Council
Fred Azua, 70, of Palm Coast, is a retired regional director for the US Department of Labor. He succeeds Sylvia Danese and is appointed for a term beginning November 18, 2013, and ending January 23, 2014.
Karl Martin, 36, of Deltona, is an advocate for persons with disabilities. He succeeds Mary Muldowney and is appointed for a term beginning November 18, 2013, and ending March 29, 2016.
Area Fourteen, Family Care Council
Laura Tacinelli, 51, of Lakeland, is senior accounting tax representative with Lockheed Martin. She succeeds Young Holley and is appointed for a term beginning
November 18, 2013, and ending May 29, 2016.
Melissa Miller, 37, of Lakeland, is the chair of Polk County ESE Advisory Council. She is reappointed for a term beginning November 18, 2013, and ending October 11, 2016.
Area Fifteen, Family Care Council
Lisa McGlone, 50, of Stuart, is a personal care assistant at the Agency for Persons with Disabilities. She is reappointed for a term beginning November 18, 2013, and ending January 13, 2016.
Area Ten, Family Care Council
Jennifer Girling, 41, of Pembroke Pines, is a financial planner for Mark Marandino Inc. She succeeds Belkis Almedia and is appointed for a term beginning November 20, 2013, and ending September 18, 2016.
---
2014 Idelio Valdes Award Nominations
The Florida Developmental Disabilities Council (FDDC) is currently accepting nominations for the 2014 Idelio Valdes Leadership and Self-Advocacy Award. The self-advocate chosen for this award will be selected based on the following criteria:
Be an individual with a developmental disability.
Within the last two years, has demonstrated advocacy activities in keeping with the spirit of Idelio Valdes and has acted as an advocate for himself or herself and others.
Within the last two years, worked to develop community partnerships.
Within the last two years, has enthusiastically embraced the community and encouraged others to do so by example and working with groups.
The deadline for submitting nominations is January 6, 2014. The Selection Committee will choose a winner by February 7, 2014, and the Recipient will be notified by February 8, 2014. The Award will be presented on March 18, 2014 during Developmental Disabilities Awareness Day.
Idelio Valdes was a self-advocate who demonstrated advocacy activities, his belief in building partnerships, his undying initiative in challenging the status quo, and his enthusiasm for life and its possibilities, endearing him to all who were fortunate enough to know him. This award is dedicated to his memory.
For more information about the award, including the nomination process, please visit the FDDC at www.fddc.org.
---
One Voice/One Force Meeting
On November 5and 6, APD employees met in Orlando for the One Voice/One Force gathering to discuss ways to better assist waiting list customers, improve employment opportunities for customers, and goals for the coming year. One of the topics dealt with the renaming of the External Affairs office to the Office of Community Supports, which will lead the Community Supports Work Stream.
The new name doesn't change their responsibilities. Community Supports will still be focused on updating and maintaining the Resource Directory and researching additional resources and aids available in communities around the state for APD customers.
---
Telegraph to Success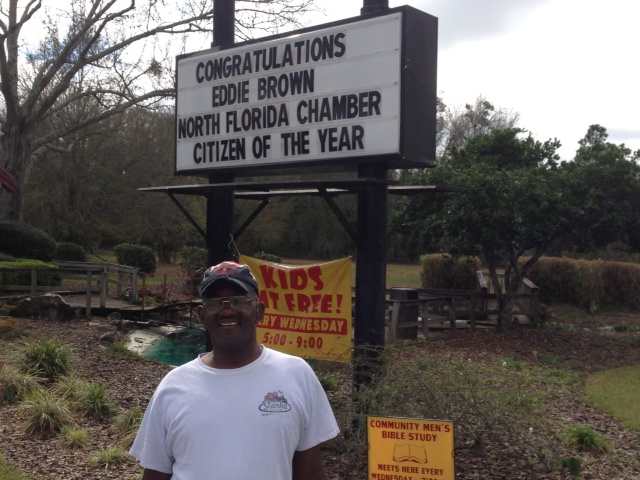 Eddie Brown has worked for the Bradford Telegraph for 15 years selling newspapers and assisting in the production of the newspaper. He is also employed at Western Steer where he works as a dishwasher and bus boy. Brown's hearing impairment and other disabilities do not slow down his go-getter attitude.
Brown says through sign language, "I like to work at both of my jobs at Western Steer Steak House and Bradford Telegraph. I also like working in the community, meeting and seeing people. I like making money so I can go places and keep my home."
Brown's Western Steer Steak House supervisor Harry Hatcher IV said, "Everybody knows and enjoys Eddie! Eddie has worked at Western Steer the past 24 years and continues to work very hard. He is a really good worker and over the years his perspective on life has been apparent. He has made me have a different perspective on my life. Eddie has not let his challenges prevent him from functioning as a productive citizen in our community. He is a fixture and we are proud to have him as part of our business."
Brown receives services from Florida's Agency for Persons with Disabilities (APD). October is Disability Employment Awareness Month and APD is highlighting working Floridians with disabilities during the month.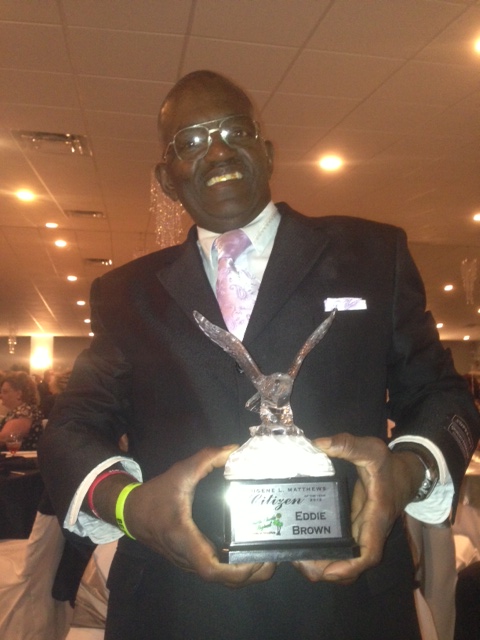 Brown's supervisors at the Bradford Telegraph report he is a very hard worker, dependable, going beyond his shift to sell more papers and to earn extra hours, and is always available to cover shifts when coworkers call in or need to be off. Brown is always eager to work as it offers him a feeling of being needed, appreciated, and included. Brown enjoys the interaction with coworkers and the people he comes in contact with while on the job and in the community.
Earlier this year, the newspaper had a contest to see who would purchase the 500,000th newspaper from Brown. The winner, Linda Hess, received a crisp $100 bill and her picture in the paper with Brown.
Brown has become well known in the community through his involvement working at ball games, serving as a church usher, and participating in community functions. His notoriety brought him a prestigious recognition earlier this year.
In February, Brown was presented with the Eugene L. Matthews Citizen of the Year Award, by the North Florida Regional Chamber of Commerce. When Brown was presented the award he received a standing ovation by board members, large and small business owners and county officials. His effort and goal to seek independence is evident in such recognition as a figure in his community. He is an example of true success for all.
The Arc of Bradford County provides Brown with services to assist with his employment related to communication barriers on the job.
---
35th Annual Sunland Fall Festival a Huge Success!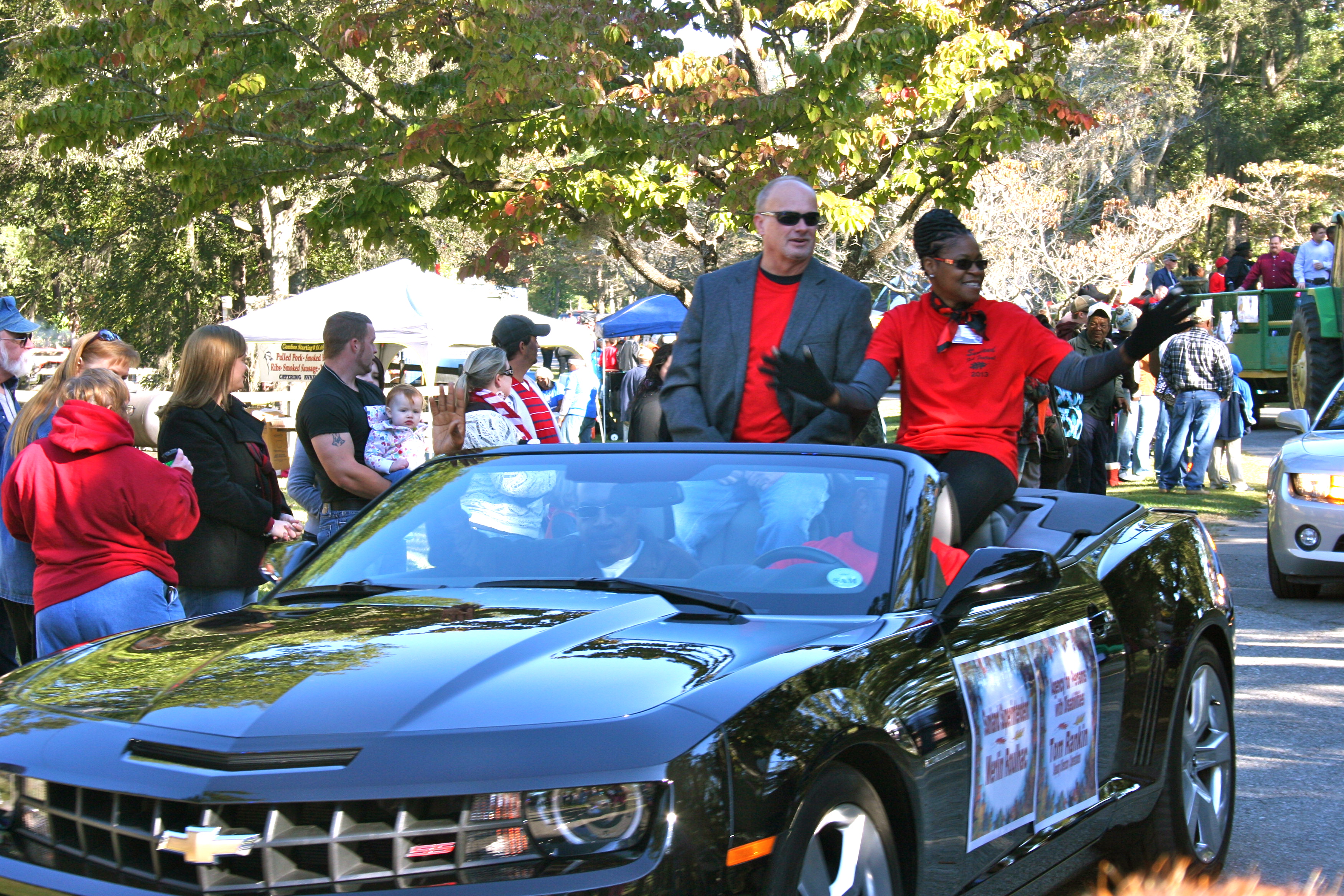 The Sunland Fall Festival celebrated 35 years on Saturday, October 26. Sunland Center, located in Marianna, first hosted this event to bring Sunland's residents, their families, and friends together for a time of fellowship and fun-filled activities. Over the years, the festival has grown with strong support from the local community. Today, this event is one of the largest festivals in Jackson County, and has become a much anticipated and exciting activity that ushers in the holiday seasons.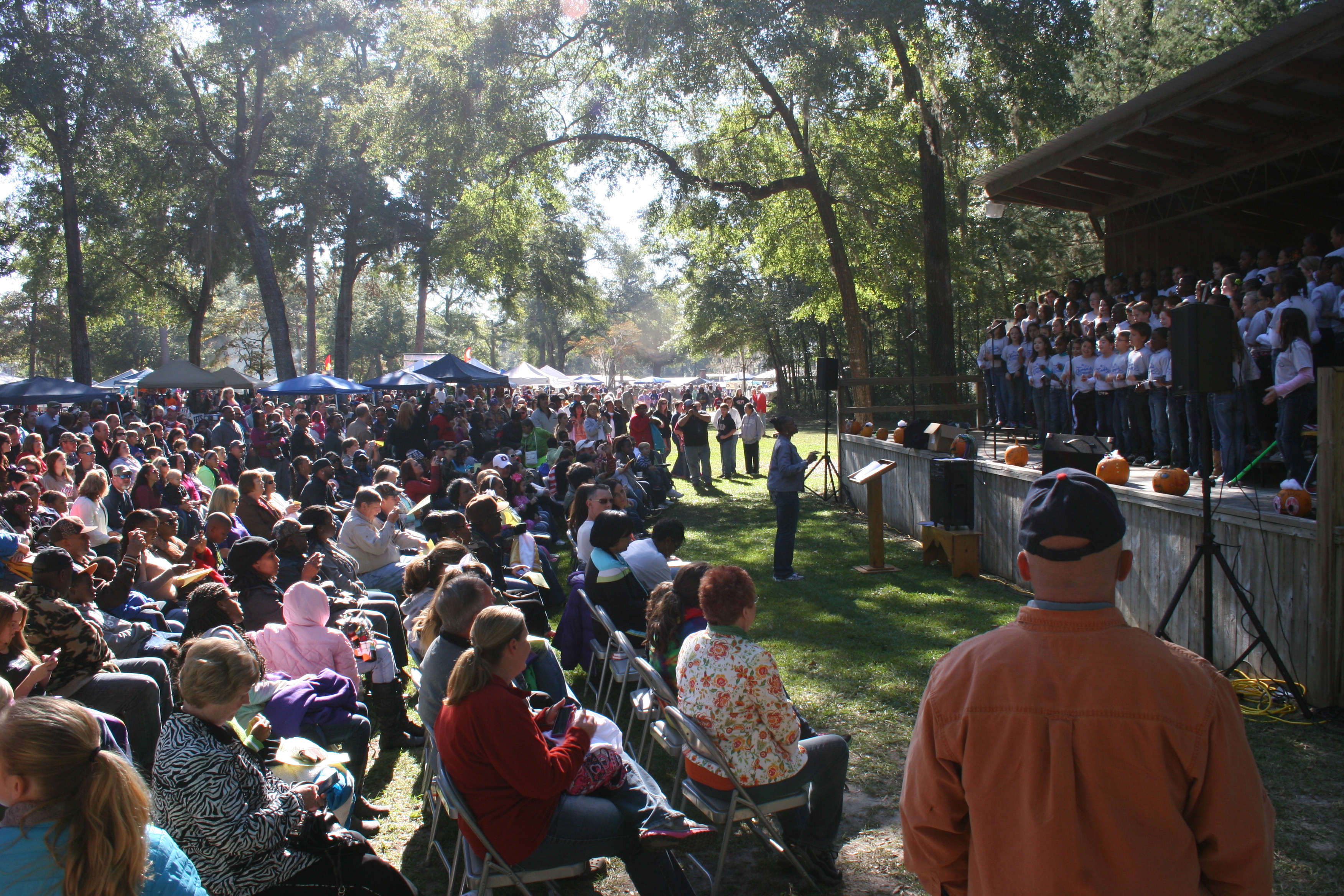 According to the event coordinators, James Godwin and Karen Henrickson, this year's crowd was one of the largest on record, with an estimated 4,000 in attendance. Superintendent Merlin Roulhac and Assistant Superintendent Darlene See greeted visitors during the early morning kick-off parade. Joining them were APD Chief of Staff Michael Ayers, Deputy Director of Operations Tom Rankin, Legislative Affairs Director Jared Torres, and Legislative Affairs staff Robert Brown, along with Michael Mayfield, Center Administrator and Lucian Batson, HR Director, both from the Tacachale Developmental Disabilities Center. Senator Don Gaetz and State Representative Matt Gaetz, along with community leaders serving on the Sunland Advisory Council, also joined the parade line-up. This year's parade sported over 70 entries and added an air of excitement to the festivities.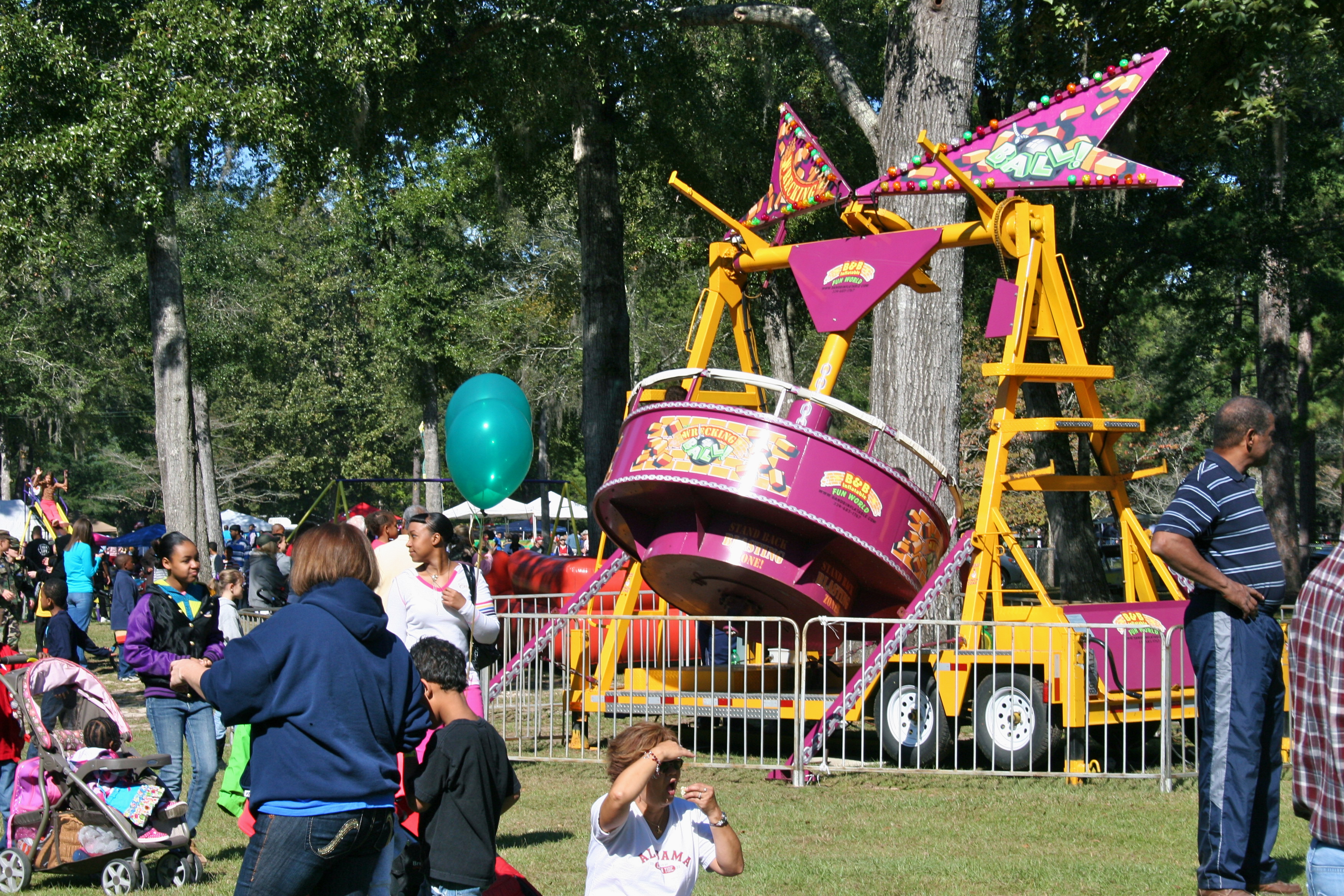 As always, the festival offered something for everyone. There were 120 vendors offering an assortment of wares ranging from crafts, woodwork, pottery, candles, clothing, jewelry, purses, yard art, and much more. There were food vendors galore, offering everything imaginable to include smoked turkey legs, BBQ, roasted corn, chicken, fish, and even gator. Sweets were also in abundance to include the ever popular funnel cakes, baked goods, caramel apples, and fresh squeezed lemonade. This year, Sunland added a new section to the park, appropriately named "Funland," which provided a wide variety of children's activities. A zip-line, wrecking ball, and mechanical bull were available for thrill seekers, along with trampolines, bounce houses, and numerous inflatables. The Haunted House, a favorite of festival goers, was also located within "Funland," and was big hit for children of all ages and the young at heart.
Many enjoyed strolling through the park and visiting the cane mill to watch the art of old-fashioned cane grinding and syrup making taking place. While there, they could purchase cane syrup and freshly squeezed cane juice.
One of the highlights of the Sunland Fall Festival is the live musical entertainment provided on three stages located throughout the park. This year's line-up of musical groups was certainly well received by the crowd. Bluegrass, country, and gospel music filled the air, along with crowd pleasing performances by Sunland's own "Sunland Swingers" square dance team, and the "Old School Street Boys" and "Rising Sun" vocal groups.
Sunland was pleased to learn that the Fall Festival was featured in the Real Florida Magazine. Hundreds of photos will give you a glimpse of the festivities; visit http://realfloridamedia.com.
Plans are already underway for next year's festival. The planning committee will be working to add many new and exciting attractions. The Sunland Fall Festival is always held on the last Saturday of October. Mark your calendar now…you won't want to miss it!
Champion Staff
Melanie Mowry Etters - Chief Editor
Richard Bist - Assistant Editor
Kimberly Tharpe - Photo Editor
Lindsey Boyington - Writer
Susan Hansen - Writer
John Milton - Webmaster


---
The Agency Supports Persons with Developmental Disabilities in Living, Learning, and Working in their Communities.