Wishing You a Happy New Year!
By Barbara Palmer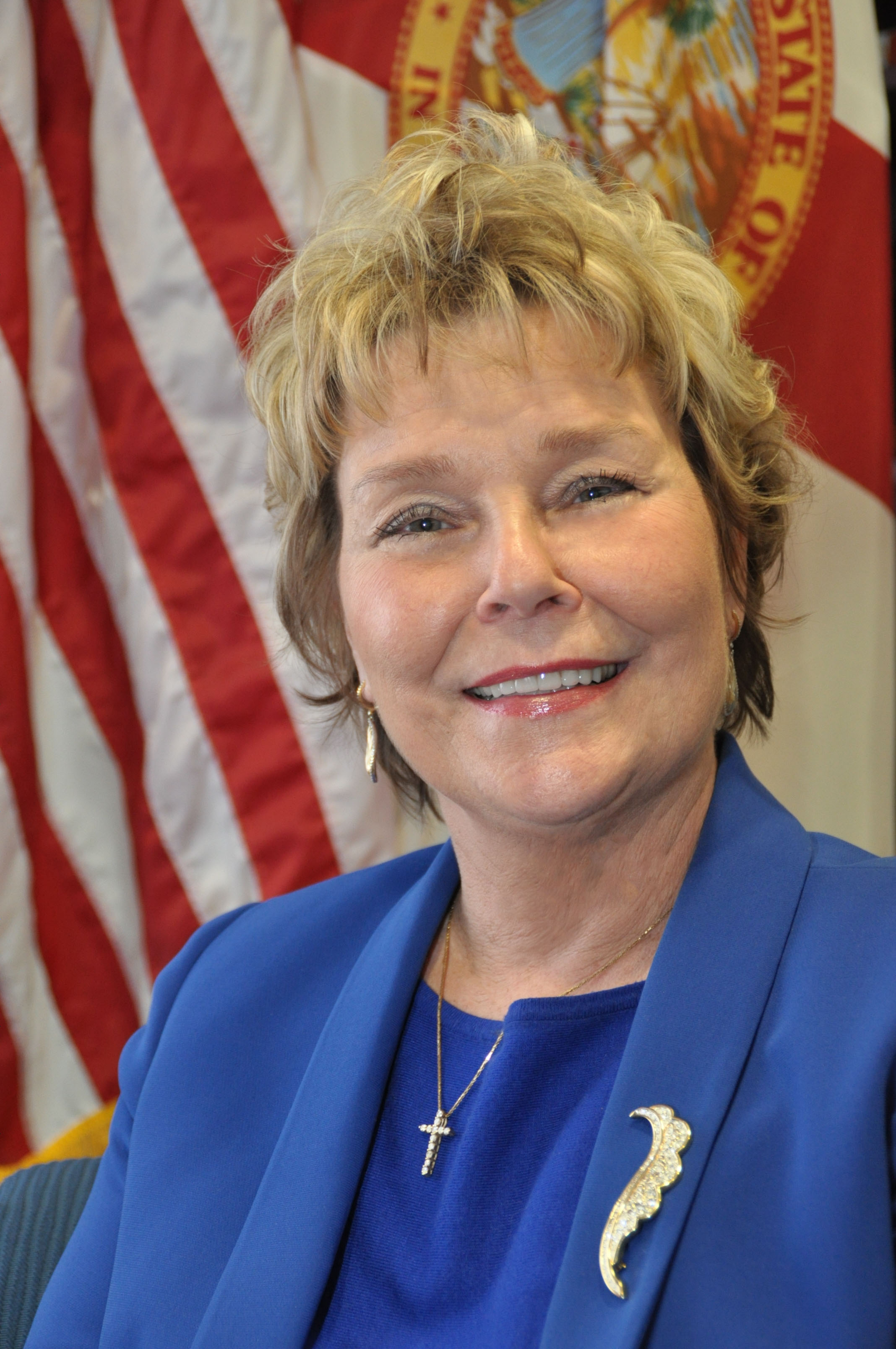 New Year's Day is a wonderful holiday. It brings a fresh start to the year, opening up all kinds of possibilities for the coming months. The future looks bright for the Agency for Persons with Disabilities in 2015.  We are preparing for the upcoming Legislative Session which begins in March. We are working with the Governor's Office to develop his budget recommendations to keep moving APD in the right direction.
In 2015-2016, we expect to continue to be able to transition people from the waiting list to the Medicaid Home and Community-Based Services waiver.  APD will keep its focus on jobs for people with developmental disabilities.  I am excited about the new Abilities Work job portal and help desk the state has just launched to help all people with disabilities go to work (see story below). Keeping our attention on things that will assist people with disabilities in the long run is important. Having a job and the supports in place to help our customers keep working are vital.
Construction of a boardwalk and dock on the bayside of beautiful Rish Park on Cape San Blas in the Panhandle will begin in the spring.  I am so very excited to keep improving this fabulous park that is 100 percent accessible and only for people with disabilities.  We have seen increasing numbers of people staying in the cabins, and are hopeful that those numbers will keep going up as we add more and improved facilities to the park.
2015 also marks the 25th anniversary of the Americans with Disabilities Act.  The official date is July 26; however, this landmark legislation will be celebrated all over the state throughout the year. In Tallahassee, a celebration and other activities are planned for July 24.  Visit apdcares.org for more details on statewide plans and local coordinators.
As you can see, 2015 will be a great year as we continue to work with you and all our customers, partners, waiver support coordinators, and stakeholders. Because we have been working together, we are enjoying much success. Let's keep it up in the coming year.
I wish you, your family, and friends, a very Happy New Year and All the Best in 2015!
---
Governor and Florida Cabinet Highlight Program to Match Floridians with Disabilities to Jobs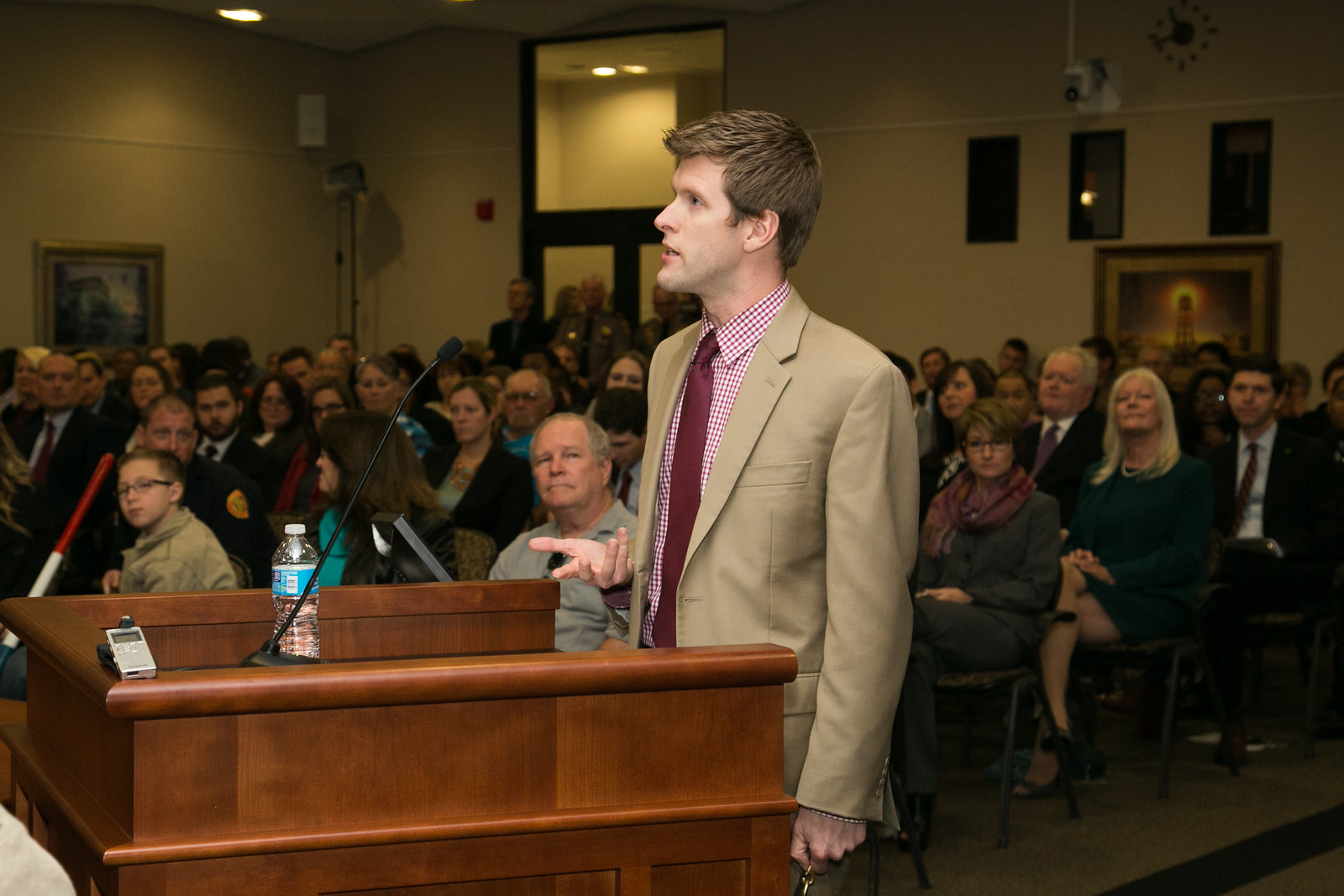 Governor Rick Scott and the Florida Cabinet highlighted recent efforts to promote more employment opportunities for individuals with disabilities, and efforts to assist employers in finding and hiring these talented individuals to be part of their workforce. A Cabinet presentation included an overview of the new Abilities Work Web Portal and Help Desk to help link employers to job seekers who have disabilities.
Governor Scott said, "Our mission is to ensure that every Floridian can get a great job. I would like to thank everyone involved with the Abilities Work Web Portal and Help Desk for making employment a reality for many more Floridians. Connecting Floridians with disabilities to employers benefits everyone, and we must continue working each day to make sure everyone who wants a job can have one."

The Abilities Work Web Portal and Help Desk are key components of a larger effort, the Employment First Initiative, announced last year. The portal and help desk are designed to help employers recruit and hire more applicants with disabilities who are ready and able to work, and inform them of the available support that can help an individual succeed on the job. This initiative was recommended by Governor Scott's Commission on Jobs for Floridians with Disabilities to better link employers to qualified job-seekers with disabilities in their communities. This also supports the established commitment among multiple interagency partners involved with the Employment First Initiative to prioritize employment for individuals with disabilities served by state programs to help them achieve greater independence and self-fulfillment, as required by Governor Scott's Executive Order 13-284.
The Governor's Commission on Jobs for Floridians with Disabilities, the Florida Department of Economic Opportunity (DEO), the Florida Department of Education's Division of Vocational Rehabilitation, Division of Blind Services, and Bureau of Exceptional Education and Student Services, the Agency for Persons with Disabilities, the Department of Children and Families' Substance Abuse and Mental Health Program, the Florida Developmental Disabilities Council, the Florida Association of Rehabilitation Facilities, and CareerSource Florida, all participants in the Employment First Initiative, have partnered to implement the Abilities Work Web Portal and Help Desk.
DEO created the Abilities Work Web Portal within the Employ Florida Marketplace, the state's official online job-matching and career development tool, to accomplish this purpose. The new web portal will help employers identify qualified job candidates with disabilities and post job openings. The portal will also assist job seekers and students with disabilities in finding job opportunities and link them with career centers and other resources that can help them obtain and keep employment.
During the 2014 Legislative Session, Governor Scott and the Florida Legislature provided funding to create the Abilities Work Help Desk within the Division of Vocational Rehabilitation (VR) to accompany the web portal. Employers can reach the Help Desk through a toll-free number, 1-844-245-3405. It is staffed by three professionals who can assist employers interested in recruiting individuals with disabilities as part of their workforce, and provide them with information and referral services that can support their business needs.
DEO Executive Director Jesse Panuccio said, "Gainful employment affirms the inherent worth of an individual by providing a productive outlet for our talents, skills, and dedication. A job is a life-changing opportunity for all Floridians and we are excited to be able to assist Floridians with disabilities on this journey."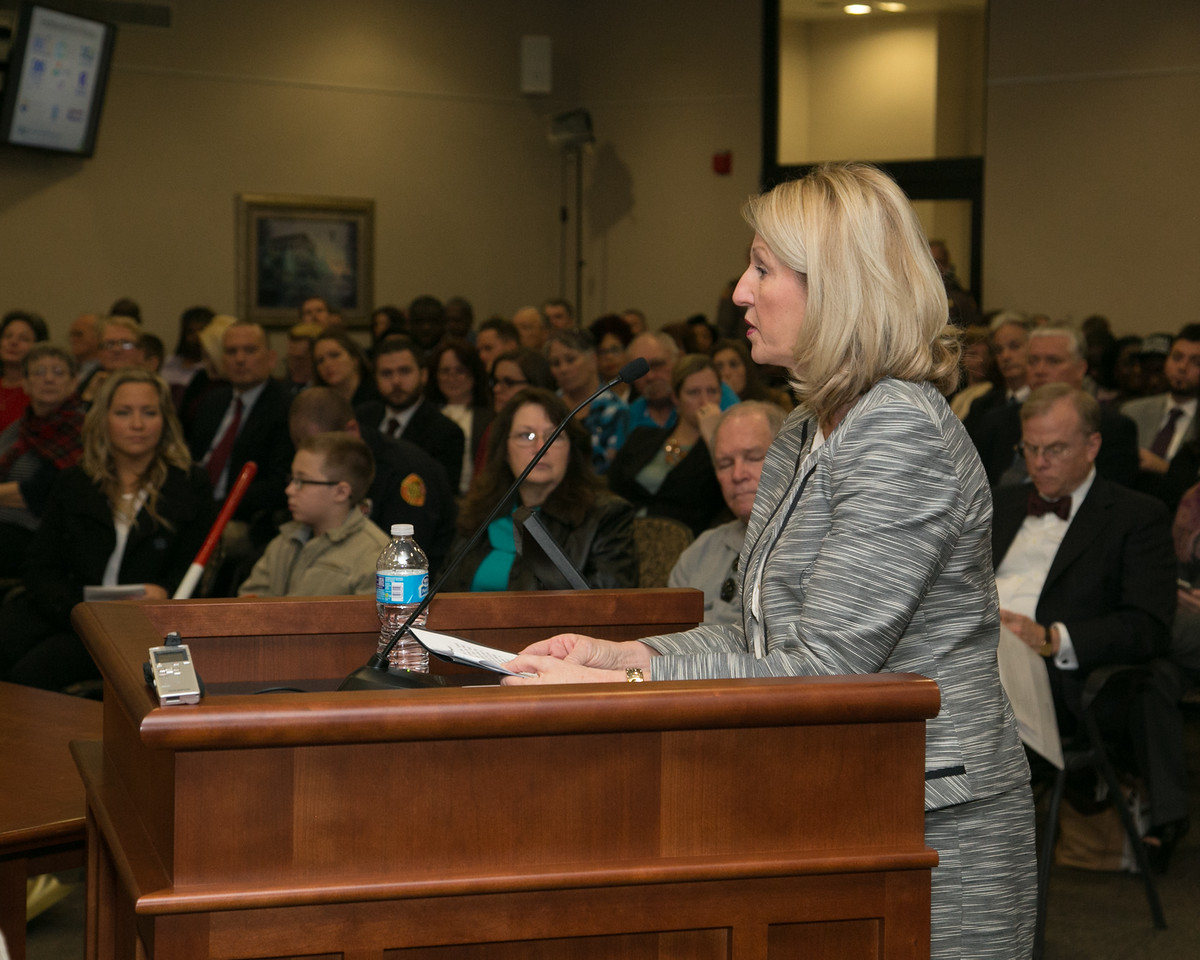 "The Abilities Work Web Portal and Help Desk will connect educated and skilled Floridians with disabilities with employers in their communities, strengthening our workforce and our economy," said Commissioner of Education Pam Stewart. "I'm pleased the Department of Education's Division of Vocational Rehabilitation, Division of Blind Services and Bureau of Exceptional Education and Student Services could collaborate with such dedicated partners to bring this project to life."
Agency for Persons with Disabilities (APD) Director Barbara Palmer said, "I am very excited to see the launch of both the Abilities Work job portal and help desk. Helping people with disabilities get and keep jobs is a top priority for APD. Also, as a member of the Governor's Commission on Jobs for Floridians with Disabilities, we are happy to see this idea become a reality. People with disabilities are just like everyone else—they want the opportunity to prove themselves, and the job portal and help desk are going to assist them in accomplishing their goals."
"Individuals with disabilities, like everyone else, want their shot at success and to make a lasting contribution to our state. We believe employers want to hire these individuals – not because of a disability – but because they recognize the talent and value they bring to their business. "Abilities Work" represents Florida's commitment to help employers recognize and find this talent, and will expand opportunities for these individuals to succeed in their career and life endeavors," said David Darm, Executive Director, Governor's Commission on Jobs for Floridians with Disabilities.
"Dedicated and hard-working, Floridians with disabilities have abilities that make them a true asset in the workplace," said CareerSource Florida President and CEO Chris Hart IV. "The new Abilities Work portal enhances our collective efforts to connect these ready-to-work individuals with employers who are ready to hire." 
Aleisa McKinlay, Director of the Division of Vocational Rehabilitation (VR), said, "VR's mission is to help Floridians with disabilities get or keep a job, and enhance their independence. Employers are an essential part of this equation. The Abilities Work Web Portal and Help Desk are designed to link Florida's employers with the supports and services they need to find, hire, and retain qualified employees with disabilities. Together, we can ensure that these talented folks are a vital part of the workforce and their communities!"
Division of Blind Services (DBS) Director Robert L. Doyle, III, said, "The launch of the Abilities Work Web Portal and Help Desk is an exciting stride in our continuous effort to increase job opportunities for individuals with disabilities. We have incredibly talented individuals with a wide variety of skills seeking employment through our vocational rehabilitation programs; these new tools will assist in matching qualified candidates with job opportunities while also increasing awareness amongst employers. We at DBS are especially excited that the portal is accessible to blind and visually impaired job seekers who use screen reading software and other assistive technology."
Monica Verra-Tirado, the Bureau Chief of the Exceptional Education and Student Services of FDOE, stated, "Positive post-school outcomes are a major indicator of the success of our education programs for students with disabilities, so we are excited to be working with our partners on the Employment First effort. We look forward to seeing more of our students obtaining successful employment with support from the Abilities Work Web Portal and collaborative partnerships."
Debra Dowds, Florida Developmental Disabilities Council (FDDC) Executive Director said, "We are delighted to be a partner in this initiative. The collaborative efforts among major agencies and organizations serving individuals with disabilities are unprecedented in our state, and these efforts are beginning to pay off with tangible products and resources that will assist individuals with disabilities in securing competitive employment!"
Ute Gazioch, Director of the Office of Substance Abuse and Mental Health at the Department of Children and Families said, "The Department of Children and Families, Office of Substance Abuse and Mental Health is very excited to be a partner in this important initiative. Employment provides a sense of purpose, hope and opportunity for independence, all essential factors to recovery for persons with behavioral health conditions."
"On behalf of the membership of Florida ARF and the RESPECT of Florida program, we are pleased to be a part of Florida's Employment First initiative and are excited to see the positive outcomes that are being generated by the partner agencies. Accomplishments such as the Abilities Work Portal and Help Desk demonstrate the participants' commitment to creating real jobs for people with disabilities," said Suzanne Sewell, President & CEO, Florida Association of Rehabilitation Facilities (ARF).
For more information, please visit the Abilities Work Web Portal at http://AbilitiesWork.employflorida.com.   The Help Desk can be contacted at 1-844-245-3405 or AbilitiesWorkHD@vr.fldoe.org.
---
Governor Rick Scott Appoints Eight to Family Care Councils
On December 19th Governor Rick Scott announced six appointments and two reappointments to Family Care Councils across the state.
Area Seven, Family Care Council
Jackie Aikens, 56, of Lake Mary, is a retired senior software engineer with the McKesson Corporation. She fills a vacant seat and is appointed for a term beginning December 19, 2014, and ending April 5, 2015.
Area Nine, Family Care Council
Kevis Jones, 43, of Delray Beach, is an assembler for the Palm Beach Rehabilitation Center. He fills a vacant seat and is appointed for a term beginning December 19, 2014, and ending December 18, 2017.
Chantal Hyppolite, 61, of Boca Raton, is an advocate for persons with disabilities. She succeeds Robert Gardner and is appointed for a term beginning December 19, 2014, and ending July 1, 2016.
Area Ten, Family Care Council
Jeannette Hand, 55, of Plantation, is real estate agent with ARG Realty. She succeeds Patrice Laurie and is appointed for a term beginning December 19, 2014, and ending August 26, 2017.
Lynda Olds, 45, of Cooper City, is an advocate for persons with disabilities. She succeeds Denise Crosnick and is appointed for a term beginning December 19, 2014, and ending August 26, 2017.
Gilda Pacheco, 66, of Miramar, is a retired teacher and administrator with Dade County Public Schools. She is reappointed for a term beginning December 19, 2014, and ending June 29, 2017.
Area Thirteen, Family Care Council
Troy Davidson, 47, of Inverness, is an advocate for persons with disabilities. He fills a vacant seat and is appointed for a term beginning December 19, 2014, and ending December 11, 2016.
Caroline Short, 72, of Bushnell, is a retired licensed massage therapist. She is reappointed for a term beginning December 19, 2014, and ending April 30, 2017.
---
Actions Speak Loudly
By Lindsey Boyington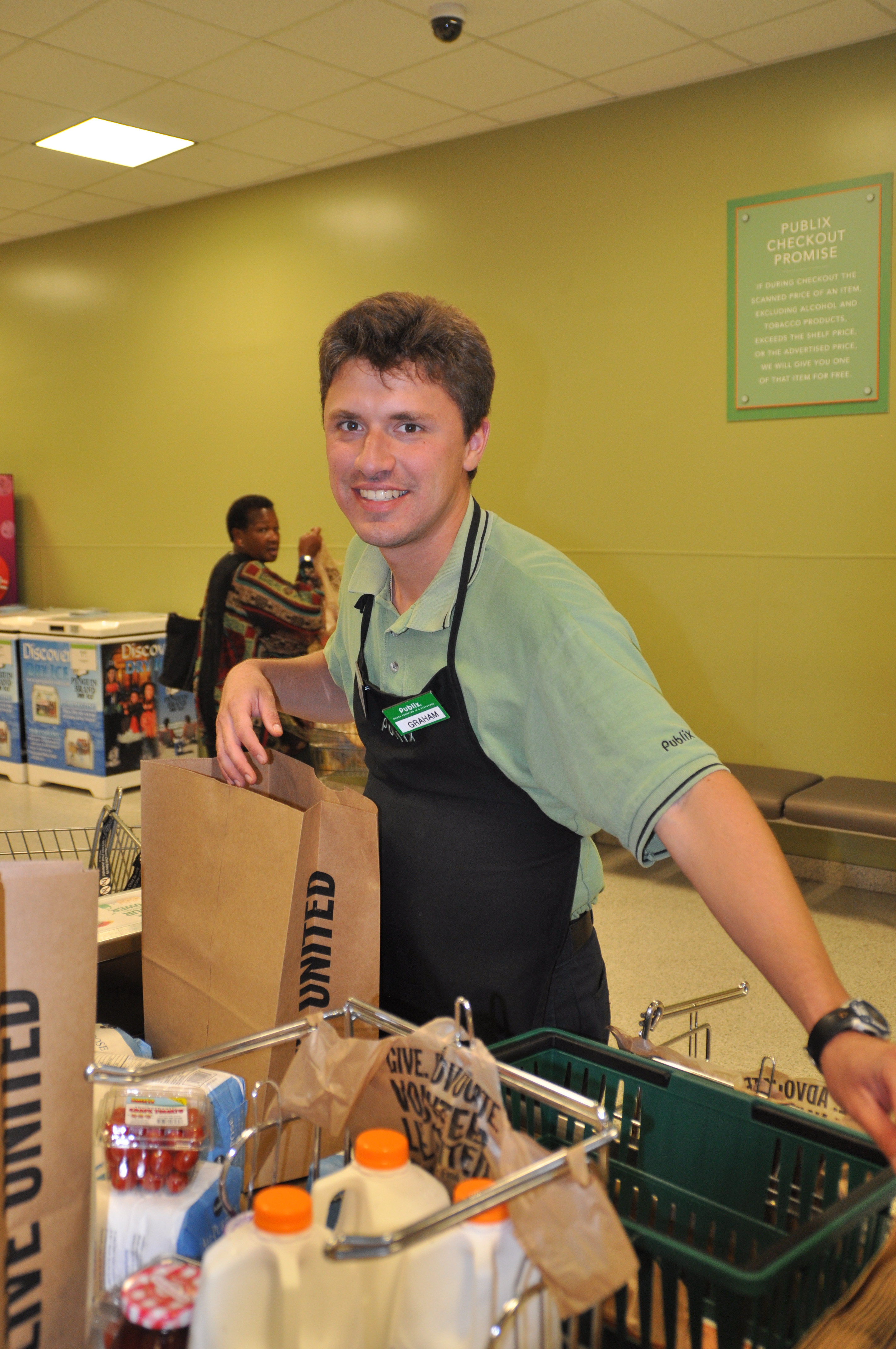 Graham Glover is a quiet guy whose hard work speaks for itself. He has worked at the Lake Ella Publix in Tallahassee since November 2012. He serves as a Front End Service Clerk and works about 30 hours a week. "I like my boss and co-workers and feel like part of the team. Having a job makes me feel proud of myself."
Glover is responsible for providing great customer service, which is expected of all Publix employees. He also bags groceries, helps shoppers with their groceries, and cleans the store as needed. "Graham is willing to do anything that is asked of him. He is a loyal, dependable employee," said Publix Store Manager Howard Nishimoto.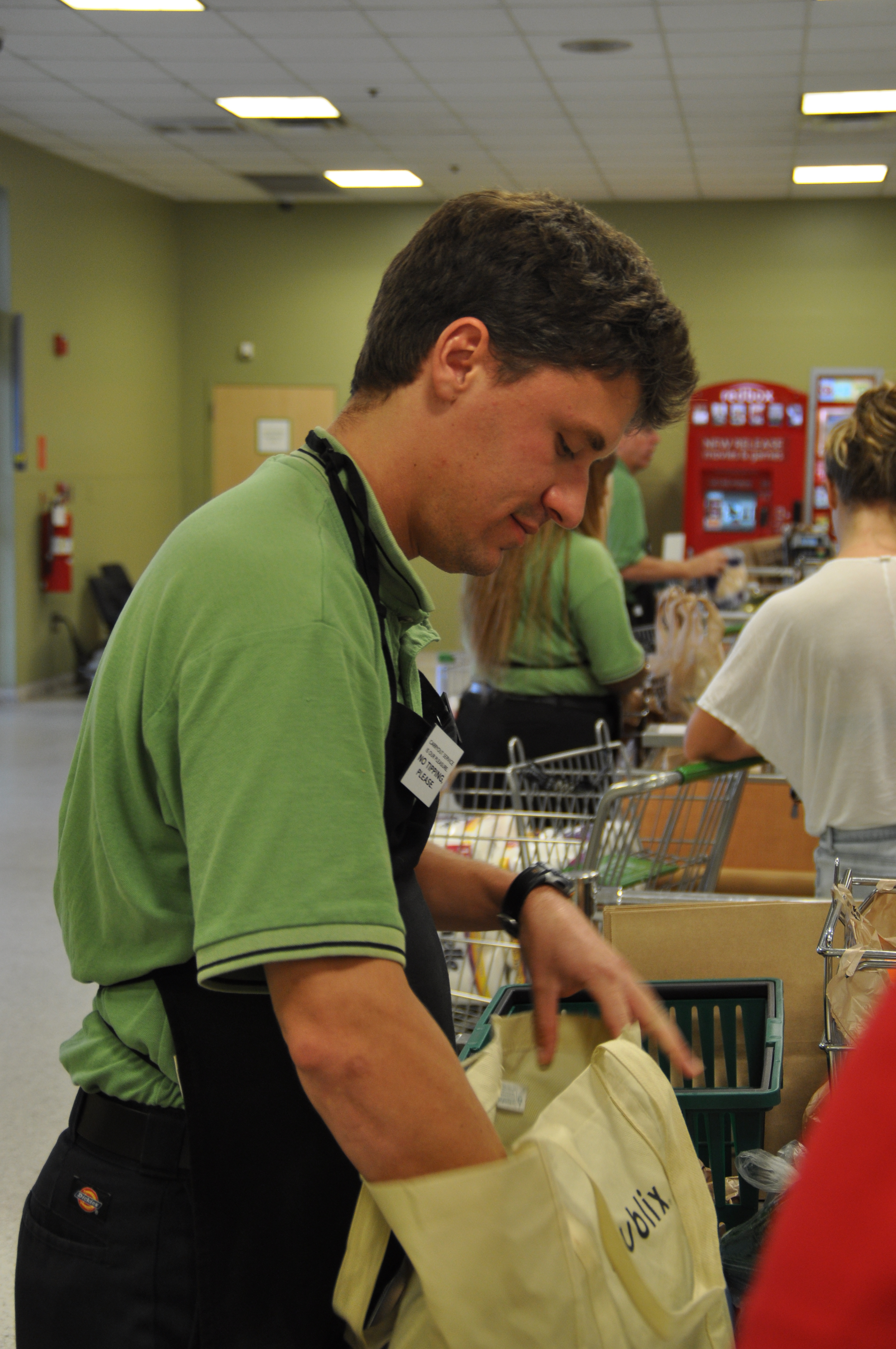 Glover is eager to maintain employment; he is always polite to shoppers and dresses for success. Nishimoto said, "He gets along with everyone, has a positive attitude and always dresses professionally."
Glover was born with a developmental disability and receives services from APD.
"When I'm not working I like to hang out with friends and watch movies and sports," said Glover. His favorite team is the University of Florida Gators. One reason he wants to work is to earn money to pay bills. He has his own car and lives in his own apartment. Glover wants to be an entrepreneur in the future. "I want to own a kennel. I love animals," he said.
---
New Source for News on Emergency Preparedness Efforts in Florida to Address Functional and Access Needs
The Community Resilience Program's Vulnerable Populations Emergency Preparedness Section has created the FANsCOMM newsletter. The purpose of the newsletter is to provide periodic updates on the Florida Department of Health's Community Resilience Program's projects related to emergency preparedness efforts to address the needs of people with disabilities and functional and access needs. The newsletter is also utilized to circulate the Functional and Access Needs (FANs) Workgroup and other meeting notices, press releases, training opportunities, and other preparedness and recovery news items pertaining to the national, state and local levels. To subscribe to the FANsCOMM newsletter and for more information about the new FANs Workgroup, contact Janet Collins at Janet.Collins@flhealth.gov.
---
Around the State
---
Tacachale's 30th Annual Tree Lighting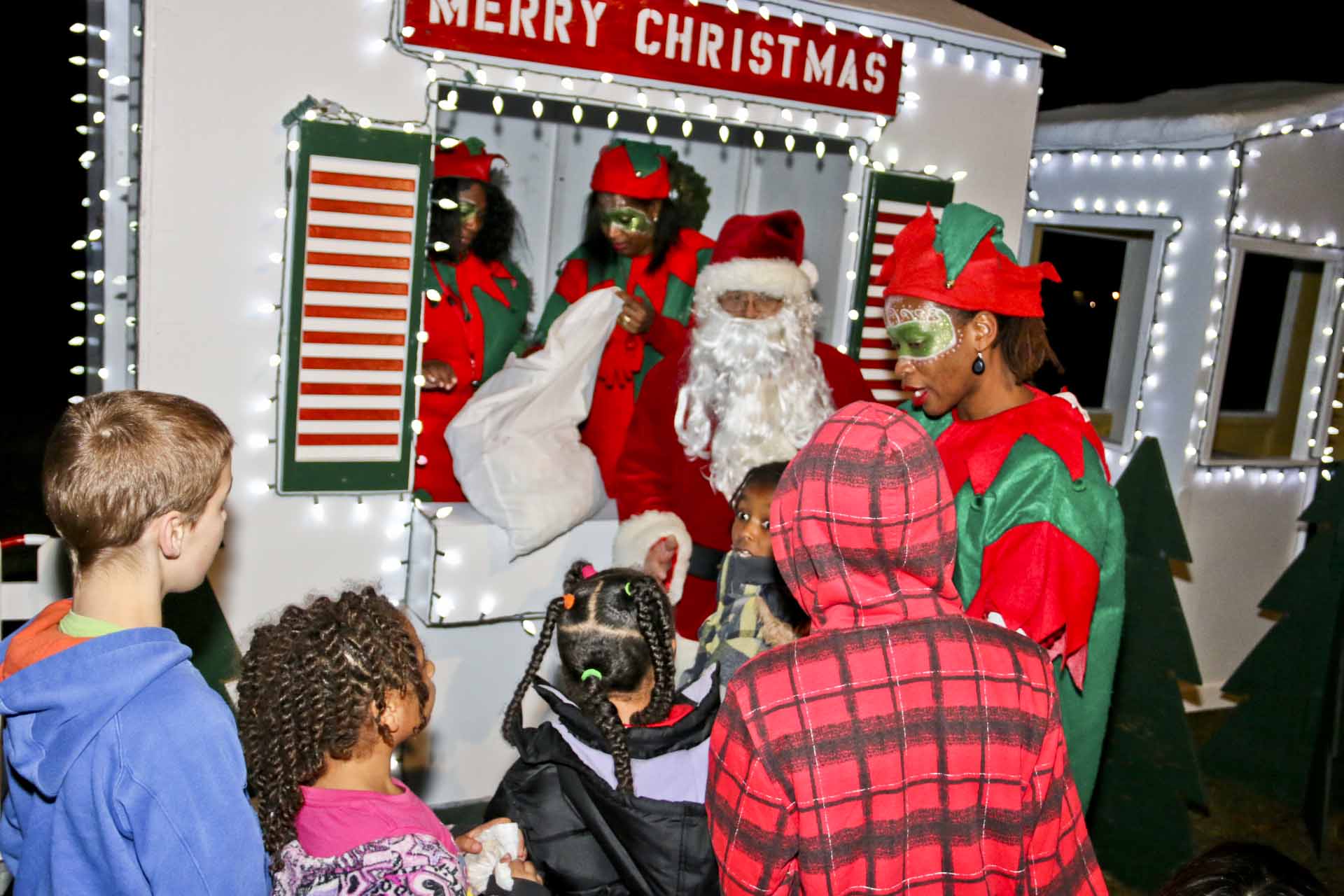 Tacachale hosted its 30th Annual Christmas Tree Lighting on the evening of December 11. The event featured inspirational words from Center Administrator Michael S. Mayfield, recently retired Volunteer Services Coordinator Rosa B. Williams, Father Roland Julien of St. Patrick's Catholic Church and Master of Ceremonies Joyce Smith. Special guests Thomas Rankin and Tina Weber from the APD State Office were in attendance to lend their support.
Entertainment was provided by the Duval Elementary School Choir and the Tacachale Carolers. The choir and carolers teamed up for a medley of holiday songs that included "Joy to the World," "Jingle Bells," "Santa Claus is Coming to Town" and "We Wish You a Merry Christmas." The two groups led all attendees in singing "O Christmas Tree."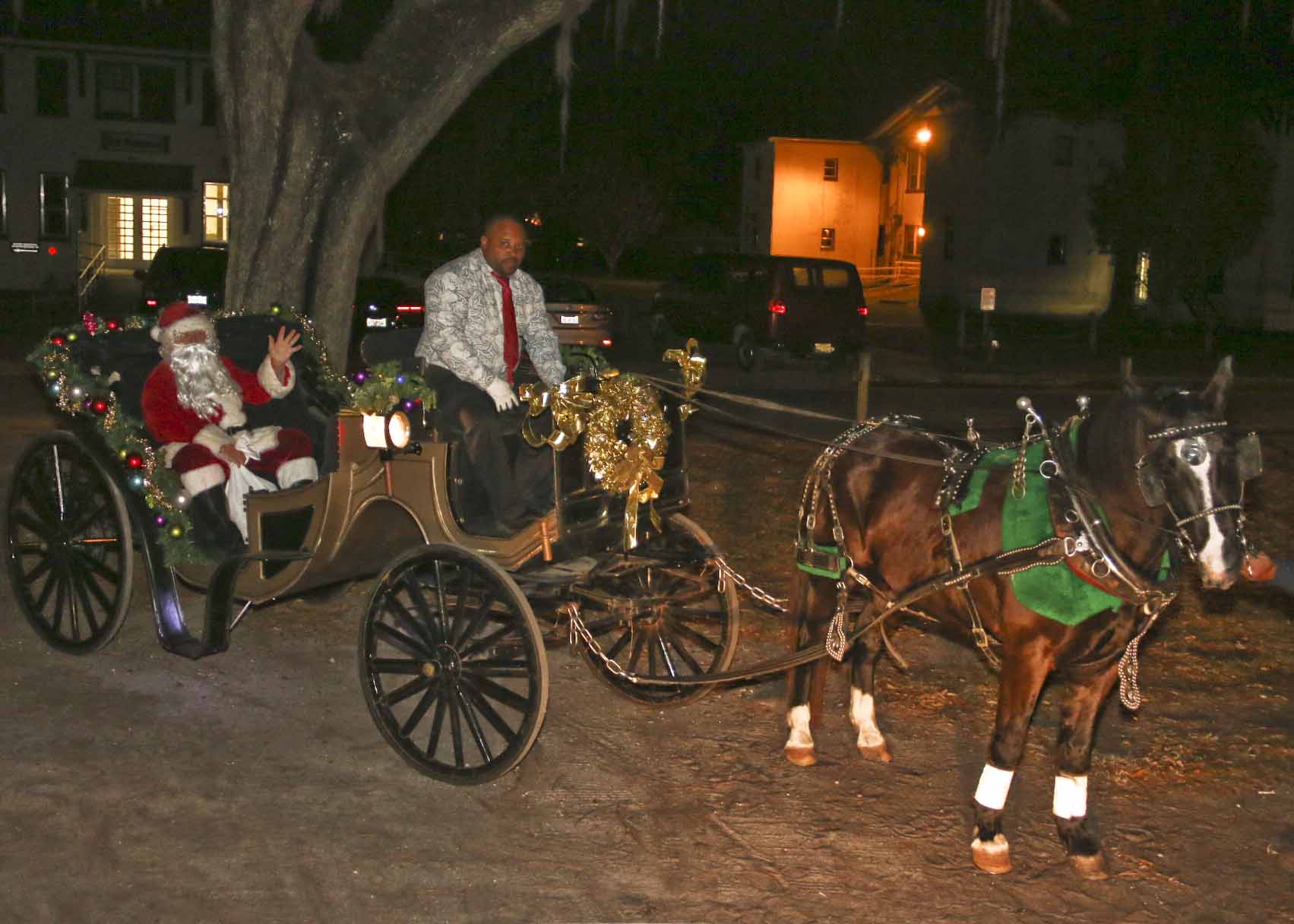 Special guest Bobby Burk, manager of Lloyd Clarke Sports, presented a $3,400 check for the Friends of Tacachale Fund. This donation represents a portion of the proceeds from the 7th Annual Tacachale Turkey Trot that was held on Thanksgiving Day.
The ceremony concluded with a spectacular lighting of our community Christmas tree and the arrival of Santa Claus via a horse-drawn carriage. A great time was had by all!
---
Tacachale Christmas Parade Kicks Off the Holiday Season
The sound of footsteps marching, sirens sounding, drums drumming, and trumpets playing filled the air on a crisp sunny morning at Tacachale on December 9!  The annual Christmas parade wound its way through the campus, to the delight of residents, employees, and visitors from the local community.
Participants came from the greater Gainesville area, Tallahassee, and as far away as the North Pole!  Marching bands, cheerleaders, and several ROTC units were plentiful, and there were many festively decorated floats and golf carts.  There was even a pontoon boat all "decked" out with a Christmas tree and inflatable Santa Claus.  Several dignitaries rode in beautiful antique cars, including APD Chief of Staff Michael Ayers, Deputy Director of Budget & Planning David Dobbs, Human Resources Director Dale Sullivan, and Tacachale Center Administrator Michael S. Mayfield.  Local law enforcement and emergency responders participated via motorcycle, automobile, fire truck, and horseback – the two horses wearing reindeer antlers for the event were a big hit with the crowd!
---
Sunland Center Celebrates Christmas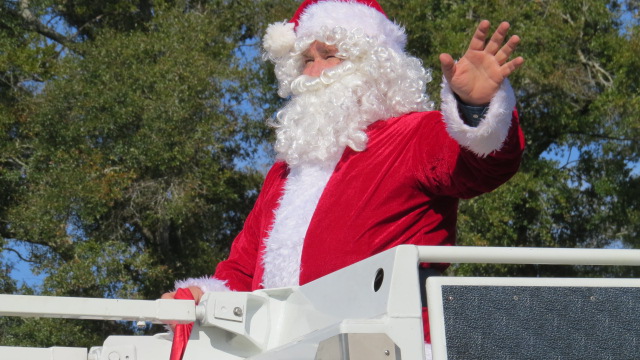 The holiday season is affectionately known as the most wonderful time of the year, especially by the individuals that call Sunland Center home. As tradition holds, the Christmas season is celebrated with a multitude of activities at the Sunland. This year's activities began with the annual Christmas Tree Lighting on December 4 and were followed by the annual Christmas Parade on December 11. Parade entries included floats from the various departments at Sunland as well as marching bands from Marianna High and Middle Schools. Much to the delight of everyone, Santa Claus brought up the rear of the parade, riding atop a fire truck from the Marianna Fire Department.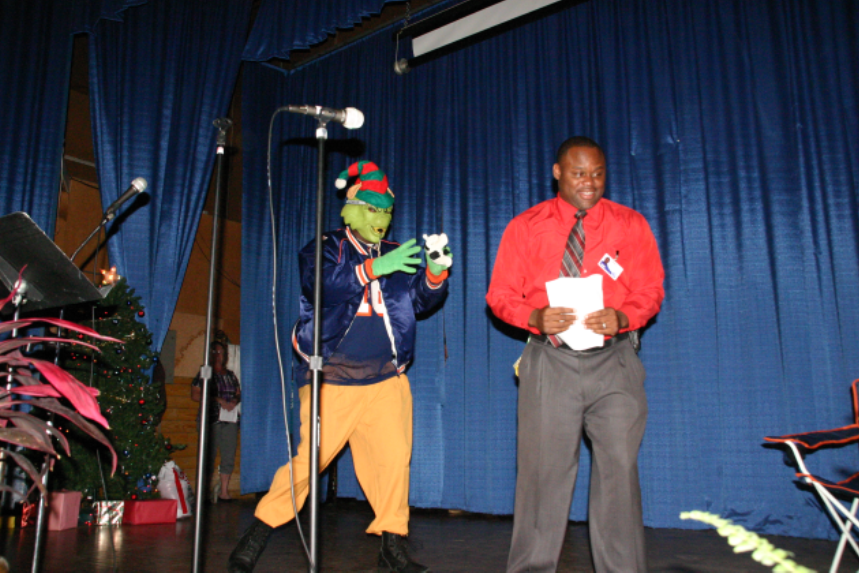 Christmas baskets filled with fruit, candies and cakes were delivered to each of the residential homes by staff and members of the Sunland Management Team. During the deliveries, residents were serenaded with their favorite Christmas carols. A Christmas dance was held at the Harvest Cafeteria and residents danced the night away to music provided by DJ Chris Truette.
The final activity for the week was the annual Christmas Program, which is put on for the residents by Sunland staff. There was plenty of music and numerous skits, including guest appearances by the much-loved characters, the Grinch and Madea.
Sunland's partnerships within the community are very evident during the Christmas season. Several community groups came to Sunland to provide musical performances for our residents. These groups included the Riverside Elementary School Beaver Chorus, The 39'ers Choir from the First Methodist Church in Chattahoochee, and Christmas Carolers from the First Baptist Church in Greenwood. The 2012 South Carolina State Bluegrass Band champions, The Hinson Girls, also made a special return appearance to Sunland. This bluegrass band, comprised of four teenage sisters from Lancaster, South Carolina, had everyone clapping and on their feet, dancing to some outstanding music. Other groups that provided Christmas activities included the ladies ministry from the First Baptist Church in Sneads, the Optimist Club of Jackson County, the Anchor Club from Marianna High School, and the Masonic Lodge from Cottondale.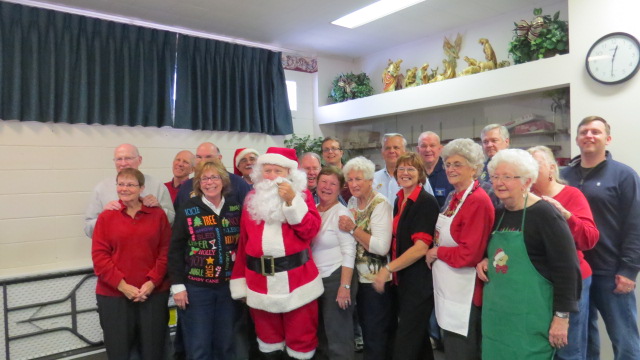 Partnerships with community civic groups and churches also brought opportunities for many residents to be treated with off-campus Christmas celebrations, including parties with The Sons Of Italy, Fort Walton Beach, The Knights of Columbus, Niceville, St. Anne's Catholic Church and First United Methodist Church, both of Marianna.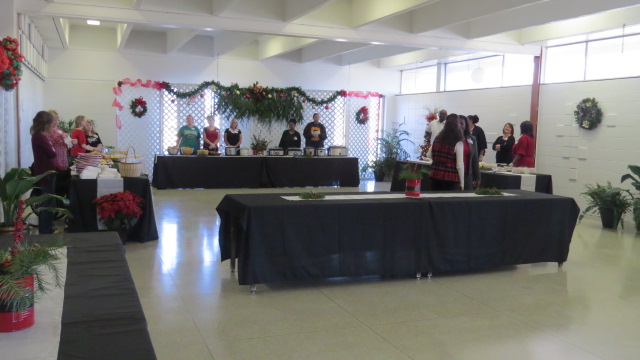 The staff at Sunland were also treated to holiday festivities with the annual Christmas Tea, hosted by the Sunland Management Team. This annual event affords staff an opportunity to enjoy a variety of delicious holiday goodies and a time of fellowship with co-workers.
---
DMD and DEAM in Volusia County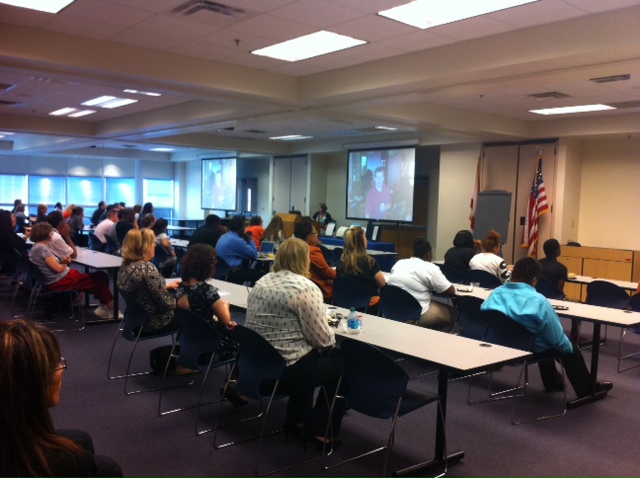 October 22 was an exciting day for Agency for Persons with Disabilities (APD) Northeast Region's Daytona Beach Field Office as they participated with other community agencies to celebrate Disability Mentoring Day (DMD) and Disability Employment Awareness Month (DEAM). The agencies involved with the planning of this event are members of the Volusia Community Transition Team.  Team members include:  Adaptive Technology Services, Agency for Persons with Disabilities, The Arc Volusia, Children's Medical Services, Daytona State College, disAbility Solutions for Independent Living, Division of Blind Services, Florida Diagnostic & Learning Resources System, One Voice Volusia, SEDNet, WORC Inc., Vocational Rehabilitation, and Volusia County Schools.
Approximately 70 participants including individuals, Supported Employment Coaches, and business representatives, enjoyed the meet and greet breakfast at the Advanced Technology Center on the Daytona State College campus.
This event was attended by Mayor Allen Green of Port Orange, one of five mayors in the Volusia County area to proclaim October as Disability Employment Awareness Month in their city. The cities of Daytona Beach, Ormond Beach, DeLand, and Deltona had proclamations on display for all to see.
Video clips of individuals working in various fields of employment were shown.  A panel of five employed individuals receiving services from APD answered questions from the audience about job interviews, learning new skills, and the benefits of working.
Two individuals, one on the waiting list and one on the waiver, spoke about owning their own business. Charles Morris operates a balloon gift business in his home called Kool Creations by Charlie.  This allows Morris the freedom to be an entrepreneur while still being able to attend the gym and participate in the sporting events that he enjoys.  During the presentation, Morris created five gift balloons as door prizes for the event.
Steven Libby displayed some photographs taken while working as a photographer. He enjoys taking pictures of sporting events, as well as photographs of the beauty found in the great outdoors. He has been interested in photography for years. His Supported Living Coach, Bob Rollins, has been assisting Libby to achieve his goals of having the photographs he shoots publicized in local newspapers, and improving his craft of photography. Libby would like to someday shoot photos from the press section of the Daytona 500. He continues to prove to others that being hearing impaired is not an obstacle to achieving a dream.
Since October, APD has matched two individuals with mentors and continues to seek other businesses that desire to mentor throughout the year. One individual was able to mentor at Jon Hall Chevrolet in the service department. The second individual has spent some time with a local judge and looks forward to more opportunities.
---
Employment Opportunities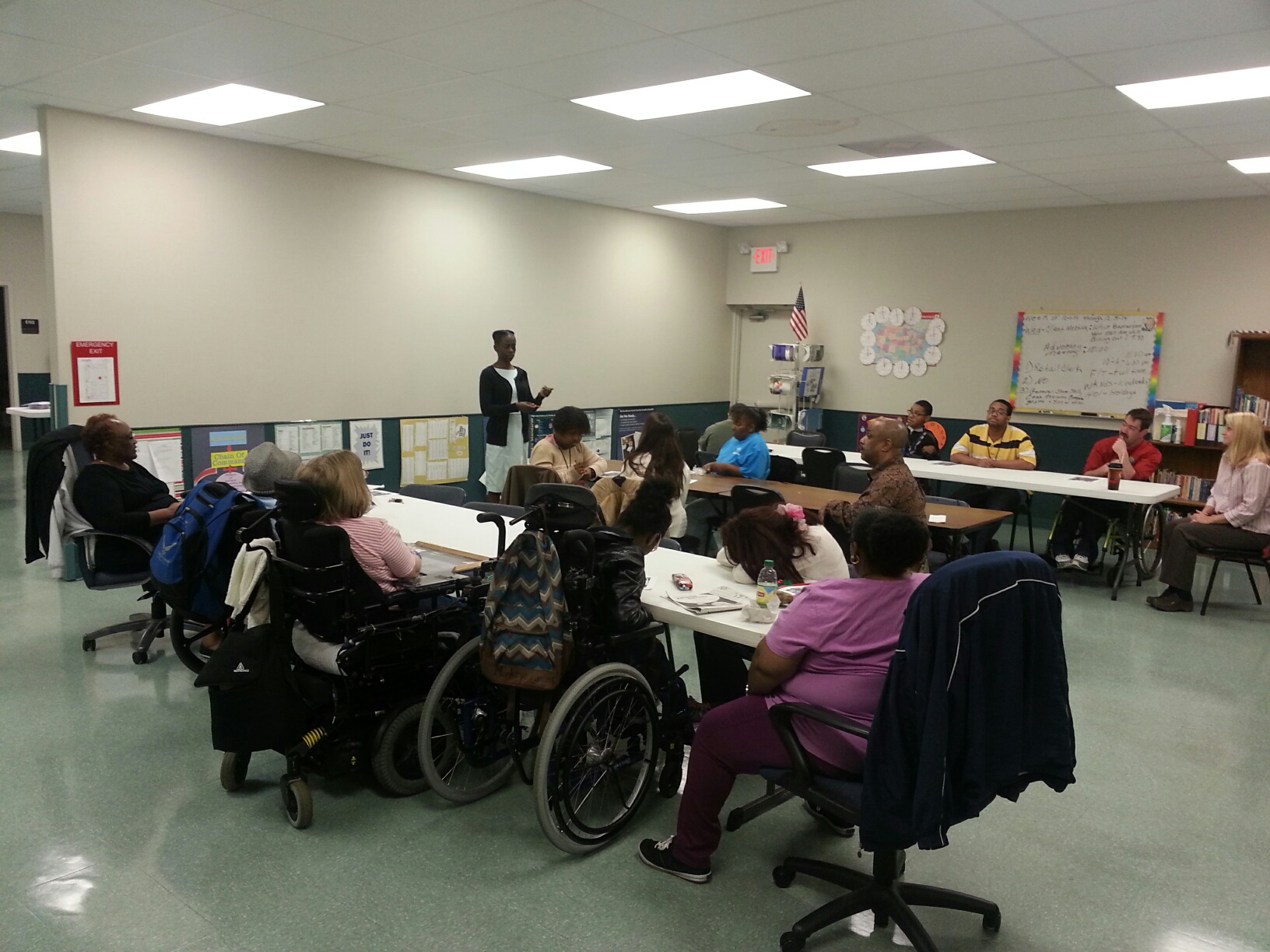 On December 2, the Northwest Region met with 22 individuals at the Northwest United Cerebral Palsy (UCP) Adult Day Training program to discuss supported employment and the Employment Enhancement Project.  UCP participants were asked if they would like to work and several stated that they would. APD Employment Liaison Katrina Washington and UCP staff discussed the importance of helping people meet their dreams through employment.  They also discussed the importance of having a resume to meet the need of each job description. All UCP participants were given a brochure titled, What to Expect From Your Job Coach. 
---
Successful Caregiver Appreciation Luncheon Held in Pensacola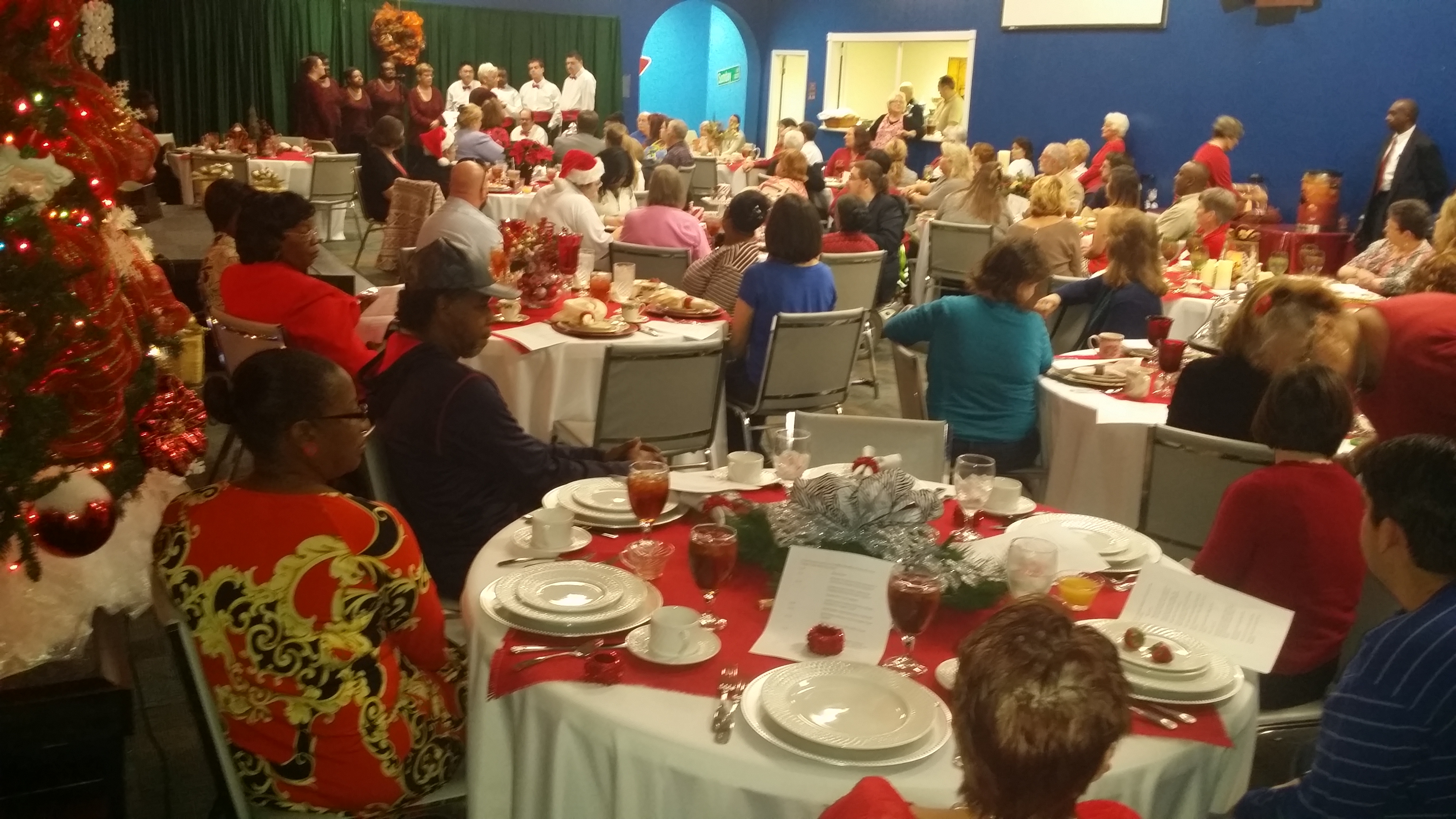 Project Empower of Northwest Florida and Pure Friendship Ministries held its second annual caregiver appreciation luncheon on December 16, where 60 area caregivers were honored.  The event was very special, as our caregivers are so deserving of acknowledgement and gratitude, they received it on this day at Marcus Pointe Baptist Church in Pensacola.  Mildred Busch and 15 volunteers from Marcus Pointe dressed 11 round tables with six place settings at each in Christmas china, adorned with centerpieces, crystal and silver – only the best for those who do so much for so many year round.  Each seat was filled – 66 total in our main dining area and more were served in an overflow room – both areas dressed from top to bottom with Christmas trees and festive decorations throughout.
The Pyramid Show choir kicked off the event with festive Christmas songs as Ms. Busch's ministry of hostesses delivered a home cooked, delicious meal to our caregivers, including decadent desserts and tasty appetizers.  State Representative Mike Hill joined us to deliver a message to our caregivers – our gratitude and faithfulness to honor, acknowledge and appreciate them throughout the year.   Pure Friendship Ministries provides respite each month and Project Empower will continue to host a caregiver luncheon in partnership with Pure Friendship Ministries twice a year – just before Easter and Christmas.  Project Empower member, Matt Holmes entertained us further with a beautiful solo performance.
The members of Project Empower and Pure Friendship Ministries read letters of appreciation to our caregivers and delivered 60 gift baskets full of goodies, such as chocolates, dinner vouchers, jewelry, pampered chef products, salon and spa gift certificates, stadium chairs, t-shirts, tools and more.  Moms and dads, many who learned of the event from Autism Pensacola, paid supports, and friends and neighbors of those with disabilities who provide care were gifted and loved on for two hours.  Pensacola and Fort Walton businesses donated the items for the gift baskets. Marcus Pointe pastors were in attendance and were acknowledged with a plaque that expresses our gratitude for their provision of the venue for respite, Pure Friendship Ministries and Project Empower meetings, bible studies, coffee socials and more.
For more information about how to get plugged in to Project Empower and Pure Friendship ministries, please contact Tara Potter at tara.potter.fl@gmail.com or call 850-686-9369.
---
Resume Writing 101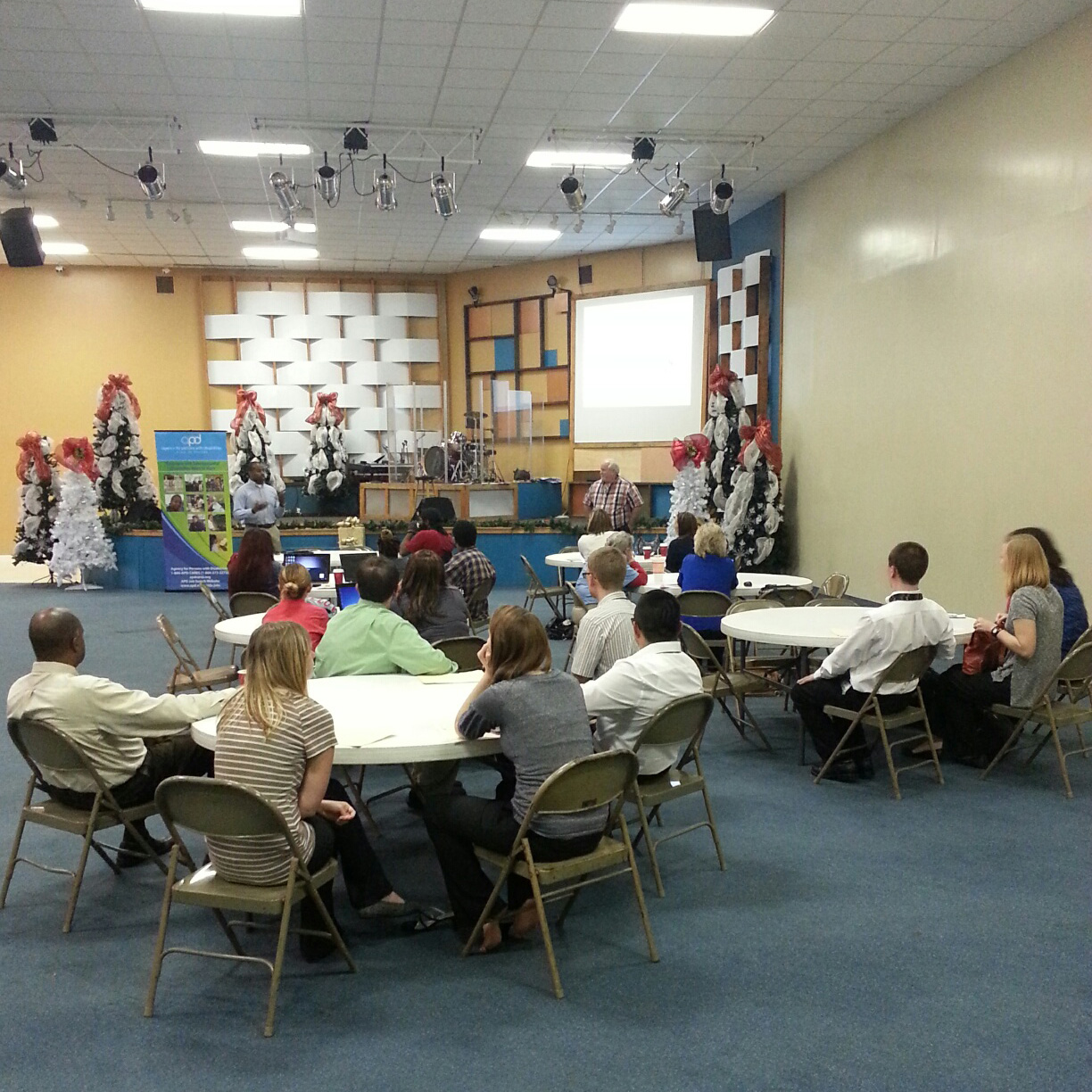 APD's Northwest Region hosted a Resume Writing 101 workshop at its Job Club Meeting on December 5, at Marcus Pointe Baptist Church in Pensacola. Lowe's Human Resources Managers Mike Dwyer and Val Johnson III, presented helpful tips on writing resumes and cover letters. They also provided handouts with step-by-step information on how individuals could improve the appearance of their resume, strategies to improve resumes, how to target resumes for specific employers, and the significance of a cover letter. The event was provided for people with disabilities and the community.  
---
Champion Staff
Melanie Mowry Etters - Editor
Lindsey Boyington - Writer
Christine Call - Writer
Kimberly Tharpe - Masthead Design
John Milton - Webmaster

---
The Agency Supports Persons with Developmental Disabilities in Living, Learning, and Working in their Communities.